CHICAGO — P.J. Fleck could put a sunny spin on Chernobyl, so the Minnesota coach is the right guy to stump for the Big Ten's current alignment of East and West divisions.
"The West is getting a lot better," Fleck said. "All due respect with that comment. I think the coaches in the West are dynamic coaches, and you can see it in games that are considered 'upsets.' I don't think those are going to be 'upsets' in the next few years. I like the way the conference is aligned."
You'd think East coaches would like a divisional setup that has resulted in that division winning every league title since the two divisions came into existence.
But they don't because the divisional imbalance may have hurt the Big Ten's chances in making the last two College Football Playoff.
"When you're left out of the playoffs for two years in a row, I think there needs to be discussions," Penn State coach James Franklin said. Franklin doesn't always have a filter, but he's a thinker, and honest.
The Big Ten East is strong, much like the SEC West, Franklin said.
"So I think we've got to at least have a discussion," Franklin said of realigning divisions. "Not necessarily saying we need to make any changes, but we need to have a discussion."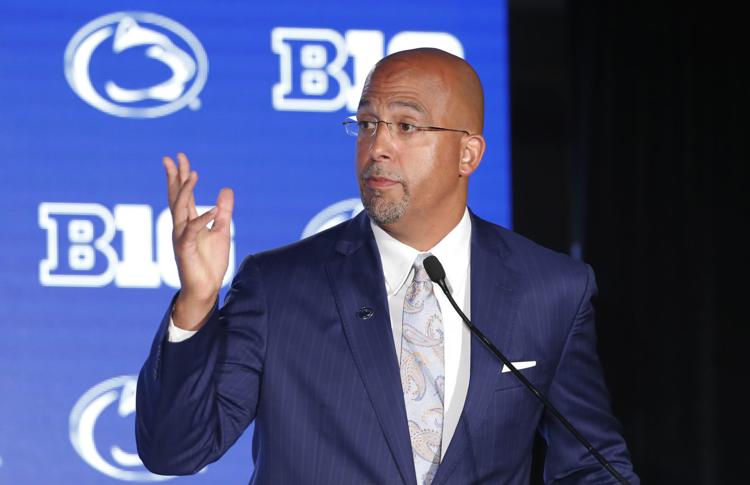 This is a sharp reversal from 2014, when the divisions switched from the much-derided "Legends" and "Leaders" to the current geographical setup. Originally, Michigan and Michigan State were opposite Penn State and Ohio State. Nebraska was paired with the two Michigan schools, Iowa, Northwestern and Minnesota. It worked OK. NU and MSU were well-matched and built something of a tense respect for each other.
Ideally, the Spartans would have stayed in the West while Purdue went to the East. And when realignment is discussed now, that's usually the switch brought up.
It made more sense in 2014 than it does now. Purdue and Michigan State could easily switch places over the next five seasons. Remember the Bobby Williams and John L. Smith eras in East Lansing? MSU's place at the top of the Big Ten food chain is more tenuous than Ohio State's or Penn State's.
Still, MSU has won two Big Ten titles in the past decade and played for another. That's two more championships than most teams (including Michigan!) and it prompts the question of when, precisely, the West will rise.
Allow NU coach Scott Frost to answer.
"If I'm being honest, the West hasn't been as good as it should be because Nebraska hasn't been as good as it should be," he said. "We can do a lot through the work we're doing to try and get the program where it belongs to help the West be competitive and just as dominant as every other league in the country."
That's a lot for Frost to take on NU's shoulders. He's right, though, and the Huskers could help save the league from making decisions that probably don't help, like reducing the number of conference games, scheduling too many FCS contests or ditching divisions, which threatens to reduce the league to an Ohio State-Michigan storyline that led to zero national titles and four measly Rose Bowl wins in the 1970s and 1980s.
Rightly or wrongly, the Big Ten lacks the same "strength of perception" as the SEC. And perception matters when the CFP bracket is determined solely by a human panel, and that panel has exactly one guy — Iowa Athletic Director Gary Barta — to represent the league. Especially when the panel has former coaches from the ACC, SEC and Big 12 on it.
Tennessee has stunk — stunk! — for the past decade. Seven losing seasons. Iowa has one losing season. It's clear which program is better.
Yet the two teams played one time in that decade. Tennessee won by 17.
The Volunteers beat Nebraska by 14. Beat Northwestern by 39. All three were bowl games.
Sign up for Big Red Today news alerts
Get a daily Husker news roundup, recruiting updates and breaking news in your inbox.
The SEC can afford to blow off bowl games because the media narrative, fueled by annual recruiting rankings and NFL draft results, favors that league. The Big Ten can dominate in bowl games — 7-1 in 2017 — and lose the mythical battle come February and late April.
When Big Ten Commissioner Jim Delany says "clearly Alabama and Clemson have separated themselves," he's giving the Crimson Tide the same special dispensation the committee did in 2017, when the Tide made the CFP over an Ohio State team that won its league and played two more Power Five opponents than Alabama, which didn't even win its own division.
Even the Big Ten boss is sold. Perception matters.
Perception — and reality — says it'll be hard for defending division champion Northwestern to ever rule the league. The Wildcats barely have a home-field advantage. They have recruiting barriers because of elite academic standards. Northwestern has beaten Ohio State one time in 40 years.
Iowa and Wisconsin have had every chance to break through. Years of runway. Program identities that are decades old. Maybe one of them can break through to "perennial power" status. The Badgers have come close, only to fall just short against teams that sport elite defenses.
If there is a single advantage to NU's relative mediocrity since joining the Big Ten, it's this sense that we haven't seen the "real" Nebraska yet. Iowa and Wisconsin are known. The Huskers are still writing their Big Ten story.
Frost openly talks of innovation — of merging new-school spread with old-school strength and conditioning — in a way that's different from Alabama. It's more like Clemson, which has a "player's coach," loyalty among its assistants and a punchier offense.
And while Jeff Brohm has similar designs at Purdue, NU's history and prominence give it, for now, an edge over the Boilermakers. Minnesota, too.
The Big Ten needs Frost to make good on his potential in Lincoln. Nebraska has intermediate goals — beating Iowa, Wisconsin and Northwestern is where it starts — but Frost's vision has high, vaulted ceilings. If NU punches below its weight for much longer, the league will continue to rely on Iowa, Wisconsin and Northwestern. The league coaches have already seen that movie. What they haven't seen is a full, flourishing Nebraska.
That may be the one thing that keeps the Big Ten from its third realignment since the Huskers joined the league.