LINCOLN — Nebraska is the "it team" of the college football magazine section of the rack.
The Huskers are picked by Athlon and Street and Smith to win the Big Ten West, a dramatic and bold prediction that at least doubles the number of wins from 2018. It's certainly within the realm of possibility — the schedule lines up and NU lost a lot of close games last season, but, as you dig deeper into Athlon's preview, you discover, pretty quickly, Nebraska is generating excitement with two people.
Scott Frost. Adrian Martinez.
Take a look, for example, at Athlon's cumulative "unit rankings" for seven position groups.
Nebraska' average unit ranking is 7.28.
Wisconsin's average unit ranking is better: 6.86.
Iowa's average unit ranking is better yet: 5.57.
Sign up for Big Red Today news alerts
Get a daily Husker news roundup, recruiting updates and breaking news in your inbox.
Athlon also produced three preseason All-Big Ten teams, following the long-term lead of Phil Steele's bible, which has yet to be released.
Iowa placed seven players on the three teams. Wisconsin placed five. Nebraska had six — JD Spielman, Mohamed Barry, Dicaprio Bootle, Martinez, Maurice Washington and Brenden Jaimes — but no first-team guys. I suspect Athlon — and every other publication — is overlooking Deontai Williams, but that's not the point. Rather, it's this: Nebraska is still rebuilding its roster. The outline of Frost's vision is clear. But it's not entirely filled in.
Yet here are the Huskers, division favorites. It speaks to the media's respect for Frost's accomplishments at Oregon and Central Florida, and Martinez's obvious talent.
It's not a bad way to look at it. The West is clearly a logjam of teams — six of the seven probably walk into 2019 thinking they can make it to Indianapolis — and, when it's that close, the tie can easily go to the best offense and the one quarterback who, if you need a game-winning drive, seems best equipped to provide it. Iowa's Nate Stanley was at his worst last season in fourth quarters — 48.9% completion rate, a measly 5.78 yards per pass. Martinez — 58.8% and 7.7 — was very strong for a freshman.
That's part of why Frost spoke with urgency about Martinez in an AM 590 ESPN interview this spring.
"We feel like we've got a really good quarterback, and we're in a hurry to surround him with the type of weapons that we need in order to have a really good offense," Frost said. "You're kind of on a clock with that. We feel really good about young quarterbacks, but while we've got a guy like Adrian, we want to surround him with as many good weapons as we can and guys that can change games."
Nebraska has three years, tops, with Martinez — and two years looks more likely.
Soccer expanding former Husker LeBlanc's world
Karina LeBlanc doesn't know just how many countries she's visited. You have to change passports periodically and, when you're playing soccer for two decades, it's not always easy to keep a list of every place you've been. It's easier for her to remember where she hasn't been. Antarctica. India. Just saying the names of the places makes her want to visit them; travel and sport have intertwined in her life so fully that she can't imagine life without them.
"I've learned that travel is such an important part of growth in life," said LeBlanc, a former Nebraska goalie and Fox analyst for this month's Women's World Cup. "I've learned that I don't know that much. What we see and believe to be true is a reflection of the environment that we're in. When you travel, you grow. You grow and you learn things. You get to know and understand people and cultures. You get to have conversations you never would. It's unbelievable the lessons you learn. It's been one of the best educations beyond the college degree."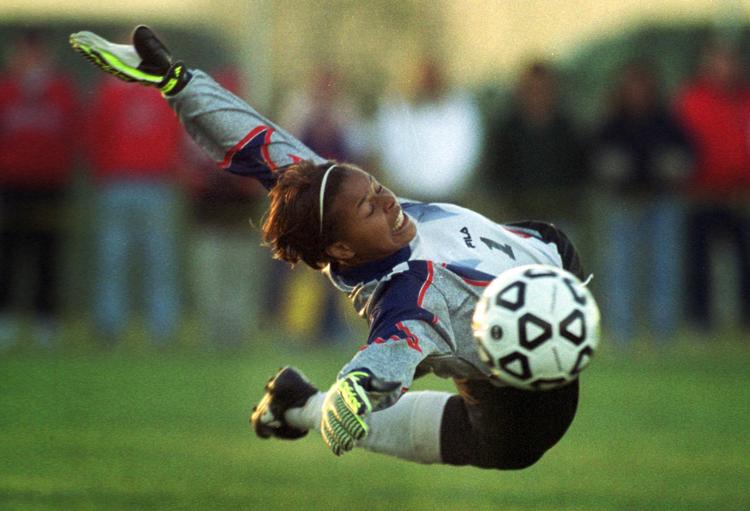 She got that degree at NU, where she's one of the most decorated players in program history. The Huskers reached the round of 16 in the NCAA tournament in each of the four years she was goalie — reaching the final eight in 1999 — and LeBlanc, who grew up playing soccer in Canada, went on to play for five Canadian World Cup teams and multiple Olympic teams. She also became one of the sport's biggest spokeswomen and ambassadors, becoming head of women's football for the Confederation of North, Central America and Caribbean Association Football, or CONCACAF.
In other words, if it involves women's soccer in 41 countries of the Western Hemisphere, LeBlanc is interested in it.
"It's starting from scratch and not just allowing girls to play the game, but we're improving lives," she said before the start of the Women's World Cup. "I'm proof of that. Football changed my life. It was a perfect marriage."
For Fox, LeBlanc is a game and studio analyst. She's a natural at it, too — funny, engaged. Few players in the world have her experience in the sport or her perspective of being born in America and moving to Canada as a girl. She's played in several professional leagues and seen women's soccer grow exponentially.
"When I first started, there were eight people in the stands," LeBlanc said. That included her parents. The sport took off in the U.S. in 1999 — that's when the U.S. won the Cup in the Rose Bowl over China — but it has grown all over the world since then."
LeBlanc sees this year's Women's World Cup field as the deepest yet.
"Maybe in 2015, there were three or four teams, but that was pushing it," she said. "Now there's a whole field of teams that could step up. It's the team that grows during the tournament, the team that comes together, and they're able to stay tight all the way through. Obviously the Americans are among the favorites, and France is among the favorites, but it's just a bigger, deeper tournament."
She'd like to get back to Nebraska soon. It's been years, she said, but she misses the campus and game days. She's recently talked to NU coach John Walker, and she credits the school with expanding her horizons for what was possible.
"Nebraska helped create this focus, this vision I never had in my mind," LeBlanc said. "It's stayed with me everywhere I've gone."
NU drops in Learfield Cup
Nebraska dropped to 43rd nationally and 11th in the Big Ten in the latest update of the Learfield Cup standings, which measure the overall performance of collegiate athletic departments. The Huskers were leapfrogged by Illinois (41st) and Michigan State (42nd) because of men's and women's golf. Northwestern (44th) cozied up to the Huskers with golf and women's lacrosse. NU will score points for baseball and women's track and field — thanks to javelin thrower Chase Wolinski's fifth-place finish at nationals — but it's not likely to push the Huskers into the top 30, which is when a bonus structure kicks in for Athletic Director Bill Moos.
NU hasn't had a top-30 finish since 2015-16. It hasn't been in the top 20 since 2009-10. The Huskers' lowest finish, 44th, came in 2017-18, and they're likely to flirt with it this year, too.
In-state Husker football commits since 2000
Several in-state players have fulfilled the dream of staying home and playing at Memorial Stadium. Here's every in-state scholarship commit since 2000.