LINCOLN — It's rare that a Big Ten team can double its win total.
Michigan State quarterback Brian Lewerke helped triple the Spartans' output. Three wins in 2016. Ten wins in 2017.
The Big Ten program that has more reliably produced recent NFL quarterbacks than any other league team — Kirk Cousins, Brian Hoyer, Drew Stanton and Connor Cook among them — may have another in cool, calm Lewerke, who threw 20 touchdowns and just seven interceptions last season. He became one of the conference's best young quarterbacks, and, health permitting, he may be the best quarterback Nebraska has to face in the 2018 season.
Each summer The World-Herald breaks down the quarterbacks Nebraska is likely to face in its upcoming season. While it's not necessarily a predictor of success against a team — in 2011, the Huskers made Cousins look like a third-grader too small for his pads — it gives a glimpse of the challenges ahead for the Huskers.
Since joining the Big Ten, Nebraska has faced 13 starting quarterbacks who have been picked as quarterbacks in the NFL draft. NU's record in those games is 10-12. (The record goes to 12-14 when one includes Ohio State's Braxton Miller and Michigan's Denard Robinson, who switched positions in the NFL.)
Sign up for Big Red Today news alerts
Get a daily Husker news roundup, recruiting updates and breaking news in your inbox.
Two more starting quarterbacks Nebraska faced in 2017 — Oregon's Justin Herbert and Penn State's Trace McSorley — are likely to be high picks in the 2019 NFL draft. Another quarterback NU faced last season, Ohio State's J.T. Barrett, was a four-year starter with a lot of savvy. (He also carved up Nebraska something fierce two times in a row.) And although Husker fans last season might have been displeased with Nebraska's defensive effort against Arkansas State, quarterback Justice Hansen was named Sun Belt offensive player of the year, breaking conference records for touchdowns and total offense.
This year's group isn't quite that good. Lewerke, though, is worth watching. A prep star in Phoenix, Lewerke made the rare decision to spurn schools like Arizona State, UCLA and Florida for the Spartans, who typically recruited quarterbacks (Cousins and Cook) in Big Ten country under the recruiting radar. Lewerke, a four-star prospect, was smack dab on the radar.
He plays like it, too. If Cousins and Cook — among the best of all recent Big Ten QBs — played with healthy shoulder chips, Lewerke is more cool and poised.
"I'm improved since the season ended," Lewerke told Michigan State beat reporters this spring. "My accuracy is a little better and I feel like my arm's a little stronger too."
Here is a breakdown of the quarterbacks Nebraska is likely to face in 2018 or the situations still too murky to determine with certainty.
Top shelf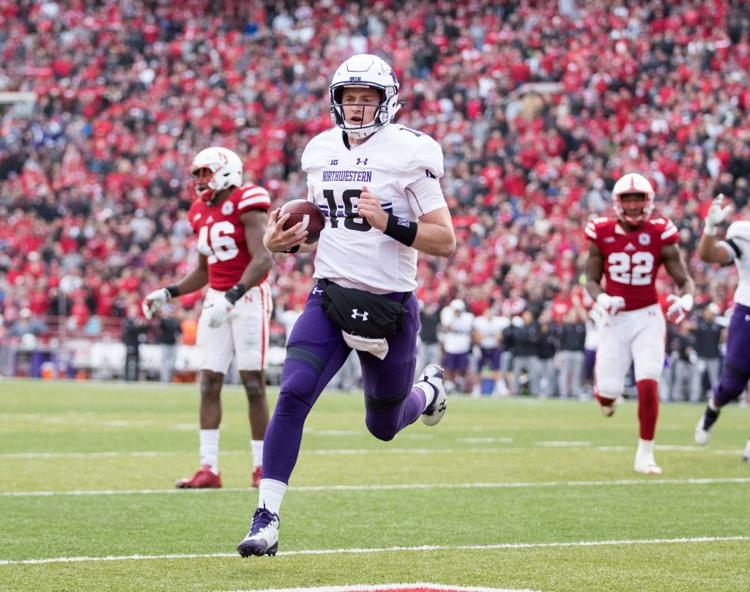 Brian Lewerke, Michigan State: The Spartans handed over the offense to Lewerke last season and didn't regret it as he rushed for 559 yards — rare for an MSU QB — and passed for 2,793 yards, taking nearly every snap for the team. He is not the most accurate quarterback — he has yet to complete 60 percent of his passes in a season — but he has his three top receivers back. Michigan State will likely have its best offense since 2015, and Lewerke is near the top of the heap among Big Ten quarterbacks.
Alex Hornibrook, Wisconsin: Average until, in his final game of the season, he was spectacular. Hornibrook threw 13 touchdowns and 12 interceptions in Big Ten play — not including a 19-for-40, two-pick game in the Big Ten championship loss to Ohio State — but threw dime after dime, and four touchdowns, in a 34-24 Orange Bowl win over Miami. Hornibrook has a lot of help in a great offensive line, running back Jonathan Taylor and UW's most experienced corps of receivers since 2011, so the Badgers will go as far as Hornibrook's left arm can take them, which could be to the College Football Playoff. He struggles to see the whole field and throws his share of awful interceptions.
Steven Montez, Colorado: Big-play passer. Montez averaged 7.9 yards per attempt last season, which is impressive for a relatively high-volume passer at 31.4 passes per game. He struggled away from Folsom Field, completing 54.4 percent of his passes in six games. The 6-foot-5, 230-pound junior is a big, bruising runner, not fast but effective. He has rushed for 569 yards over two seasons, and that includes all the sacks he has taken; CU gave up 39 last season alone.
Nate Stanley, Iowa: His 26 touchdown passes were the most by an Iowa quarterback since 2002, and his five-touchdown games against Iowa State and Ohio State — both Iowa wins — echoed Chuck Long. But Stanley only completed 55.8 percent of his passes and he fumbled seven times, losing five. He has one of the nation's best tight ends in Noah Fant (Omaha South) as a key pass-catcher, but Iowa lost do-everything back Akrum Wadley to graduation. Stanley may duplicate his gaudy touchdown numbers from 2017 while improving overall.
Clayton Thorson, Northwestern: Yep, he's still in Evanston. Thorson elected to stay in school for his fourth season as a starter after he tore an ACL in the Music City Bowl. Thorson is a capable scrambler with classic size at 6-foot-4 and 225 pounds. He has also beaten Nebraska twice. He has thrown 30 interceptions over three seasons, so he can give away a play or two. He did against Nebraska in 2017, throwing a pick-six to Husker outside linebacker Marcus Newby.
Fresh faces
Dwayne Haskins, Ohio State: Perhaps the best pure passer OSU has had since Urban Meyer arrived, Haskins is best known for delivering a rivalry win over Michigan after J.T. Barrett was injured in warmups. Haskins spins a pretty ball — he completed 70.2 percent of his passes in limited play last year — and his 6-foot-3, 220-pound frame allows him to see over defenses. Almost all new starters take a few lumps. Haskins' backup, Tate Martell, is a free-wheeling wild card who almost certainly sees the field in some fashion each game. He can run and scramble quite well.
Shea Patterson, Michigan: The Wolverines' passing game cratered hard in 2017, so, despite having a full depth chart returning, Jim Harbaugh pursued Patterson, the Mississippi transfer and former high school All-American who passed for 3,139 yards over the past two seasons in Oxford. Patterson sorely needs his offensive line to protect him; Michigan gave up 36 sacks last year. Patterson has real talent: he can scramble, he has a nice arm, and he is projected, if this seems useful, as a first-round pick in the 2019 NFL draft by Walter Football. We'll see.
Kato Nelson, Akron: As a 6-foot-1, 205-pound redshirt freshman, he played often in the Zips' last five games — starting several — averaging 15.2 carries per game including sacks. In one terrific game against Ohio, Nelson was brilliant — 322 yards passing, 45 rushing, four passing touchdowns — but he struggled after that. That experience will help Nelson keep some cool inside Memorial Stadium when Akron kicks off against Nebraska.
Up in the air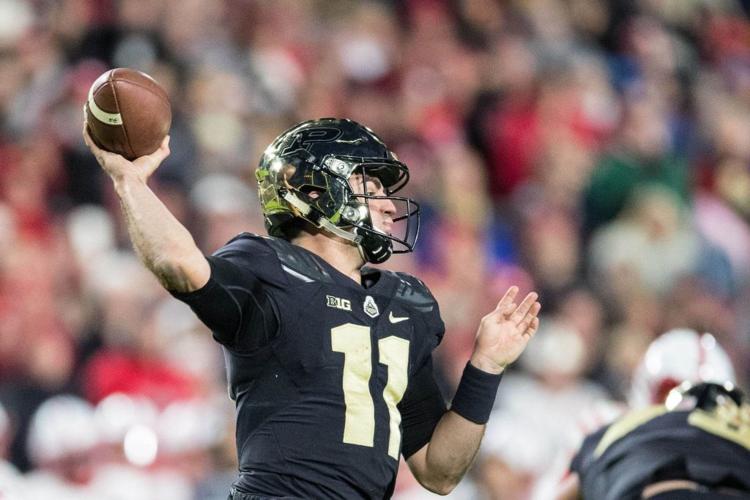 Purdue: The Boilermakers have two great options in Elijah Sindelar and David Blough, both of whom threw for at least 1,000 yards last season and started multiple games. If Sindelar hadn't played the last quarter of 2017 with a torn ACL, he would be a shoo-in here. As he prepares to be ready opening day, Blough, who lost the job to Sindelar because of a broken ankle, could be the guy, too. Blough has more than 6,000 career passing yards. He is as good of a backup as any Big Ten team will find, unless it's Sindelar in that role.
Troy: The Trojans are starting over after the exit of four-year starter Brandon Silvers, who led his team to back-to-back seasons of double-digit wins. Sawyer Smith, a sophomore who redshirted last season, and Kaleb Barker, a junior, will extend their quarterback battle into training camp. Both have scant experience. Freshman Gunnar Watson, thus, has a chance to enter in the race.
Minnesota: It's a two-horse race and, like Nebraska, neither quarterback has taken a snap in a collegiate game. Redshirt freshman Tanner Morgan and true freshman walk-on Zack Annexstad are the contenders who drove out junior college transfer Vic Viramontes after just six months on campus. Annexstad, who stuck with P.J. Fleck despite scholarship offers from Pittsburgh and Illinois, is more of a classic thrower, while Morgan has good wheels. Look for both to play and both to struggle at times.
Illinois: Who the heck knows? The Illini's two top QBs from last season retired (Chayce Crouch) and transferred to Michigan of all places (Jeff George Jr.). That leaves Cam Thomas, a good runner who was an awful passer (42.4 percent completion rate, five interceptions in limited play) last season, and former Nebraska/Iowa Western/Virginia Tech quarterback AJ Bush as the primary contenders for the job. Several freshmen could contend, too. This is the worst group of quarterbacks in the league unless Bush, as a graduate transfer at his third school, can step up.
Photos: Every season-opening starting Husker quarterback since 2000
With Nebraska in the midst of another quarterback competition, take a look back at photos and statistics from all the passers that started the opening game of the season since 2000.