LINCOLN — As we kick off The World-Herald's Camp Countdown of the top names to watch for this Husker football season, this much is clear: No. 2 will be No. 1 again.
Sorry to spoil the ending for you, but you could have guessed it. Adrian Martinez, our top player to watch in 2018, only gets a hotter spotlight in 2019. All the poses for the offseason prediction magazines — plus the Las Vegas odds on his chances to win the Heisman Trophy — tell the tale of his importance to coach Scott Frost and the rest of the team.
"We feel like we've got a really good quarterback and we're in a hurry to surround him with the type of weapons that we need in order to have a really good offense," Frost said in a radio interview earlier this spring. "You're kind of on a clock with that."
If Martinez — who amassed 3,246 total yards and 25 total touchdowns as a true freshman — is the known quantity, the centerpiece, the fun of the Countdown is setting the table around him now that Frost has had a second year to install his culture with these players. If last year involved a lot of guesswork as to who might respond or be available — we had Devine Ozigbo as the team's No. 3 running back, and fully didn't expect that Maurice Washington would be able to play his first year on campus — a season of early struggles and late-season growth answered a lot of questions, especially on defense. Barring mass injuries, Nebraska's coaches have a pretty good idea, after spring camp, who many of the top defensive players will be in 2019.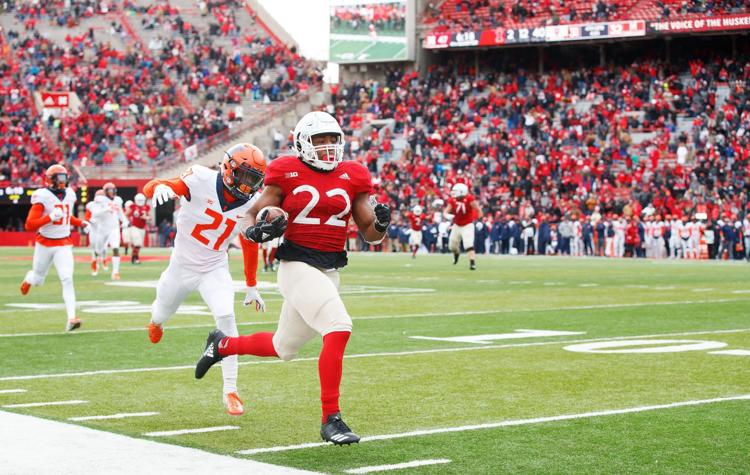 Offense? That's more adventuresome, like it was last season. NU's running back room is one question mark after four guys — Ozigbo, Mikale Wilbon, Tre Bryant and Greg Bell — graduated, transferred or retired since last season. The receiver position lost Stanley Morgan — that's 189 career catches and 2,747 career yards out the door — and has to complement returning slot receiver JD Spielman. Trying to figure out, ahead of time, the combination of skill players who will star for the Huskers is like grasping at water.
Consider last season: We were right on Morgan (No. 2), Spielman (No. 8) and tight end Jack Stoll (No. 19). We also had Bell in the top 10 — he was the starter in three games, after all — Tyjon Lindsey at No. 21, Mike Williams at 26, Wilbon at 27, Jaylin Bradley at 34 and Jaron Woodyard at 38. Whom didn't we have? Kade Warner. (He made the Countdown in 2019.)
There are more questions on the offensive line, too, especially at center, where Cameron Jurgens, Will Farniok and Hunter Miller have no starting experience. NU is almost certainly breaking in a new left guard — which could be Trent Hixson.
The "settled" version of Nebraska's offense likely comes in 2020, when it's possible that every starter will return. For 2019, figuring out who will roll with Martinez means we'll miss a few names. Keep an eye on the honorable mention list, which almost always produces a surprise player for the upcoming season.
In 2018, that name was Collin Miller, who moved from outside linebacker to inside linebacker, where he figures to start this season. Who will it be in 2019? Time to start the Camp Countdown journey with the honorable mention list.
Sign up for Big Red Today news alerts
Get a daily Husker news roundup, recruiting updates and breaking news in your inbox.
Honorable mentions
Andrew Bunch 6-foot-1, 210 pounds, junior, QB
Adrian Martinez's backup in 2018 — who started in the loss to Troy — will be in a camp battle for the No. 2 spot with Noah Vedral. A walk-on, Bunch tested the transfer portal in the offseason but opted to return.
Wyatt Mazour 5-9, 200, senior, RB
A special teams staple, Mazour earned a scholarship last season and may again as a senior. He's in the mix for a role at running back, where he's shown himself to be a shifty option on third down.
William Pryzstup 6-4, 244, freshman, P
An absolute giant of a punter, Pryzstup transferred from Michigan State, where he played last season in four games (including at Nebraska). He may sit behind last year's starter Isaac Armstrong this season, but he's likely the Husker punter for three years after that. In 2018, he placed nine of his 27 punts inside the opponent's 20-yard line.
Jeramiah Stovall 5-11, 195, senior, DB
One of NU's best special teams players, Stovall sat in the stands for a few games last season before getting back in the action. He had eight tackles on NU's kickoff team last season.
Chase Urbach 6-3, 210, senior, LS
He became NU's full-time long snapper on the punt units last season. He'll presumably take over snapping duties on field goals and extra points, as well. He recovered a fumble last season and is generally good in punt coverage for a long snapper.
Jackson Hannah 6-3, 220, freshman, ILB
The faster Hannah picks up the defense, the better. He could play a backup role this season if he gets it quickly. In high school, he showed himself to be a smart, savvy defender who could be a real brute against the run. He knows how to take on a block and beat it.
Jamie Nance 6-0, 160, freshman, WR
A speed demon who enrolled early to get a jump on Nebraska's spread offense. Nance will gain weight with time, but he may be able to take the top off a defense in a game or two this season. Likely a four-game redshirt.
Darien Chase 6-1, 185, freshman, WR
Is he the next Stanley Morgan? Chase, one of the quieter Husker recruits, had big junior and senior seasons in the Portland area (Vancouver, Washington) to set him up for a chance to play early at Nebraska. His 2,099 receiving yards in those two years is nothing to sneeze at.
Luke McCaffrey 6-2, 185, freshman, QB
He's a lock to redshirt, presuming he plays only quarterback. Which Nebraska coaches have committed to him doing. But if he were to play, say receiver, this college football legacy could potentially see the field quite a bit this year. It's not going to happen, though. McCaffrey, a terrific athlete, wants to be a quarterback.
Chris Walker 6-6, 290, sophomore, DE
It's been one year since Walker transitioned from offensive line to defense, and this could be the training camp when his natural talent and toughness make an impact. Walker will have to contend for playing time with Casey Rogers and Tate Wildeman, as well.
Photos: Huskers host first Friday Night Lights camp of 2019