LINCOLN — The 6-foot-3, 320-pound mountain of a man tells a throng of Nebraska football reporters his first love was soccer. Really. And if Darrion Daniels' younger brother — a 6-2, 340-pound mountain named Damion — hadn't shown up Darrion when they were kids, maybe he'd still be playing goalie.
But the boys' father, Tony, didn't like how Darrion was performing in a youth football practice years ago. So he took the pads off Darrion and put them on Damion, who blasted through the offensive line.
"I took the pads back and put them back on," Darrion said.
The graduate transfer from Oklahoma State told that story and many more over 15 minutes, captivating an audience long after his teammates had gone to the locker room.
How are OSU coach Mike Gundy and NU's Scott Frost similar?
"Both players' coaches," Daniels said.
If Nebraska quarterback Adrian Martinez could be compared to any Big 12 quarterback Daniels faced, who would it be?
"Adrian's got a good arm, and he's fast," Daniels said. "Only one who really comes to mind is (Patrick) Mahomes."
How much does Nebraska resemble a Big 12 team?
"It does, it most definitely does," Daniels said. "Just the speed of the offense and the variety of looks the defense provides, it really throws the offense off balance. I feel it'd fit in pretty quick, if not take over."
Like a coach or a TV analyst, Daniels zipped through every question fired at him.
Pretty good for a first interview at NU.
It's rare for a transfer of any kind to join a team and swiftly bring teammates under his wing. But Daniels, according to anyone inside Nebraska's locker room, has done it.
"He's brought a spark to that D-line, a sense of accountability to that D-line and the whole defense," Frost said. "He's going to be a real asset, and I'm not just talking about on the field."
"He talks, people listen," defensive coordinator Erik Chinander said.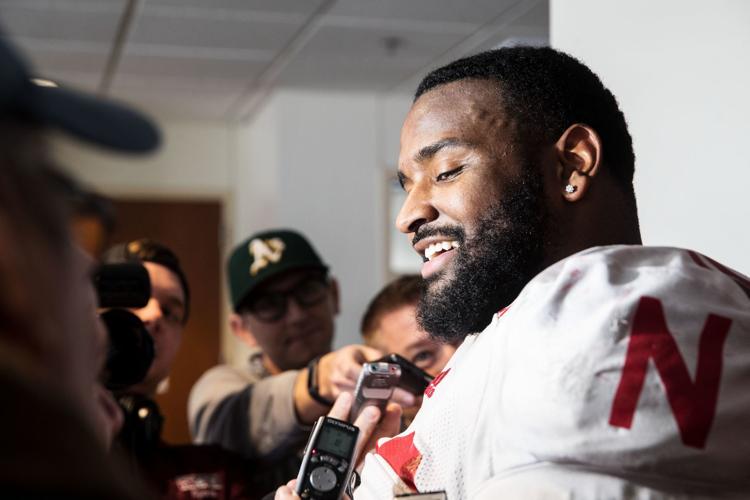 The defense's alpha leader, linebacker Mohamed Barry, didn't hesitate to give credit, either.
"He proved himself," Barry said. "He outworked people."
Even if that first metabolic workout — a staple of strength and conditioning coach Zach Duval's training regimen — left him retching in a trash can. Damion warned him, too, that it'd leave Darrion gassed. Darrion shrugged it off.
"Man, I'm Big 12, we do this, we run for a living, conditioning ain't nothin'," Daniels said.
It was something, all right.
"Halfway through the workout I was — ugh — I felt it," Daniels said. Breakfast, that is. He'd had a nice one, too. He didn't want to throw up in the weight room — like many of his teammates were — so Daniels held it in until he got back to the locker room.
"It was a great breakfast — but it tasted disgusting coming back up," Daniels said.
Otherwise, the transition was smooth. Damion had already told Darrion so much about his teammates — especially Carlos and Khalil Davis — that Darrion knew all the inside jokes and nicknames when he arrived. He fit in quickly with the culture, he said, doing little more than being himself.
Yes, he's a talker — "I'm a very verbal person," Daniels said. "I speak how I feel quite often." — but he doesn't talk for show, and he leads by example first. In learning how to play a 3-4 nose — after spending four seasons in a 4-3, one-gap scheme — Daniels said he's worked with "integrity."
"I just go out there and do what I'm supposed to do," Daniels said. "And most people notice it."
Coaches at Nebraska have. So did coaches at Oklahoma State. Daniels said he "loved it" at OSU, and would have finished his career in Stillwater last season had he not ruptured a tendon in his left pinky finger. It doesn't sound like much, Daniels agrees, and it didn't hurt much. But he's a defensive lineman — his hands are virtually weapons in the trenches — so, if he'd continued to play with the rupture, the injury would have gotten much worse.
After it happened, Damion called Darrion and dropped what Darrion called an "egg." When Darrion was a senior in high school, Damion was hurt. So, Damion reasoned, Darrion owed him a year of football together.
"And I was like, 'You're right,' " Darrion said. "I never really fully got that opportunity to play with my brother on the field. And I feel like it was the best opportunity for me to take."
Teammates and coaches at Oklahoma State were supportive. Tears were shed. But Nebraska was Darrion's one-year home.
The Daniels brothers will likely rotate duties at nose tackle. Two mountains moving in and out of the lineup. New defensive line coach Tony Tuioti — who arrived after Darrion Daniels did — said the brothers are alpha leaders in the group. Damion has grown since Darrion has arrived.
Darrion has grown in his love for Nebraska.
"I really just took a leap of faith," Darrion said.
Photos: Husker spring football practice March 27
Scott Frost and Nebraska held the second open media session of spring football practice on Wednesday March 27, 2019.