LINCOLN — On the last good day of Milt Tenopir's life, he sits in the passenger seat of his son's pickup outside Memorial Stadium, holding a plastic syringe. It's 4 p.m. and the most famous offensive line coach in college football history is getting antsy.
Tenopir waits in the handicapped parking spot for his son to retrieve his motorized scooter from inside. He swallows his shot of morphine and chases it with Diet Pepsi.
"Tastes like poo," he says.
Twenty-eight months after his first cancer diagnosis, Tenopir is sick of bone biopsies and chemo treatments, blood transfusions and horse pills. His best medications, he says, are family and football. His son, Todd, opens the door, steadies the scooter and lifts his 76-year-old father out of the truck.
Milt grunts in pain, just as he had 45 minutes earlier at home when this process started. Ten minutes to get out of his recliner. Five minutes to get his wheelchair down the steps and outside. Five more to get up into the truck. Don't forget his hat, he told his wife. Or his sunglasses. Or his pickle juice. Or his chew spitter.
It was all so much trouble and yet it was exactly the adventure Tenopir craved during his two weeks in the hospital, when they almost lost him. It was the thing that drove him to choose home hospice care rather than a facility. At home, he could maintain a shred of independence.
He could go to Nebraska football practice.
His first afternoon home, he was just too tired. Broke his heart to wait another day, but now he was here. He was gonna see the boys — he knew almost all of them by name. He was gonna see his kindred spirit, the heir to his legacy, "my buddy" Mike Cavanaugh. Mike Riley had sent Tenopir a text message in the hospital, encouraging Milt to come back to practice because "Cav needed his partner."
"I know it's in jest," Tenopir says. "But one of the best moments of my day is getting to watch practice."
He'd observed dozens since Riley's arrival, occasionally steering the scooter a little too close to the action.
"I only got run over twice," he says. "Somebody assigned somebody to watch me and keep me away from trouble."
OK, he's ready to scoot. He turns a sharp circle, rolls up the sidewalk and greets a pack of Husker cheerleaders. Then he stops to conceal his urinary catheter. OK, try again. He rolls past the track and around the Hawks Center, where he parks in the shade.
Tenopir doesn't know that this is his last trip outside his house. He doesn't know that four days later, he'll be gone, leaving a fraternity of hard-headed, middle-aged 300-pound men in tears.
The football team finishes stretching. Milt chats up an old friend. Then he turns his head and feels an adrenaline jolt.
The Huskers are coming his way.
Six hours earlier, I turned down the long driveway off 40th Street, coasted back through the trees and arrived at the house Milt and Terri built 30 years ago, when he was winning rushing titles every other year.
A paper plate, taped to the door, said "Come on in." Tenopir's illness was no secret and his fans — family, friends, coaches and players — never worried about privacy here. If Tom Osborne occupied Nebraska's football throne, his O-line coach guarded the castle's front porch, where he could spin yarns till 3 a.m.
"Bullshooting," as Milt puts it.
Some assistants crash at the end of long days. Milt and Charlie McBride used to spend Wednesday nights during the season in Davey (population 154), where they drank beer and played pitch with the farmers. Sometimes they drove around the hills west of Lincoln looking at land for sale.
"Didn't have any money," Milt said. "Didn't make any difference."
He settled for a great spot in the middle of Lincoln. Inside the Tenopir house, living room walls and shelves are filled with family pictures. Kitchen counters are packed with medical supplies. At 10 a.m. last Thursday, the coach was resting in his sanctuary, a sunroom that overlooks the backyard.
"He didn't want to be back in the bedroom," wife Terri said. "He can see his garden from here. And his fish (mounted on the wall)."
Terri and her mother prepared his bed by the window, but Milt was doing fine in his leather recliner, well-rested after his best night of sleep in weeks. He even had dreams.
"Lot of dreams," he said, bed sheet over his legs.
A few weeks earlier, he'd woken up at home and felt like he was suffocating. He spent 72 hours on a ventilator the weekend of the Wyoming game. Meanwhile, his daughter was in the building next door, giving birth to Milt's 11th grandchild.
"He had more machines around him than I could shake a stick at," McBride said.
"Essentially," Tenopir said. "I was dead."
And then he wasn't. Sunday morning, Sept. 11, McBride returned to the hospital expecting the worst. He found Tenopir awake, hugging visitors.
"You know how they only allow maybe three people in the room?" McBride said. "I bet there were 12."
Former players ate up plenty of space. When nurses alerted Terri to another guest, she asked who it was.
"Just another big guy," the nurse said.
In his 29 years, Tenopir coached hundreds of linemen, by far more players than any position coach in Husker history. He had a knack for remembering how players came to Lincoln, how they grew up in the program, how they got to love the place and where they live now.
Over the past month, those players — now ranging from late 30s to early 60s — said goodbye. Some delivered the message in person. Some preferred a phone call or a text. Here's one from 10-year NFL veteran Adam Treu:
"Love you Coach. Wish I was coming over for a soda pop and some Rocky Mountain Oysters for the game tonight. I think of you often and how you helped shape me into the man and father I am today. Words cannot express my gratitude and appreciation to you, Terri and the rest of the Cornhusker family. As each day passes, I am made aware of how fortunate I was and am now to be part of that family."
We talked about technique and scheme, where Tenopir was a master. Lord knows how many hundreds of hours he spent at the chalkboard in his O-line room, drawing plays.
We talked about specific blocks in specific games. How Aaron Graham, for instance, adapted to the quickness of Warren Sapp.
A squirrel climbed on his deck railing and peeked in the window. Milt's blue eyes closed and opened, closed and opened. But he just kept talking. For 2½ hours.
About his childhood in Harvard, Nebraska, about his playing days at Sterling College in Kansas, about the players he recruited and the jobs he considered, including Weber State in Utah.
"I didn't get it because I wasn't a Mormon, I think," he said, to which I laughed. "I'm serious."
At some point in the '80s, Tenopir knew he couldn't leave Nebraska. He determined that he had the best job in the country working for the best boss in the country. Why uproot your family to chase a little more money?
He was in the middle of a story about the '95 Orange Bowl when a visitor walked into the sunroom. He turned his head and saw Dana and, in her arms, the little boy born while Milt was in the ICU.
"Oh, I can't believe it," he said. "I cannot believe it. I haven't even gotten to hold this little s---."
Grandpa curled his left arm, marred by blood bruises, and waited for the sleeping baby, 13 days old.
"This is my new buddy! His name is Steele. S-T-E-E-L-E. Or is it just an L?"
"Oh, my heart pounded yesterday because I didn't get to see him. … My goodness are you a neat little booger. Papa loves you, buddy. Papa loves you."
I left so Milt could catch a nap before Husker football practice. When I came back two hours later, he had a dip of wintergreen long cut in his lip, a plastic spitter in his lap. He asked Terri for pickle juice to ease his cramps.
Somehow we started talking about Nebraska's shift to zone blocking schemes in 1989 — and the fruits of change. He described a play that broke Steve Spurrier's defense in the '96 Fiesta Bowl. I was struggling to keep up. He grabbed my notebook.
"Let's see if I can draw it right. I'm pretty shaky these days."
He took my pen and started making circles for offensive linemen. The pen slipped through his hand. Again. And again.
"I'm sorry," he said. "Is that 11?"
For three minutes, he ushered me through the scheme, who each man blocks and why it puts the defense in a pickle.
"Long story short," Tenopir said, "we got that block, that block, that block. … We had a natural cutback lane right here. I remember Ahman broke one for 50 or 60."
By the end of his explanation, he'd scribbled so many lines on the yellow paper that it didn't make much sense anymore. But I think I'll hold onto it.
The last play Milt Tenopir ever drew up.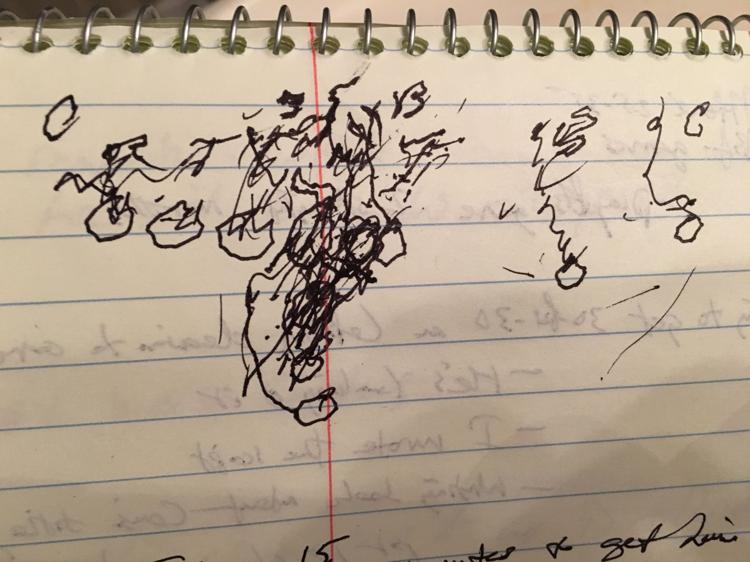 In the past four days, leading up his death on Monday night, Tenopir's body shut down. Blood turned his urine black. He drifted in and out of consciousness.
Thursday's practice visit, according to his wife, was "his last burst of energy."
"If he would've passed away down there, he would've been perfectly happy," Terri said. "Perfectly happy."
Tenopir didn't expect what happened as the Huskers finished stretching and took the grass fields. Almost 100 players line up, one by one, and shake his hand as they go by.
David Knevel, the 6-foot-9 offensive tackle, extends his hand and Tenopir kisses it. Center Dylan Utter leans down, lays his tattooed arm on Milt's shoulder and hugs him hard enough to jostle his scooter and his hat. "How ya doin', boss man?"
"Better now that you guys are here," says Tenopir, tobacco in his teeth and tears in his eyes.
The last Husker through — three minutes after the line starts — is not a 300-pound blocker. It's not an in-state kid who remembers the glory days. It's a Blackshirt from Texas, junior cornerback Josh Kalu, who smiles and puts his hand on Tenopir's shoulder.
"How ya doing, Milt? Keep fighting, baby. Keep fighting."
"You've been part of this program way before I have," Kalu says. "You still will be."
Photos: Remembering Milt Tenopir
Legendary Nebraska offensive line coach Milt Tenopir passed away on Monday after a battle with cancer.  Take a look at photos from a lifetime filled with love for Nebraska and the Cornhuskers.