IOWA CITY — The plan was to go to the best wide receiver in school history.
So the true freshman quarterback rolled left and loaded to fire the 2-point conversion attempt to the receiver who'd caught more passes than anyone in 129 years of Nebraska football.
But Iowa loaded up that side of the field and Adrian Martinez knew better than to force a pass. So he went looking for a another target.
Sign up for Big Red Today news alerts
Get a daily Husker news roundup, recruiting updates and breaking news in your inbox.
Martinez kept his eyes in the end zone. There was a senior running back. A junior wide receiver. And streaking in the back was a redshirt freshman. Martinez fired and Kade Warner caught the fastball, touched a toe in the end zone and held on despite a nasty hit from an Iowa safety: 28-28.
The two freshmen knocked helmets in the end zone.
On Martinez's last play from scrimmage, he trusted an underclassman.
With Stanley Morgan gone, Nebraska loses the receiver with the most consecutive games with a catch in school history. With linemen Jerald Foster and Tanner Farmer graduated, Nebraska will lose the vocal leaders. The dynamics of the locker room change with linebacker Luke Gifford exiting, a guy who gave Nebraska a boost by barreling for 4 yards on a fourth-and-3 fake punt to extend a Nebraska drive Friday against the Hawkeyes.
The seniors built a foundation. They pushed the boat across the beach, and put it in the water.
Now, it's up to Martinez, and Warner, and Frost's young talent on offense to steer the ship back to calm waters.
And the seniors think they'll do just that.
"They're gonna win a ton of games here," Gifford said, fighting back tears postgame. "They're good kids. They work hard, Coach (Scott) Frost is awesome, and I can't wait to come back and watch them."
The proof was on that wet turf Friday. Time and time again, Nebraska's underclassmen showed up when Nebraska needed a big play.
Martinez completed 26 of his 38 passes for 260 yards and two touchdowns, plus the conversion to Warner. True freshman Maurice Washington became the first running back in more than a decade to get more than 100 receiving yards. Sophomore Jack Stoll dove for the pylon on the opening drive for a score and rammed into an Iowa defender for a key first down in the fourth quarter. That doesn't even include sophomore JD Spielman, who finished with more than 800 yards receiving for the second straight season.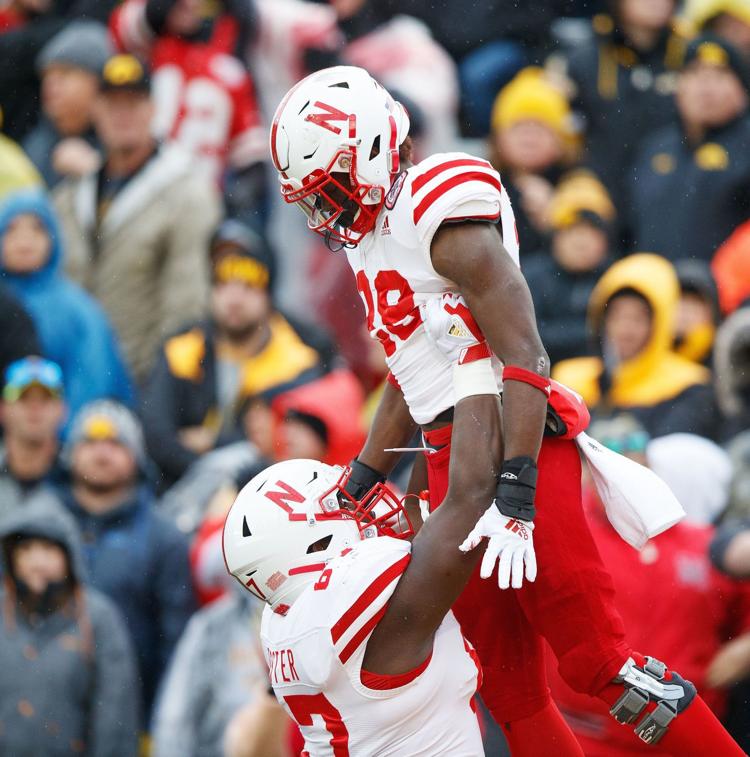 "We know what we're gonna be," sophomore offensive tackle Matt Farniok said. "We're going to continue to grow, we're gonna get better and understand better, we're gonna be faster, we're gonna be stronger. We're gonna be a great team (next year.)"
It begins with Martinez, who finished eighth in school history in passing yards for a season, sixth in completions, second in completion percentage, fifth in total offense, first in 300-yard games and tied for first for total 400-yard games.
Senior running back Devine Ozigbo expects a Heisman Trophy in Martinez's future.
"He's gonna be a lot better next year," Frost said. "There's just no doubt about it."
In the huddle, Ozigbo noticed Martinez become more comfortable running the show. And as the year went on, his teammates were more in awe.
"I've literally never seen a quarterback or played for a quarterback that is like this," Farniok said. "He's incredible."
Next to Martinez in the backfield will be Washington, who finished the season with 455 rushing yards and 221 receiving yards. Ozigbo likes the way Washington's progressed off the field. He's more mature. He's more independent.
He's already a freak, Ozigbo said.
"If he can gain even more strength and agility, it's going to be over."
That's the key for the next few months. The underclassmen growing into themselves with the offseason training program.
Frost likes where his offense is, and the pieces he returns. And with Frost at the helm, Martinez said, the sky's the limit for the underclassmen.
There's no doubt in Frost's mind where this is going. And in the locker room, he gave an order to ensure that sentiment.
"It's time to get back to work."
Photos: Nebraska closes 2018 season against Iowa
Scott Frost and Nebraska travel to Iowa to face the Hawkeyes.