If you've read Tom Shatel's column, you'd know the story behind how Nebraska became the first college football team to adopt that brand, and how for Nike, the Huskers were the one that got away.
Before Adidas came along, the Huskers wore a hodgepodge of gear — Converse shoes, Russell Athletic jerseys — which you can see below: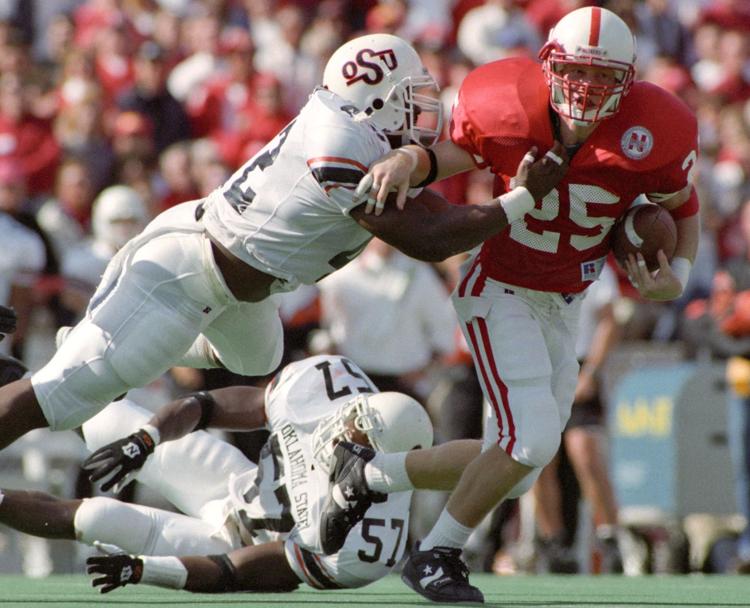 These days, when a team changes apparel brands, it's huge news. But back in 1995, it hardly registered as monumental. Here's the brief story that ran in The World-Herald on March 8, 1995, reporting the news of Nebraska's switch from Converse to Adidas.
After a 10-year association with Converse, the Nebraska football program has signed a shoe deal with adidas.
Neither Steve Pederson, NU's associate athletic director for football operations, nor Ed Lussier, adidas' director of U.S. marketing, would reveal the terms or length of the deal.
Pederson said Converse told Nebraska it was getting out of the cleated football shoe market. When the contract expired Jan. 31, NU had players try shoes from Reebok, Nike and adidas.
"The kids said they liked adidas the best," Pederson said Tuesday.
Lussier said adidas is re-entering the cleated shoe market.
"The University of Nebraska offers us the perfect vehicle to re-establish our credibility in the football market," Lussier said in a statement.
Glen Abbott, Nebraska's football equipment manager, said changing shoe companies won't cause him major problems.
"We'll try to get rid of the stock we have," he said, "and then it's a matter of starting over with the new."
Adidas and Nebraska have been a perfect match ever since, and the magnitude of their relationship has grown exponentially in the 21 years since. Every Husker team rocks Adidas from head to toe, and the Husker football team in particular has been a model for the company's experiments with alternate uniforms.
The brand was much simpler back in 1995, though. Check out the photo showcase below from that national championship season to see Adidas make its first appearance with the Huskers.