LINCOLN — It's hard to sugarcoat the struggles of Nebraska's athletic teams in the 2017-18 season — even if there's a nice bit of Frosting on top.
NU had its lowest finish in the Directors' Cup — 44th nationally, ninth in the Big Ten — since the inception of the competition in 1993. Not even a fifth national title in volleyball — the gold standard among Husker sports — could prevent it.
Several high-profile sports at NU — men's basketball, baseball and softball — failed to qualify for the NCAA tournament. Though men's hoops made the NIT, the Huskers flamed out with a first-round loss at Mississippi State. The track teams, which entered the Big Ten as powerhouses, have declined, especially the women.
And, of course, the football program bottomed out with its worst record (4-8) since the early 1960s. Coach Mike Riley was fired. So was his boss, Shawn Eichorst, three weeks into the 2017 football campaign.
Eichorst's replacement, Bill Moos, made the easy choice to fire Riley and the popular choice to hire native son and former Husker quarterback Scott Frost. And Moos — a former college football player himself and a man most describe as a football A.D. — thinks the athletic department's overall success is tied to Frost.
Nebraska athletics had one of its worst years on the field. Football was part of the problem.
Now, Moos thinks, football will help fix it. The entire athletic department.
"Football's got to be healthy," Moos said at Big Ten media days in Chicago. "When football's healthy — and I've seen it everywhere I've been — all boats rise.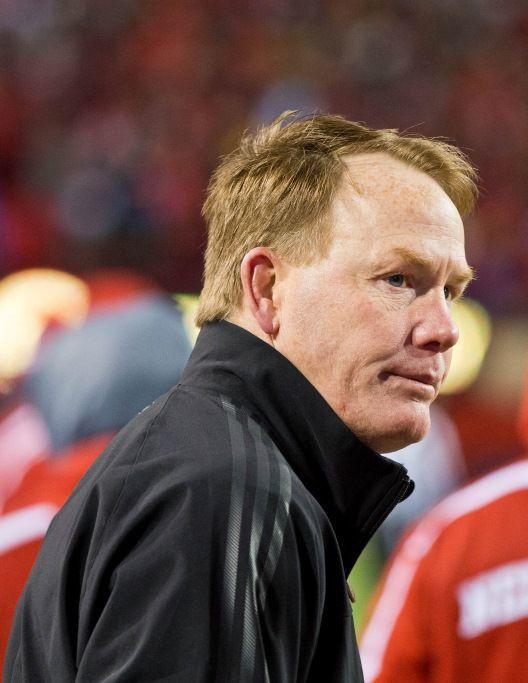 In conversations with other Husker coaches since his hire, the "Frost Effect" has been felt. Women's basketball coach Amy Williams said this spring that Frost, though he doesn't want to necessarily stand out, had a good presence in a coaches' meeting. Williams, a Big Ten coach of the year who led her team to a surprising berth in the NCAA tournament, was a student at NU the same time as Frost and attended his hiring press conference.
Frost offered a little informal recruiting assistance to volleyball coach John Cook in helping land high-profile Texas transfer Lexi Sun, an outside hitter who will help NU defend its national title in 2018.
The Husker women's sports, Moos said, had a solid year. Volleyball won the title. Gymnastics made it to the Super Six finals. Bowling made it to the national semifinals.
"We've got to maintain that and get the men's side going," Moos said.
Moos fired longtime coaches in men's golf and men's tennis, which had perennially struggled in the Big 12 and the Big Ten, and replaced them with coaches who have Big Ten experience. Basketball coach Tim Miles, who returns four top starters from a 22-11 team, is likely in an NCAA-tournament-or-bust season. Moos extended Miles' contract just one year — to three seasons total — saying in April he wanted to see NU follow up one strong record with another.
The new A.D. stood behind baseball coach Darin Erstad even as the Huskers finished 24-28 and failed to qualify for the Big Ten tournament at TD Ameritrade Park. NU's Big Ten regular-season title in 2017 was an important factor in Moos' support.
"Darin has had a rough year with losing a lot of his pitching corps," Moos said in May. "I know it's very frustrating, and nobody wears it on their sleeve more than he does. But let's stop and remember he won the Big Ten championship last year. Now did he advance on that? No. And I know that concerns some people.
"But in my brief visits with him and some of my observations, he is a die-hard Husker and he's a very, very passionate baseball guy."
Another area to watch: Women's track and field, which failed to score in six of the past 10 NCAA meets, including this year's outdoor championships.
"That bothers me," Moos said in June. "This is Nebraska. This is where talented athletes ought to want to come and where they should train and develop. And when I don't see that's happening, yeah, that's a concern."
Moos has bonuses tied to high finishes in the Directors' Cup. A partial bonus kicks in if the Huskers finish No. 30.
In Chicago, Moos said pieces were falling into place.
Football is on its way, though facing a daunting schedule in 2018 and the usual growing pains that go with transitioning from one coaching staff to another. A big-ticket nutrition hire — bringing back Dave Ellis for $250,000 per year to oversee Nebraska's nutrition program, specifically football — will help, Moos said. Nebraska intends to get more out of the technologically advanced Nebraska Athletic Performance Lab in East Stadium. Strength and conditioning programs, Moos said, need to be the best.
"We've got to stay on facilities," Moos said.
Sign up for Big Red Today news alerts
Get a daily Husker news roundup, recruiting updates and breaking news in your inbox.
---
Football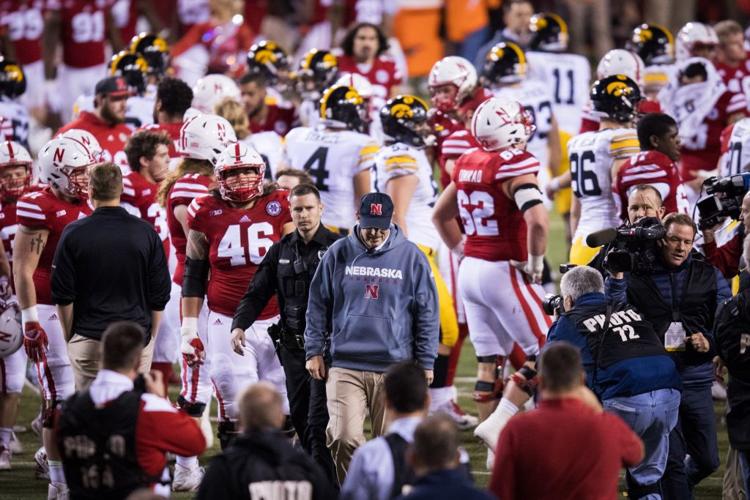 Big Ten: 3-6 (fifth), 4-8 overall
Preseason prediction: With a young roster and the departure of many seniors, Nebraska was supposed to be in a bridge year between 2016 and 2018, so 8-4 or 7-5 seemed most likely.
How it played out: Like a nightmare that eventually became, by the end, a dream. Husker football was awful in Mike Riley's third and final year, a mess of turnovers and bad tackling and press conferences from defensive coordinator Bob Diaco that left reporters and fans alike shaking their heads. NU gave up 54, 56 and 56 points in its last three games, Riley was summarily axed by new Athletic Director Bill Moos and native son Scott Frost was hired. That was the dream part; if it took bottoming out to land one of the nation's hottest young coaches, well, so be it.
Success or struggle: A big struggle that, again, was kind of a success. Have you seen your local friendly Husker fan lately?
Standout/star: None, really. Kicker Drew Brown capped a fine personal career at Nebraska by making 12 of 14 field goal attempts and all 37 extra points.
Season high: A 25-24 comeback win at Purdue, in which quarterback Tanner Lee — up and down all season — drove his team for two fourth-quarter touchdowns, including the winning pass to Stanley Morgan with 14 seconds left in the game.
Season low: There were so many! But, really, Husker football was doomed from the moment it lost 21-17 to Northern Illinois thanks to two pick-sixes thrown by Lee. Five days after the game, Riley's boss, Shawn Eichorst, was fired, and Riley was on a flaming hot seat. The team won three more games but often played tentatively and uncertain of itself.
Trending: Up. The Frost effect is in full gear. Seriously speaking — Frost, his staff, his offense and his training methods should get this team back to a bowl game in 2018. The schedule is tough, but there are six or seven wins to mine from it. And then, in 2019, watch out. Nebraska could make a run at the Big Ten title. (And maybe even the College Football Playoff.)
---
Volleyball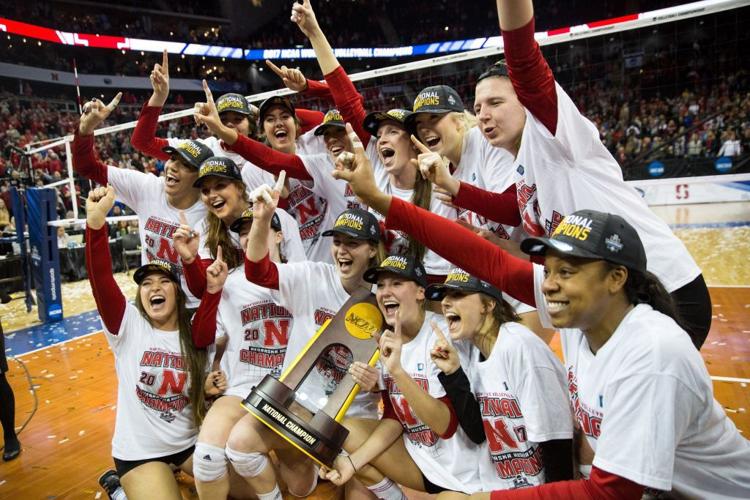 Record: Nebraska's 19-1 Big Ten mark was its best since joining the conference in 2011, delivering the Huskers' second straight league title. NU dropped 11 sets in Big Ten play, its fewest since losing seven its final year (2010) in the Big 12. The Huskers were 32-4 overall.
Preseason prediction: Despite the loss of All-Americans Amber and Kadie Rolfzen and Justine Wong-Orantes from the 2016 club, Nebraska was picked to finish second in the Big Ten behind Penn State. While the prediction didn't bear out , the league coaches nailed the conference's top two teams, which would meet in the final four.
How it played out: With starting setter Kelly Hunter out with an injury, the Huskers dropped both matches at the season-opening VERT Challenge. Hunter returned the following week as NU won its next six, including back-to-back sweeps of UCLA. A loss to Northern Iowa in Omaha sent the Huskers into Big Ten play on a sour note, but little is sweeter than a win over Penn State. The Huskers' sweep at Rec Hall put the league on notice that John Cook's group had a high ceiling, and NU's lone loss in conference play came against a Wisconsin team that should challenge for the league title this fall. Nebraska dropped one set on its way to a third straight NCAA final four. After sweating out a five-set win over the Nittany Lions in the national semifinal, the Huskers paid back Florida for an August loss by beating the Gators in four for Nebraska's fifth NCAA championship.
Success or struggle: The volleyball program continues to be the dependable beacon of an athletic department that has wandered in the wilderness in recent years. The team's third Big Ten championship gives it more league crowns than any other NU program.
Standout/star: Annika Albrecht was Nebraska's breakout success, becoming a six-rotation outside hitter her senior season, and Mikaela Foecke joined elite company in being named the final four's most outstanding player for a second time. But Hunter remained the Huskers' unifying force. The Papillion-La Vista South graduate captained NU for the third straight season, her finest in Lincoln. Hunter was a first-team All-American and was the leader of a team with five new starters.
Season high: The confetti fell in Kansas City after Nebraska beat Florida in four sets for the NCAA title, but the match of the year came two nights earlier when the Huskers rallied against Penn State. Nebraska trailed 2-1 in sets and for the second year in a row,  found itself facing a Penn State match point that would end its season. The Huskers dodged a bullet when two Nittany Lions got tangled, bungling a golden transition opportunity to end the match. Nebraska would make the most of the reprieve, taking the next two points to win Game 4 and pulling away late in the fifth set. Foecke's 19 kills led four Huskers in double figures.
Season low: Cook is hesitant to join contemporaries who  routinely play two matches in a day during the nonconference schedule. The Huskers' sleepy Saturday loss in September to Northern Iowa at the Omaha Challenge showcased why. Nebraska's passing was poor with the Panthers' eight aces making the difference.  Nebraska dropped to 6-3 but rebounded to beat UNO that night, then lost only once the rest of the year.
Trending: Replacing four senior starters would dampen the expectations at most programs. But at Nebraska, a step down could very well mean a top-10 finish. The Huskers bring in the country's No. 5 recruiting class, according to PrepVolleyball.com, including top-ranked setter Nicklin Hames. They also add outside hitter Lexi Sun, the 2017 national high school player of the year who transferred from Texas after one season. No other program in the athletic department holds the national status in attendance, facilities, recruiting, coaching and investment that volleyball does. Nebraska will be an elite program as long as those advantages exist.
---
Men's basketball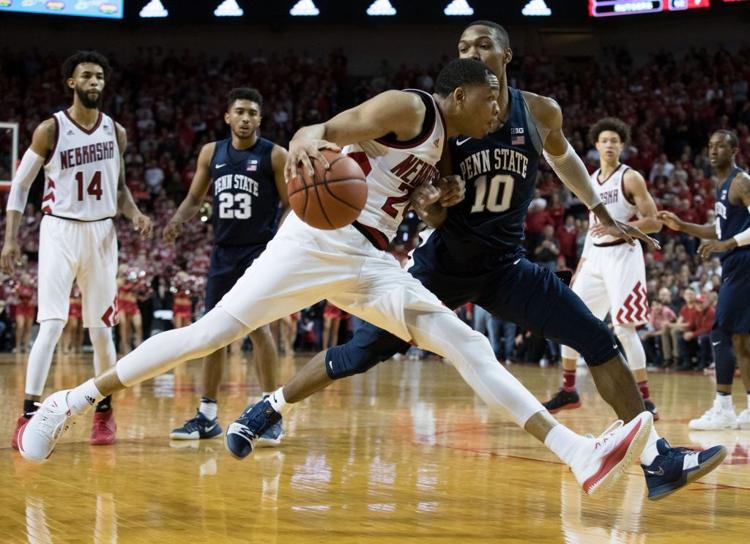 Big Ten regular season: 13-5, tied for fourth (22-11 overall)
Big Ten tournament: Lost to Michigan 77-58 in quarterfinals as the No. 4 seed.
Preseason prediction: The league doesn't conduct a preseason poll. An unofficial poll of Big Ten beat writers picked NU to finish 13th out of 14 teams.
How it played out: Surprisingly. Working three new starters into the regular lineup, the Huskers sputtered a bit to start, going 9-4 in nonconference play. But when league play began, they won eight of nine in one stretch and finished tied for fourth.
Success or struggle: Success. The 13 conference victories set a school record. The 22 wins overall tied for the second-most ever . Also, two Nebraska players were named All-Big Ten.
Standouts/stars: Junior guard James Palmer, a transfer from Miami, became the fifth Husker in 20 years to be named first-team all-conference. He finished third in scoring (18.8 points) in Big Ten games and fifth overall (17.2). Junior forward Isaac Copeland was picked honorable mention All-Big Ten, averaging 12.9 points and 6.1 rebounds.
Season high: A 72-52 drubbing of Michigan at home on Jan. 18. The previous March, the Wolverines handed Nebraska its worst home loss in history (39 points). This also had been the only Big Ten team Tim Miles hadn't beaten.
Season low: A 77-58 loss to Michigan in the Big Ten tournament. With an NCAA tournament bid likely just one victory away, the Huskers played like zombies. They fell behind by 18 points in the first 17 minutes and missed 19 of 20 shots in one first-half stretch.
Trending: Mostly up. Nebraska returns 79 percent of its scoring, 74 percent of its rebounding and 75 percent of its assists as it continues its search for that elusive NCAA tournament victory.
---
Women's basketball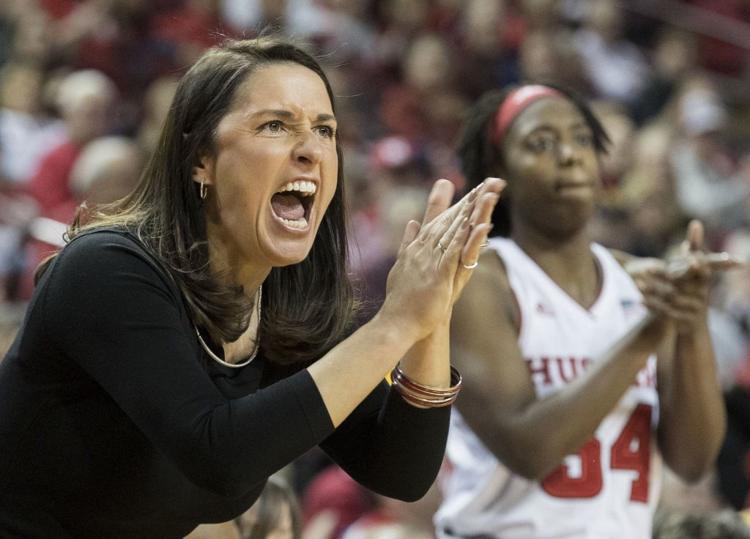 Record: 11-5 Big Ten (tied for fourth), 21-11 overall
Big Ten tournament: Lost in the semifinals to Maryland
Preseason prediction: Nebraska was projected to improve on its 7-22 record from last season but still be in the bottom half of the league.
How it played out: Nebraska stunned the league, and probably itself, qualifying for the NCAA tournament despite many of its best players being sophomores or freshmen. The Huskers navigated a much easier nonconference schedule — winning on the road at Kansas and Drake — and parlayed that into a surprising run in the Big Ten. Though NU fell short against the Big Ten's best teams — three competitive losses to Maryland — Amy Williams won Big Ten coach of the year with she and her assistants getting a raise.
Success or struggle: Major success. An NCAA tournament bid in Year 2 of Williams' tenure is ahead of schedule.
Standout/star: The Huskers had four players who averaged at least 9.9 points per game and six who averaged at least four rebounds, but it's hard to underestimate the value of center Kate Cain, a late addition to last year's team who, as a freshman, broke the school's single-season record for blocks. She finished with 100, 33 more than NU's entire team the previous season. With Cain shutting down the lane, NU went from giving up 76.3 points per game in 2016-17 to 63.6 in 2017-18.
Season high: A 92-74 rout at Iowa in which Nebraska led 56-26 at halftime. NU swept the Hawkeyes last season.
Season low: A 73-62 loss to Arizona State stuck in Williams' craw a bit, because ASU — quicker and more athletic — outrebounded Nebraska by 22. The Sun Devils, much like Maryland, were a team Nebraska struggled to beat. The Huskers were one or two players away.
Trending: Steady for the next season — a return to the NCAA tournament would be a good goal for a team blending in four freshmen and a graduate transfer — and way up over the next three years. Williams has set up 2019 and 2020 to be seasons where Nebraska could be a Sweet 16 program. Reach that plateau and anything is possible.
---
Baseball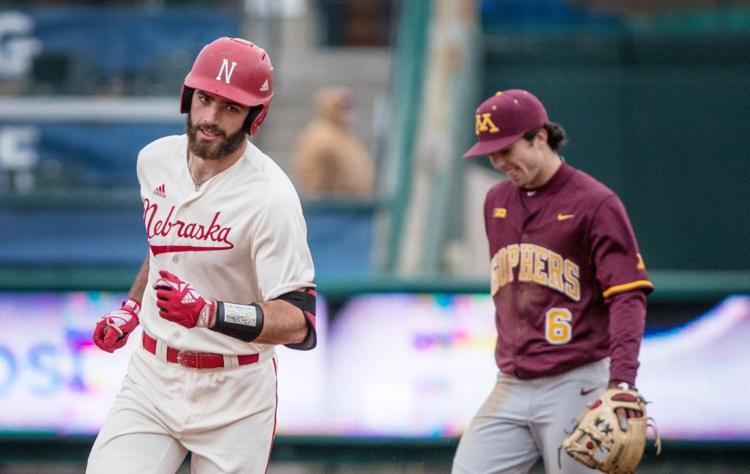 Big Ten regular season: 8-14, 10th (24-28 overall)
Big Ten tournament: Did not qualify
Preseason prediction: Coaches picked Nebraska to finish second behind Indiana.
How it played out: Not well. The Huskers won five of their first eight games in February, but a pair of blowout losses to eventual national champion Oregon State were early signs that the Huskers were a long way from a postseason contender. A rash of pitching injuries gutted the bullpen while seniors Luis Alvarado and Matt Warren ended with ERAs hovering around 5.00 as two of NU's weekend starters. Though the offense was potent enough, ranking 53rd nationally in runs per game (6.5), uncharacteristically shaky defense and erratic pitching left the team with a razor-thin margin of error all spring. Nebraska stayed in the Big Ten playoff race until the final weekend but went 1-6-1 in league series one year after winning the regular-season title.
Success or struggle: The narrative entering the spring was Nebraska's postseason struggles — a combined 1-11 record in the Big Ten and NCAA tournaments the previous three years. That mark didn't worsen, but only because the Huskers missed both events for the first time under seventh-year coach Darin Erstad. With the offense showing improvement and the pitching struggles deserving an injury-related asterisk, the most surprising and frustrating part of the season was the fielding. NU hadn't ranked below 37th nationally in fielding percentage under Erstad until finishing 152nd (.969) this season. And that doesn't factor in frequent shoddy bunt coverage and unpredictable outfield play that helped opponents to many big innings.
Standout star: Scott Schreiber capped a brilliant college career by staying healthy and turning in perhaps his strongest season in the field and at the plate. His 18 home runs and .369 batting average both ranked in the top 50 nationally and he finished in the top 10 in program history in career homers, hits and RBIs. The 6-foot-3 senior from Wisconsin dropped about 30 pounds to 220 for the spring after deciding not to turn pro when Tampa Bay drafted him in the 26th round in 2017. He went in the ninth round (282nd overall) to Houston in June's MLB draft.
Season high: Nebraska's rally past then-unbeaten Wichita State was among the most dramatic moments for a single game — with a Zac Repinski homer erasing a two-run deficit in the ninth inning and a Jesse Wilkening blast providing the go-ahead blow. The big-picture high point was when the Huskers won the final two games against Maryland and the opener against Indiana in early May to make a postseason run appear imminent (though they followed with four straight Big Ten losses to bow out).
Season low: Twenty-eight losses provide plenty of choices, but an 8-7 defeat to UNO on April 18 represented the most public frustration for a Husker squad that lacked the pitching depth to compete in a midweek game against a Summit League opponent. The outcome ended a 12-game Husker winning streak in the series dating back to 1997. NU was 3-7 overall in midweek games, including 0-4 against the Mavs and Creighton.
Trending: It was in many ways a lost season for Nebraska, which lost two projected weekend starters to injury before or early in the year while multiple other pitchers either went down or were ineffective while recovering from previous ailments. But that part of the game could turn around quickly with a return to health. The offense is of more immediate concern with the departures of Schreiber and Wilkening, the team's only .300 hitters. In the big picture, the Huskers' last three recruiting classes had ranked 73rd or worse by Perfect Game before the 2018 group came in at 37th. New Huskers will need to rise up if the program is to contend for a fourth NCAA regional under its eighth-year coach.
---
Softball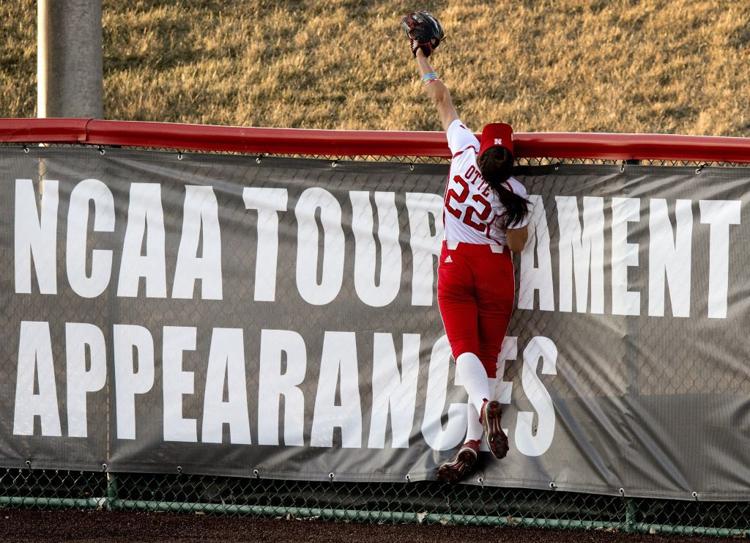 Record: 9-13 Big Ten (ninth place), 31-23 overall
Big Ten tournament: Lost in first round
Preseason prediction:  The Huskers were 24-29 in 2017, their first losing campaign since 2008. The pitching was expected to be better last year.
How it played out: The Huskers finished with a winning record, but lost nine of their last 10 games. Nebraska finished ninth out of 14 teams in a down year for the conference; no Big Ten team advanced to the super regionals. A lack of consistent hitting torpedoed the Huskers' hopes. Nebraska finished with its third-worst team batting average this century (.266) — three years ago, the Huskers hit a school record .337. Their average has steadily dropped each season.
Standout/star: Kaylan Jablonski was the MVP, Tristen Edwards was the leading hitter and Alyvia Simmons was steady at the plate and in the outfield. Those three were the only regulars to hit .300 or higher. Jablonski was the calming presence in the circle as the senior shouldered the heaviest load , finishing 21-14 with six saves and 133 strikeouts.
Season high: Three victories over teams ranked No. 19 or higher in the first three weeks of the season. The Huskers opened with a 5-4 win over No. 19 BYU before defeating No. 15 Utah 5-0 the next day. Things were looking even brighter when the Huskers beat No. 6 Texas A&M 6-3 Feb. 22.
Season low: Going 1-9 to finish the season. The Huskers were 30-14 before that. The lowest point was losing 4-3 to Michigan State in what turned out to be the final game of the season. Even with that lethargic finish, the Huskers had a good chance to secure an NCAA tournament berth if they could win their first game in the conference tournament. They didn't.
Trending: Down. Unless someone steps up to be a workhorse like the graduated Jablonski — she was the first pitcher in Division I to reach 17 wins in 2018 — things could get rough in the circle. Junior college transfer Regan Mergele had a 4.91 ERA in 19 appearances last season. Olivia Ferrell got off to a strong start as Nebraska's No. 2 pitcher but struggled through the second half after an injury. She finished 9-8. Ferrell is the best hope to be the ace. Courtney Wallace and Lindsey Walljasper are the top freshmen with a chance to provide quality pitching depth, though Wallace could give a thin infield a boost at third base. Madi Unzicker is back at first base, and Edwards, a converted outfielder, returns at shortstop after committing 14 errors last season. If someone like Carson Fischer can adapt to the college game quickly and provide more range at short, Edwards could return to an outfield that also is thin and untested beyond Simmons — Gina Metzler and Taylor Otte have graduated. 
---
Wrestling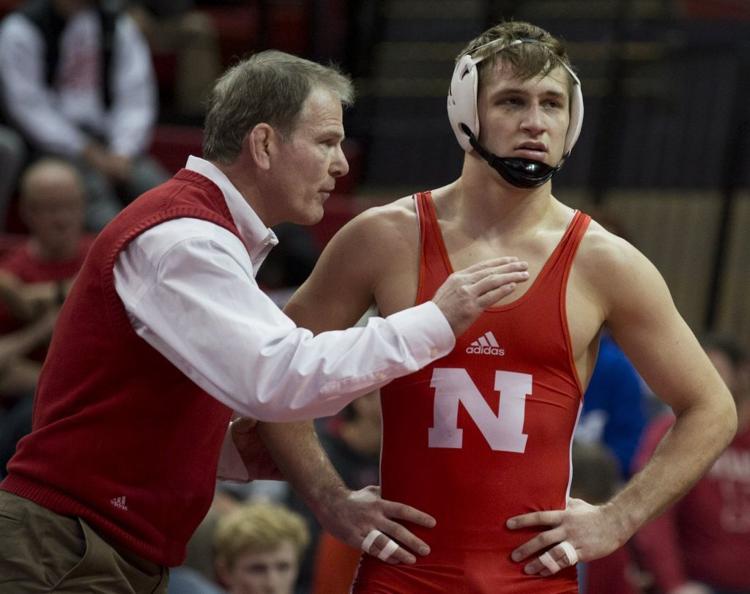 Big Ten regular season: Went 7-2, with its dual losses coming at Illinois and Michigan, which placed fourth at nationals. The Huskers didn't face Penn State, Ohio State or Iowa in conference duals — those teams took the top three spots at nationals.
Big Ten championships: NU finished fifth as a team as seven of its 10 wrestlers placed. No Husker reached the final, but Colton McCrystal (149 pounds), Tyler Berger (157) and Taylor Venz (184) each placed fourth.
Preseason: Nebraska was looking to finish in the top 10 at nationals for a fourth straight year, but this was a team in transition. NU had graduated three All-Americans from its previous squad, and only two starters returned. One of those returning starters, McCrystal, was competing at a new weight class.
How it played out: NU ended up with five freshmen in its starting lineup most of the season. Because of that youth, there were more ups and downs throughout the season. After losing three consecutive duals around the holidays, NU found its footing, winning eight of its final nine duals. NU qualified seventh for nationals, with Berger, Venz and CJ Red ending up as All-Americans. As a team at nationals, NU placed ninth.
Success or struggle: A success, especially with so many first-year starters. The freshman class grew up as the season progressed. Venz, who stepped into the lineup after three-time All-American T.J. Dudley graduated, was solid all season and finished fourth at nationals, the best showing by an NU freshman since 1999. Red had a 26-11 record at 141, but was at his best at nationals when he placed seventh.
Strandout/star: NU needed returning All-American Berger to embrace a leadership role for a young team — he did just that. The 157-pound Berger lost four of five matches during December, but peaked at nationals when he went 6-1 and placed third. His only loss was a one-point decision to runner-up Hayden Hidlay of North Carolina State.
Season high: Nationals was the high point, but what started to give NU confidence was three consecutive dual wins over ranked teams in mid-January. NU beat No. 22 Purdue, No. 20 Northwestern and No. 16 Rutgers by a combined 12 points.
Season low: The weekend before Christmas when North Carolina State and North Carolina rolled to dual wins at Devaney. NC State won nine of the 10 matches in a 29-3 win. The unranked Tar Heels won 22-14 two days later.
Trending: Up. Coach Mark Manning has to fill some holes at the lower weights, but at the middle and upper weights, the Huskers will have experience — and for the most part it's young experience. Besides having three All-Americans back, junior Isaiah White (165) and sophomore Eric Schultz (197) each won two matches at nationals.
---
Soccer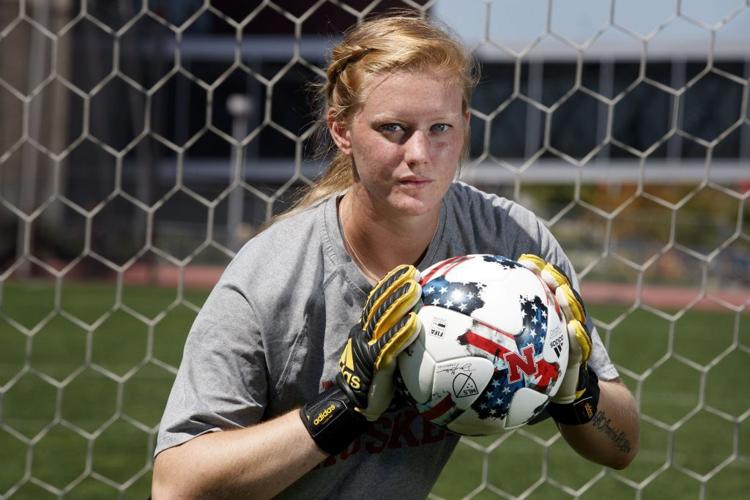 Record: 3-3-5 Big Ten (eighth place), 9-5-5 overall
Preseason prediction: Nebraska was picked seventh in the league after finishing sixth and making the NCAA tournament in 2016.
How it played out: The Huskers opened the season with four straight victories, working up to No. 14 in the coaches poll. But two losses in the next three games dropped them out of the Top 25, and they were unable to build any momentum in conference play. NU lost a tiebreaker with Iowa for the final spot in the Big Ten tournament.
Success or struggle: Senior Haley Hanson scored nine goals to help the Huskers make up for the loss of 2016 All-American Jaycie Johnson. Keeper Aubrei Corder had another stellar season. But if one of Nebraska's five draws in Big Ten play would have been a victory, it could have qualified for the conference tourney — and NU held a lead in three of the five games.
Standout/star: Corder, who topped her freshman campaign by lowering her goals against average to 0.64 and raising her save percentage to .803 as a sophomore. Her performance helped Nebraska finish 22nd in the nation in GAA. With two years left at NU, Corder is No. 3 in school history in GAA (0.75), No. 4 in shutouts (18) and No. 7 in saves (131).
Season high: In September, Nebraska played to a 1-1 draw with No. 7 Penn State, which went on to win the conference tournament and advance to the elite eight in the NCAA tournament. 
Season low: The Huskers won once in their final six matches, including two consecutive 1-0 losses to end the year. Playing Minnesota at home with a chance to make the Big Ten tournament in the season finale, NU outshot UM but lost in overtime after the Gophers scored in the 101st minute.
Trending:  While the Huskers lose top scorer Hanson and six other seniors, they bring back their Nos. 2 and 3 scorers, juniors Elyse Huber (seven goals in 2017) and Meg Brandt (four).
---
Men's track and field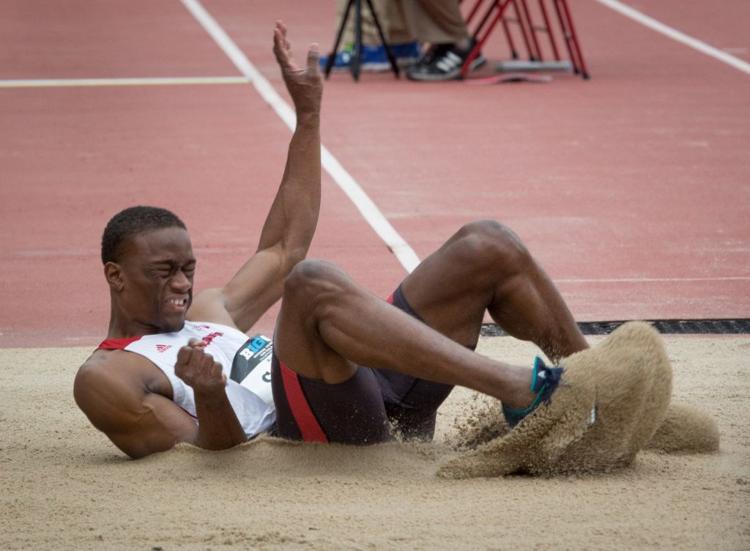 Big Ten indoor championships: Second
Big Ten outdoor championships: Third
Preseason prediction: After finishing fourth at the Big Ten championships in 2017, Nebraska was expected to make a run at the 2018 conference titles with a healthy roster. Some injuries to key performers likely prevented the Huskers from raising a Big Ten trophy this year.
How it played out: The Huskers were one-half second shy of capturing the indoor conference title when the 1,600 relay team finished second behind team champion Ohio State. Antoine Lloyd set a school record in the indoor 60-meter hurdles, winning the Big Ten title and finishing second in the nation at the NCAA indoor championships. Kaiwan Culmer swept the Big Ten's indoor and outdoor triple jump titles, while senior Nick Percy won the Big Ten discus title for the third straight year and finished eighth at nationals.
Success or struggle: More of a success than the previous year, thanks largely to Lloyd's national podium finish. But the Huskers would admit their standard is conference championships. Nebraska finished third at the Big Ten outdoor meet but was never really in contention for the team title.
Standout/star: Though he battled health issues of his own during his Nebraska career, Lloyd's senior year is all you'd hope a finale to be. He broke the school record in winning the Big Ten's indoor hurdle gold medal, was named the conference's indoor track athlete of the year and earned the Huskers' highest national finish on the track in an individual event since Miles Ukaoma won the 2014 NCAA 400 hurdles title. After adding the Big Ten outdoor 110 hurdles championship, Lloyd finished fifth in the event at the NCAA outdoor meet, earning his second first-team All-America finish of the season.
Season high: Nebraska builds its program to win conference titles, requiring across-the-board depth to score points in as many events as possible. The Huskers fell just short at the Big Ten indoor meet despite individual conference titles from Lloyd, Culmer and high jumper Landon Bartel. The Huskers trailed Ohio State by 17 points entering the final day of competition before narrowing the gap. The 1,600-meter relay team ran the No. 2 time in school history, falling just short of beating the Buckeyes.
Season low: The Big Ten outdoor meet showed the Huskers are still several elite athletes away from breezing to a conference title or being a national player. Nebraska had no finalists in the 100, 200 or 400.
Trending: It's hard to see the Huskers returning to the top of the Big Ten podium if their sprinter recruiting doesn't improve. Raw speed can help you in several events in team scoring, and Nebraska hasn't had healthy depth in that area for a few years. Nebraska's roster has been beset by injuries the last several seasons, and it's starting to become a concern. Oft-injured senior sprinter Malcolm White ended his career never matching his promising freshman year, and two All-Big Ten performers — jumpers Isaiah Griffith and Mike Mitchell — left the program in part because of concern with how  their injuries were handled.
---
Women's track and field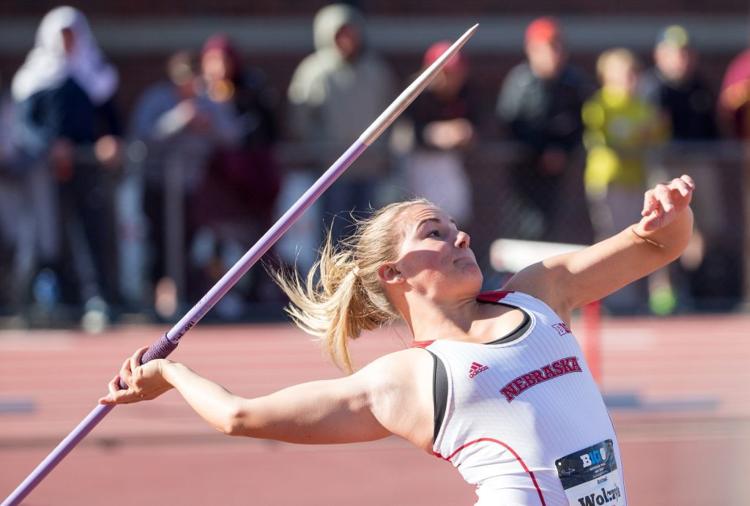 Big Ten indoor championships: ninth
Big Ten outdoor championships: fifth
Success or struggle: It was another disappointing season for the women, whose ninth-place finish at the indoor championships was the lowest at a conference meet in school history.
Standout/star: Brittni Wolczyk couldn't help Nebraska much in the indoor season, but the junior from Canada was a bright spot in the javelin during the outdoor campaign. Wolczyk took the silver medal at the Big Ten outdoor meet and finished 17th at the NCAA championships.
Season high:  NU showed off its jumpers corps at the Kansas Relays in April, sweeping the jump titles. Shylia Riley won the long jump, Angela Mercurio captured the triple jump and Reka Czuth took gold in the high jump.
Season low: For the fourth time in five seasons, the Husker women didn't have a conference champion at the indoor meet.
Trending: From 1980 to 1997, the Husker women won 18 straight indoor conference titles. The program is a far cry from that now. The women join the men's program in need of sprinters. The Huskers haven't captured an individual conference title in a sprint event since 2006.
---
Cross country
Big Ten championships: Men ninth/women 12th
Trending: The men's finish at the Big Ten meet was their best since joining the conference. Junior Wyatt McGuire placed 10th, the first Husker men's runner to make all-conference since 2001. The women's top runner was Bonnie Smith, who finished 66th. — Zach Tegler
---
Bowling
NCAA tournament: Lost in semifinals
Trending: The semifinal loss at the NCAA championships broke Nebraska's streak of five consecutive appearances in the national title match. NU will look to reload after losing two of its top three bowlers by average pinfall. — Zach Tegler
---
Women's golf
Trending: Sophomore Kate Smith notched a top-20 finish at the conference meet, but only one other Husker finished in the top 45. Smith, who has nine career top-10 finishes, will return, but NU loses Audrey Judd, who won two titles in her career. — Zach Tegler
---
Men's golf
Trending: Coach Bill Spangler was fired after NU cracked the top 10 in just two events. The team will bring back every player for Mark Hankins' first season as coach, but no one on the roster had a top-10 finish in 2017-18. — Zach Tegler
---
Women's gymnastics
Big Ten championships: Second
Trending: Nebraska reached the NCAA Super Six and had four gymnasts collect eight All-America honors. For the first time since 2015, NU had multiple first-team All-Americans: Sienna Crouse (floor) and Taylor Houchin (vault), both of whom return. — Zach Tegler
---
Men's gymnastics
Big Ten championships: Sixth
Trending: NU finished sixth out of seven teams in the Big Ten meet before advancing to the NCAA finals, where it finished fifth. Four Huskers were All-Americans; two, Anton Stephenson (vault) and Griffin Kehler (floor), will be back. — Zach Tegler
---
Women's tennis
Big Ten tournament: Lost in first round
Trending: The Huskers finished No. 46 in the ITA national rankings, just missing a spot in the NCAA tournament. They lose two seniors but return one of their No. 1 singles players, Vasanti Shinde, and their top match winner in singles, Claire Reifeis. — Zach Tegler
---
Men's tennis
Big Ten tournament: Lost in first round
Trending: Nebraska went 1-10 in the Big Ten and finished second-to-last in the conference for the third consecutive season, leading to the firing of longtime coach Kerry McDermott. His replacement, Sean Maymi, was hired in June. — Zach Tegler
---
Rifle
Trending: The Huskers qualified for the NCAA meet for the sixth straight season but finished last in the eight-team field. They will be led by Samantha Peterson. — Zach Tegler
---
Swimming and diving
Big Ten championships: 10th
Trending: For the first time since joining the Big Ten, NU sent a swimmer and a diver to the NCAA championships. Sophomore Abigail Knapton earned her second All-America honor by finishing eighth on the platform. — Zach Tegler
20 Husker football legends reveal why they're optimistic about Scott Frost's return to Nebraska
The World-Herald reached out to a number of former Nebraska players from several different decades to get their thoughts on Scott Frost returning to Lincoln. Here's what they think the hiring of the former Husker quarterback will mean for the NU program.