Alex Henwood bumped a white placard bearing his name off the table as he sat for a postgame press conference. The Nebraska senior sighed and rolled his eyes at himself.
On a day that ended with a mercy-rule victory over a border rival, it felt like the only mistake the Huskers made.
The morning after thunderstorms wiped out the scheduled nightcap with Iowa, Nebraska proved to be early riser in an 11-1 runaway in eight innings Friday at TD Ameritrade Park.
Senior starter Nate Fisher and a suddenly hot offense combined to push fifth-seeded NU past the No. 8 seed and into the Big Ten tournament semifinals for the first time in five years.
"We're striding in the right direction," Fisher said. "So it was big."
The Huskers (30-20) will start senior Reece Eddins against second-seeded Michigan Saturday at 9 a.m. A Husker win would put them in Sunday's 1 p.m. title game while a loss would force an elimination game at 5 p.m. Saturday.
"Of all those scenarios, this is probably right now the best place you can be," Nebraska coach Darin Erstad said. "So we just gotta get some rest and be ready to play early."
Nebraska earned the time off and then some. As in Wednesday's win over Minnesota, the Huskers jumped ahead in the early innings and cruised the rest of the way against five Iowa pitchers. Three run-scoring hits highlighted a four-run second that built a 4-1 lead. The Huskers batted around again for a four spot in the fifth. They walked off in the eighth after Mojo Hagge tripled and Cam Chick brought him in on a sacrifice fly.
Despite occasionally erratic command of the strike zone, Fisher did more than his part in Nebraska's seventh win in its last nine games. The left-hander from Yutan lasted 103 pitches and seven strong innings, striking out seven and scattering four hits and three walks. Iowa's only damage came in the second, when a two-out infield hit started a mini-rally that included a walk and Mitchell Boe RBI single.
The Hawkeyes put the leadoff man on in the next three innings but didn't score any of them before Fisher retired the final eight batters he faced. It was a stark contrast to his regular-season encounter with Iowa in April, when he gave up seven runs — four earned — in 4⅔ innings.
"Nate just went on attack mode," Erstad said. "He's nearing the end of his career and he is not going down without a fight."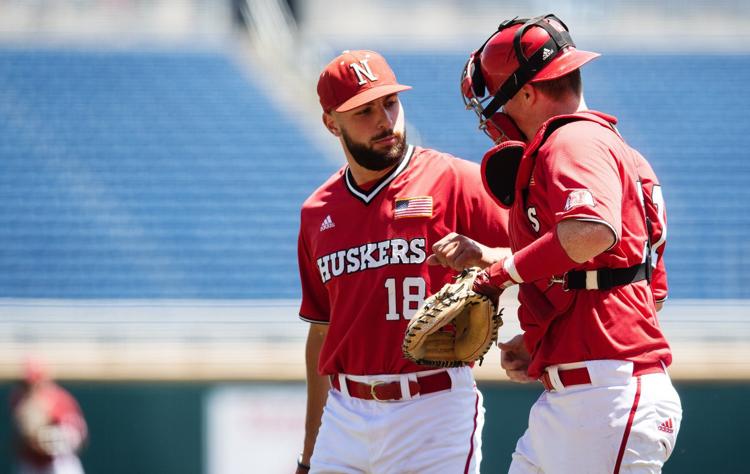 Iowa starter Grant Judkins, meanwhile, endured his shortest start of the spring, lasting 1⅓ innings and 55 pitches. As the Huskers grinded out long plate appearances, the right-hander couldn't settle in.
Spencer Schwellenbach and Chick each swatted RBI hits to help force the early hook on Judkins. Aaron Palensky greeted a reliever with a run-scoring single and Angelo Altavilla added a liner to left that Iowa's Chris Whelan caught on a dive for a sacrifice fly to complete that rally.
The poor start prompted Iowa coach Rick Heller to dip into the bullpen. Nebraska pulled away from there.
Judkins "just couldn't finish anybody off," Heller said. "When he was up (in the zone), they were putting pretty good swings on it. When they weren't, they were finding balls to fall. ... They were having a good day and they're in a good place offensively."
Chick worked a bases-loaded walk in the third to bump the NU lead to 5-1. Schwellenbach led off the fifth with a solo homer into the left-field bullpen. A Chick sacrifice fly, Henwood's bases-loaded walk and Gunner Hellstrom's single rounded out the inning.
Iowa had won 12 of the previous 16 games against the Huskers, including a 2-0 win in the second round of the 2017 Big Ten tournament. The Hawkeyes took two of three in Iowa City in April.
"I think it was just like a big revenge game," Schwellenbach said. "We gave it all we got and we got them."
Nebraska nearly completed the run-rule win in the seventh. Hellstrom smashed an RBI single to expand the advantage to nine before the Huskers grounded out with the bases full.
Hagge finished 3 for 4 while Chick drove in four runs. Henwood, who had his injured shoulder popped back into place late Wednesday, was 3 for 3 with a pair of walks.
The second baseman said his status is no different from the rest of the streaking Huskers as they continue their Omaha revival.
"The shoulder is sore," Henwood said. "But nothing that's going to hold me back."
Sign up for Big Red Today news alerts
Get a daily Husker news roundup, recruiting updates and breaking news in your inbox.
Photos: Nebraska faces Iowa in Big Ten baseball tournament