OKLAHOMA CITY — Robbie Palkert sat in a room underneath Bricktown Ballpark and let out a long sigh. This was a load these Nebraska upperclassmen could finally drop.
So many numbers pointed to another clunker in an NCAA regional. The Huskers struck out a season-high 16 times. They allowed 19 hits, with their senior starter enduring one of his worst outings of the season. An early three-run hole looked mountainous.
But third-seeded Nebraska found some of the magic it used to wield at Bricktown from its Big 12 glory days. The Huskers shook off their chronic struggles against left-handed pitching and rose up to deliver an 8-5 victory Friday over second-seeded Connecticut that was as gritty as it was relieving.
"I think all of us kind of put that on our backs and we were saying, 'No, we're done with this,' " said Palkert, a junior reliever. "We hate seeing in the news 'Darin Erstad can't win a regional game.' That's just not true. This team can win baseball games. This team can win a regional. We're ready to fight."
The postseason win is NU's first in five years, snapping a five-game regional skid dating to 2014. The Huskers last won their regional opener in 2008, and hadn't done that on the road in 19 years. Erstad, in his eighth year as coach, improves to 2-6 in the NCAA tournament.
The Huskers and senior right-hander Matt Waldron will play at 7 p.m. Saturday against top-seeded Oklahoma State, which defeated Harvard 2-0. The Huskers are also guaranteed to play again Sunday at the home of the Triple-A Oklahoma City Dodgers.
So how in the world did Nebraska (32-22) survive a UConn team that collected at least two hits in the first seven innings and six extra-base hits?
Issuing no walks helped. So did coaxing four double plays, including three in the first four innings. Every infielder made some sort of stop or catch that directly or indirectly saved a run.
"We gave up some loud outs and loud hits, but they just kept attacking," Erstad said. "When you do that, you've got a fighting chance."
Some long-awaited success against a left-hander also created some margin for error. Huskies junior ace and pro prospect Mason Feole lasted five-plus innings and 108 pitches while giving up a season-worst seven earned runs. Husker hitters capitalized on hanging sliders and other offspeed pitches that didn't break, especially in a four-run third inning when they went ahead for good.
"We give the lead back in what seemed like five minutes," UConn coach Jim Penders said. "Just bang-bang-bang, they were squaring some balls up off of him."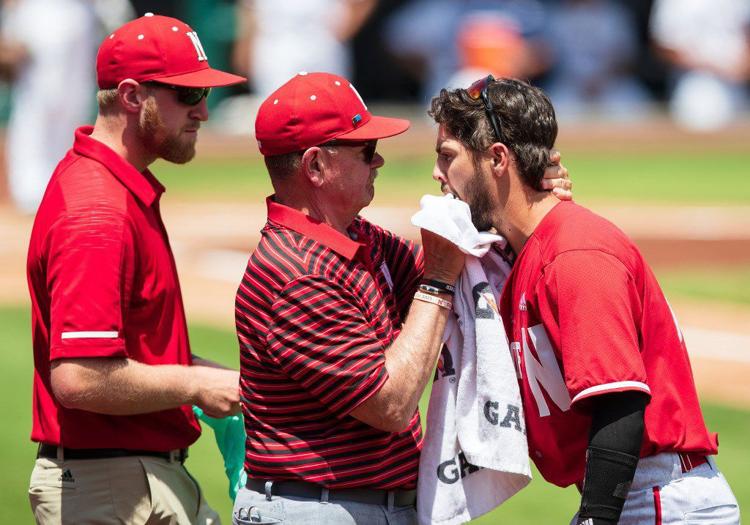 The bottom of the first inning alone brought a game's worth of drama. UConn led off with a single and dropped a sacrifice bunt to the first-base side. With second baseman Alex Henwood covering the bag, the batting helmet of the sprinting runner flew off just as Henwood was tracking the throw into his glove. The ball instead struck him in the mouth and knocked out at least two teeth, forcing him to leave the game.
Erstad said Henwood, hitting .279 with two homers this spring, is tough enough that he can't be ruled out to play Saturday.
"He's pretty messed up; it's pretty swollen," Erstad said. "Just a weird, freak thing."
With two on and nobody out, the Huskies hit into a double play on a popped up bunt. Then catcher Pat Winkel followed with his team-leading seventh homer of the season on a blast to right-center.
The 2-0 lead didn't last long in a game that featured just one 1-2-3 half inning. Nebraska senior Angelo Altavilla led off the second with a shot that landed just beyond the 350-foot sign in left field. UConn responded with a pair of RBI singles from David Langer and John Toppa in the bottom half.
But a four-run third gave Nebraska its first lead in its last 40 innings of NCAA regional action dating back to 2014. The first six Huskers reached — five on singles — including RBI hits from Cam Chick, Spencer Schwellenbach and Altavilla.
"A lot of times, the bats aren't really there against lefties," said Altavilla, the third baseman from Lakeville, Minnesota. "But it's regional time and you have to do what you can to win. I think we came out and we showed that right away against a pretty good pitcher."
The teams traded runs in the fifth. NU's Gunner Hellstrom dropped a two-out, run-scoring single to center in the top half, then Christian Fedko ripped his own RBI hit to left a few minutes later for UConn.
The American Athletic Conference reps chased senior starter Nate Fisher after 4 2/3 innings, knicking him for 13 hits and five earned runs. But they didn't score after the fifth, with ace reliever Palkert firing 3 1/3 innings of scoreless ball on 57 pitches. He scattered five hits and struck out four.
"They can have little broken-bat singles up the middle or singles in the six hole or they can smash balls off the wall," Palkert said. "But if nobody's on base, it doesn't matter. ... You can't be discouraged if you give up a hit."
The Husker offense added a run in the sixth on a two-out Aaron Palensky single to go up 7-5 and another in the ninth on a Joe Acker double to left. Colby Gomes worked the ninth to earn his 13th save.
It added up to the first win for a Nebraska team intent on flipping its unpleasant recent narrative into something memorable.
"Pretty much standard issue for this version of the Huskers," Erstad said. "When you think something's going to happen, the opposite happens."
Sign up for Big Red Today news alerts
Get a daily Husker news roundup, recruiting updates and breaking news in your inbox.
Photos: Nebraska faces UConn in NCAA Regional game