LINCOLN — Fridays and Saturdays aren't quite job shadows for Reece Eddins. More like inspiration.
It's standard practice that Nebraska's pitchers will chart pitches the game prior to their start. So Eddins hovers around Nate Fisher on Fridays as Fisher records what a opponents do against Matt Waldron. Then Eddins takes the job detailing Fisher on Saturdays.
By the time Eddins comes the mound Sunday, he has a pretty good game plan — and a high standard to follow.
"We're just all pulling for one another," Eddins said. "We have each other's backs because we've been around each other for a while."
This wasn't the weekend rotation Nebraska coaches envisioned two months ago, but it is the one that has the Huskers (17-10, 7-2 Big Ten) tied for second in league play and on pace for an NCAA regional. All are seniors whose paths to prominence are as different as their deliveries, demeanor and pitch mixes.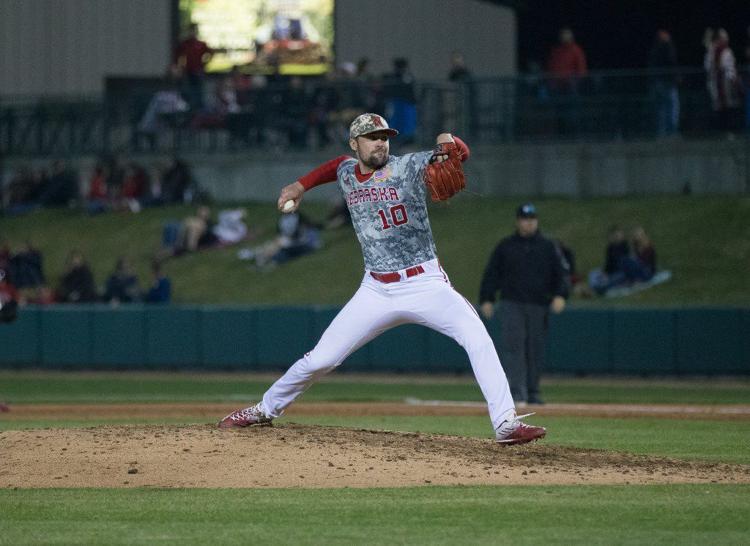 For Waldron, an uptick in fastball velocity from around 88 to 92 mph has entrenched him as an ace. Fisher made an offseason mechanical adjustment, shortening his delivery — getting his hand more on top of pitches — for better control and sink to his offerings. Eddins added a change-up to his fastball/curveball combo and regained his command two full years removed from Tommy John surgery.
"Those guys have experience, so they've been around," coach Darin Erstad said. "I think the big thing is when they maybe get a little sideways out there, they understand how to get it back quickly. And you're seeing them use their experience now and they're pitching effectively."
The results have been especially outstanding since an arm injury to Connor Curry pushed Eddins into the weekend rotation to begin the Big Ten schedule. The trio owns a 1.67 ERA in 59 1⁄3 innings against league foes to go with 39 hits allowed and a strikeout-to-walk ratio of 48-6 entering Friday's series at Penn State.
Waldron, who has swung between starting and relieving throughout his career, came out of the bullpen twice in February before taking off with consecutive strong outings against Texas Tech and Baylor. The right-hander from Omaha Westside with a distinctive red glove throws a fastball, change-up, slider and curveball and features one of the quickest pickoff moves in the country.
Best of all, he doesn't walk anyone — allowing three free passes in 44 innings this spring. He also ranks eighth on the Nebraska all-time strikeouts list with 208.
"I don't want to say it's mental or anything like that," Waldron said. "I'd say I was blessed to be able to throw strikes."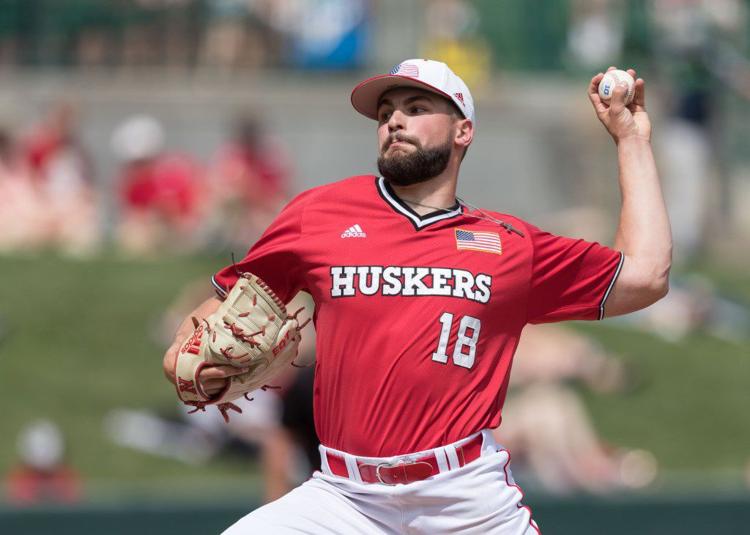 While Waldron is laid back, Fisher is a more visible competitor.
The Yutan product took a no-hitter into the ninth inning against Baylor last month and is Nebraska's most reliable lefty on weekends. His delivery tweak has given his slider new life, teammates say, and it pairs well with a plus change-up.
"Stuff plays and stuff wins," Erstad said. "When (Fisher) can pitch like he can and have stuff, it works."
Eddins, meanwhile, spent last summer interning at a metal finishing company in Lincoln and finishing his rehab. Three shutout innings in a midweek start against Air Force earned him the weekend job against Michigan State. That worked for the former relief ace from Lee's Summit, Missouri, who thinks he's most effective as an innings eater.
The rotation of 22- and 23-year-olds is pushing the lineup to improve as well.
From the field, utilityman Jaxon Hallmark sees opponents who have yet to solve NU pitchers as the Huskers near the halfway point of their league schedule. That bodes well for where this season could go.
"I know how hard these pitchers are working and how good they're pitching," Hallmark said. "They deserve wins."
Sign up for Big Red Today news alerts
Get a daily Husker news roundup, recruiting updates and breaking news in your inbox.
Nebraska at Penn State
Where: Medlar Field, State College, Pennsylvania
Radio: Husker Sports Network
Video: BTN Plus on Friday; LionVision (GoPSUSports.com) on Saturday and Sunday
Noon Friday: RH Matt Waldron (4-0, 1.64 ERA) vs. LH Dante Biasi (3-3, 1.75)
2 p.m. Saturday: LH Nate Fisher (4-1, 2.35) vs. RH Bailey Dees (2-1, 4.38)
Game 2 Saturday: RH Reece Eddins (2-2, 5.14) vs. RH Eric Mock (2-1, 2.83)
Scouting Nebraska (17-10, 7-2): The Huskers had a four-game win streak snapped Tuesday against Creighton but have still claimed 11 of their last 14 contests. They are outscoring Big Ten foes 68-23, including 39-9 in last weekend's sweep of Purdue. ... Sophomore outfielder Aaron Palensky saw his 11-game hitting streak end Tuesday but continues to pace NU regulars with a .355 batting average and 11 doubles. ... Nebraska leads the Big Ten in team ERA in league games at 2.12. It has season-long peripheral numbers to support the number: WHIP of 1.28 (34th nationally), strikeout-to-walk ratio of 2.68 (30th) and walks allowed per nine innings of 3.08 (18th). ... Erstad said shortstop Spencer Schwellenbach (sprained ankle) will likely play two of three games this weekend. He returned Tuesday after an 11-game absence but is still working back to full speed.
Scouting Penn State (17-12, 1-7): The Nittany Lions boasted the best record of any Big Ten team entering league play three weeks ago but have absorbed six conference losses by two runs or fewer in series against Minnesota, Purdue and Indiana. ... A young starting rotation is keeping PSU competitive. It starts with Friday ace lefty Biasi, a sophomore who twirled 6⅓ shutout innings and struck out nine in a 3-0 win at Indiana last week. The squad owns an ERA of 4.07 overall, good for 78th nationally. ... Penn State doesn't exactly excel in the other two phases, with a fielding percentage of .953 (270th of 297 Division I teams) and scoring average of 4.7 (247th). Its leading hitter is Jordan Bowersox (.327 average) while Gavin Homer and Kris Kremer each own four home runs.
Dugout chatter: Nebraska's only other trip to Penn State came in the regular-season finale in 2017, when the Huskers clinched the Big Ten title. ... NU leads the all-time series 8-2. ... The PSU rotation has the attention of Erstad: "They are a lot better, especially on the mound. They've got some dudes on the mound." ... Forecasted weather in State College prompted the schools to rework the series schedule. Friday's game is moved up from 5:30 p.m. while Saturday becomes a doubleheader.
Timeline: Darin Erstad through the years
Darin Erstad was an All-American for the Nebraska baseball team and won a national championship as a punter for Tom Osborne. He spent 14 years in Major League Baseball and won three Golden Gloves before embarking on a head coaching career at his alma mater. Check out this photo gallery of Erstad through the years.