Both coaches agreed. So did the grounds crew and BTN.
For a variety of reasons, Iowa and Nebraska would push their scheduled Thursday night baseball game to Friday morning.
Inclement weather ultimately forced a postponement of the nightcap of the Big Ten tournament quadrupleheader. Instead of playing at 9 p.m. for a second straight day, the fifth-seeded Huskers (29-20) will meet eighth-seeded Iowa (31-22) in a winners bracket game Friday morning at TD Ameritrade Park.
"I think common sense prevailed here," Nebraska coach Darin Erstad said. "I'm very pleased with the decision."
The other winners bracket game between Ohio State and Maryland was suspended by weather and will resume at 10 a.m. Friday with OSU leading 3-2 and Maryland batting with one out in the bottom of the eighth inning. Nebraska-Iowa will begin roughly an hour after that contest ends.
With thunderstorms expected in the area, none of the decision-makers were convinced Nebraska and Iowa could play a game fully and safely Thursday. Erstad and Hawkeyes coach Rick Heller wanted to avoid their starting pitchers warming up only to sit through a lengthy delay and potentially not return.
The other factor, both coaches said, was a more manageable window for fans to come watch. With a weather delay before Thursday's third game, Iowa-Nebraska would have pushed the limits of the tournament's 11 p.m. starting curfew.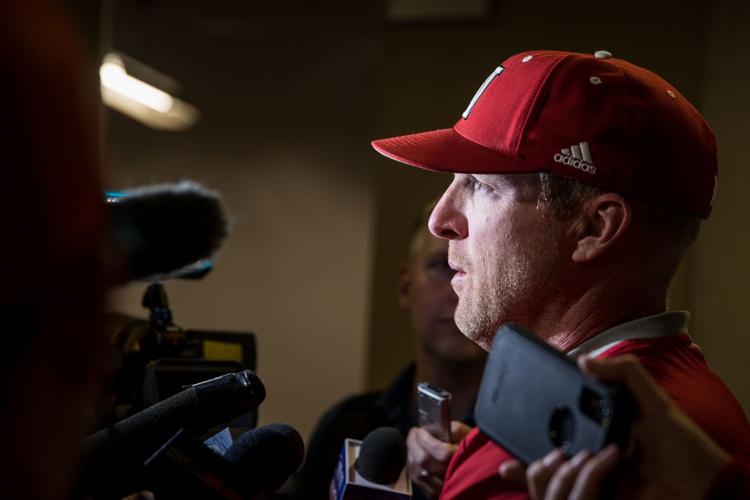 Instead, a Friday morning game to start a holiday weekend should provide a better setting for a game between border rivals. Left-hander Nate Fisher will still start for Nebraska while Iowa plans to stick with righty Grant Judkins.
"If there was any risk at all, it made no sense to start the game tonight," Heller said. "Both Darin and I have said before that in the right circumstances, if we ever did play here, it should be a really fun atmosphere for both of our fans."
Said Erstad: "I don't know if vacation days have to be taken, but let's go. Get those vacation days taken. It could be an awesome environment."
Whoever wins between the Hawkeyes and Huskers won't play again until 9 a.m. Saturday with a chance to earn a spot in Sunday's title game. The loser turns around and faces Minnesota later Friday in an elimination tilt at 7:30 p.m.
The circumstances are eerily similar to the 2017 tourney at Indiana, when weather also pushed Nebraska's winners bracket game against Iowa to the next morning. The Hawkeyes won that contest 2-0 en route to a title while NU was eliminated later in the evening.
Fans who planned to attend the late game can use their Thursday tickets for the Friday makeup regardless of whether they attended other Thursday action. The first regularly scheduled game between Michigan and the Ohio State-Maryland loser is still set for 3:30 p.m. Tickets for originally scheduled Friday games will be accepted beginning at 2 p.m.
Both elimination contests finished Thursday before the first round of storms rolled through Omaha. Second-seeded Michigan walked off third-seeded Illinois 5-4 and fourth-seeded Minnesota bested top seed Indiana 9-4.
The Maryland-Ohio State began after a delay of 1 hour, 35 minutes.
Erstad said Nebraska has long since become numb to such circumstances. The team endured multiple delays, postponements and cancellations early in the season.
"It's refreshing to have that mindset," Erstad said. "You don't hear any complaining. They're just like, 'All right, here we go.' "
Big Ten tournament
MICHIGAN 5, ILLINOIS 4: Jordan Nwogu's two-out, two-run double in the bottom of the ninth inning gave second-seeded Michigan a dramatic comeback victory over third-seeded Illinois.
The Wolverines trailed 4-3 entering the ninth and faced Illinois closer Garrett Acton, who leads the NCAA in saves with 19. A two-out walk put runners at first and third before Nwogu drilled a 1-1 pitch to the fence in left center. Both runners easily scored.
Papillion-La Vista graduate Grant Van Scoy had three hits and an RBI to lead the Illini offense.
MINNESOTA 9, INDIANA 4: The fourth-seeded Gophers outhit Indiana 13-3 and pulled away to eliminate the tournament's top seed.
Eli WIlson, who finished the day with three hits, three runs scored and two RBIs, put Minnesota ahead for good with an RBI single in the fifth inning. Jordan Kozicky and Cole McDevitt added RBI doubles around Wilson's single, giving the Gophers a 5-3 lead.
​Nick Lackney was sharp in relief for Minnesota as he pitched the final six innings, allowing one unearned run and one hit. He retired the last 10 batters he faced, and Indiana didn't have a hit in the final five innings.
Maryland vs. Ohio State: Ohio State grabbed a 3-2 lead in the top of the eighth inning before storms Thursday night caused the suspension of the game in the bottom of the eighth. The game will resume Friday at 10 a.m.
Game 7: Maryland vs. Ohio State, 10 a.m. (continuation of suspended game)
Game 8: Iowa vs. Nebraska, one hour after Game 7 conclusion
Game 9: Game 7 loser vs. Michigan, 3:30 p.m.
Game 10: Game 8 loser vs. Minnesota, 7:30 p.m.
Game 11: Game 8 winner vs. Game 9 winner, 9 a.m. (and, if necessary, 5 p.m.)
Game 12: Game 7 winner vs. Game 10 winner, 1 p.m. (and, if necessary, 9 p.m.)
CHAMPIONSHIP SUNDAY 1 p.m.
Photos: Nebraska faces Minnesota in Big Ten tournament