This article was first published on Nov. 14, 2011:
When Joe Frazier was king, when the heavyweight champion of the world was THE heavyweight champion of the world, when he had vanquished the warrior whom history would label the greatest of all pugilists, he journeyed far into the countryside, to Omaha, to face a contender, a local boy who would himself be king.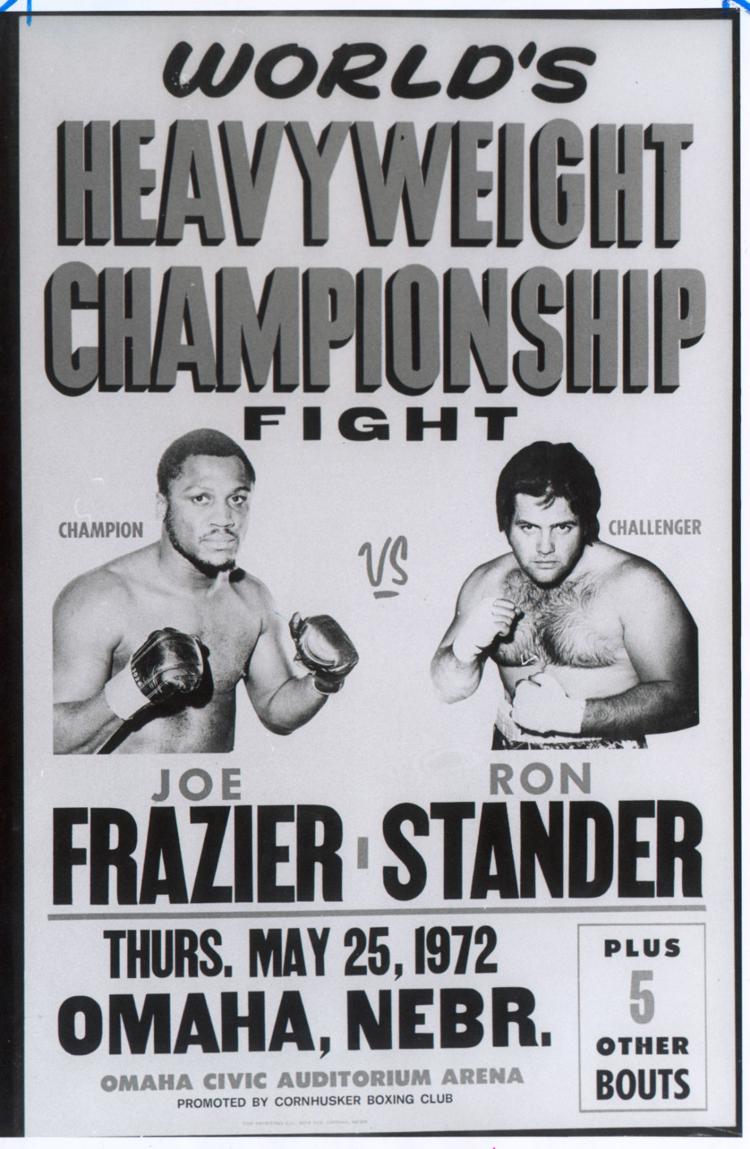 The year was 1972. The challenger was Council Bluffs' own Ron Stander, "The Bluffs Butcher, " a notorious beer drinker with hair like Elvis and a punch that could stop a horse. He delivered a catchy standard quote: "I'll fight any living human, and most animals."
Stander had pounded lesser opponents into meat. He had knocked out Earnie Shavers, who later went on to push Muhammad Ali to 15 rounds in a championship fight. Stander had been ranked as high as No. 8 in the world. He was no chump.
But he wasn't given much of a chance against the champ. After all, Smokin' Joe not only had vanquished Muhammad Ali, he had knocked Ali down with a punch, a feat rarely accomplished by any other boxer, ever. The Bluffs Butcher was tough enough to wade in and wear opponents down by taking their punches, but his face cut easily.
Stander and his corner thought he had a shot, a "puncher's chance," as it's called. If he could land an uppercut to Frazier's chin, he could knock out the champ before getting too cut-up to continue.
Stander took his best shots that night but missed the one that would have counted most. Frazier landed more than 100 blows that mattered. He won the match by TKO after four rounds when Stander, blinded by the blood flowing from cuts in his face, could not fight on.
Memories of that night, May 25, 1972, in that place, the Omaha Civic Auditorium, came flooding back when Stander heard that Frazier had entered hospice care with liver cancer.
"I knew he was sick; I knew he was in hospice," Stander said. "When you go to hospice, you're on deck."
Frazier died Nov. 7, 2011. His wealth and glory had faded. But the boxing world's reverence for him lived on. World welterweight champion Floyd Mayweather Jr. offered to pay the funeral expenses. Ali and another former champion, Larry Holmes, were expected to join mourners at Frazier's funeral today in Philadelphia.
"He was a man's man, a blue collar fighter, " Stander said. "Tough guy. Always came for you. I loved his style. I loved his character.
"I loved him."
In Nebraska, Frazier's passing set Stander and others to reminiscing about one of the great sports spectacles in Omaha history, when the Bluffs Butcher went toe-to-toe with Smokin' Joe.
"I remember it like it was yesterday," Omahan Tom Lovgren said.
A boxing promoter, Lovgren helped arrange the fight with his friend, Dick Noland, through the Cornhusker Boxing Club. Noland has since died.
The way Lovgren recalls it, Frazier's people were looking around for a fight on which he could make $250,000. Frazier, who had won an Olympic gold medal for the U.S. in 1964, was 28-0 as a pro. He had fought once since beating Ali in The Fight of the Century in March 1971. Frazier wanted a tune-up before defending his title against George Foreman.
"There was a guy in New York named Dewey Fragetta who had done business with Dick Noland," Lovgren said. "Dewey talked to Frazier's manager, Yank Durham, and said, 'I know a kid in Omaha, Nebraska, that would draw a lot of money.'"
A full house at the Civic, Lovgren figured, would create gate receipts close to $250,000. It was close.
"Then television got involved, and there was enough money for everybody," Lovgren said.
The fight would be nationally televised. That was a bigger deal in 1972. So was the $260,000, which Frazier reportedly was paid for fighting Stander, and the $100,000 Stander earned.
"That was 1972 B.C.," Stander later joked. "Before cable, and before cash."
Stander tended to put on weight between fights. He moved in with Lovgren so Tom could help control his diet. As Frazier prepared for the fight, Stander started to run off the weight. The Butcher did most of his boxing training under the direction of Leonard Hawkins, in the basement of the Foxhole Bar, near 24th and Leavenworth Streets.
Two weeks before the fight, Stander went to Boston to work with a trainer named Johnny Dunne. Dunne thought Frazier would be vulnerable to an uppercut.
"He kind of hunched over, bobbing and weaving," Stander said. "That was the punch. I had to catch his chin. Maybe I could knock him out."
He worked and worked on that punch.
Because Stander cut so badly, the two camps made a special arrangement. Frazier could pick the referee. But Stander would pick a fight doctor. And the physician, not the referee as usual, would have the authority to stop the fight. They didn't want the fight to be called just because blood was flying. Stander chose Dr. Jack Lewis of Omaha, who remains his doctor today.
The night of the fight, nearly 10,000 people packed the Civic Auditorium.
"The atmosphere was electric," Lovgren said.
Both fighters went right to work.
"Frazier was a marvel in the ring," Lewis said. "He was all business. He was a very polished fighter, well-trained. I had seen a lot of fighters, but I had never seen anybody like him."
Frazier was everything Stander expected. The challenger saw up close and painfully personal why they called the champ "Smokin' Joe" for throwing so many punches so fast.
"Like Yank Durham said, he wanted to see those gloves smokin'," Stander said. "He (Frazier) was a busy guy, a hard worker. All I knew was to fight fire with fire. It was fun fighting him."
Stander landed a solid punch to Frazier's chest or neck early in the fight. It knocked the champ backward, but he stayed on his feet. Frazier would later say he had stumbled, but Stander, Lovgren and Lewis thought the blow staggered Frazier.
"I waited for him to fall," Stander said. "I didn't keep on him real good. But he was too tough a guy; he didn't go down."
Frazier would later say that Durham yelled at him after the first round, "All right now (expletive). Get that sucker out of here."
Once, maybe in the third round, Stander saw a path to Frazier's chin. It was the opportunity Stander had trained to take. The Butcher threw a big uppercut with the right hand.
"He was throwing a left hook at the time," Stander said. "I turned my head and I missed the uppercut."
By 2 inches, Lovgren used to say. Time has shortened that to 1 inch — an inch away from being the champ.
Frazier never showed his chin again.
"Frazier was no dummy," Lovgren said.
Near the end of the third round, Frazier landed an uppercut that staggered Stander. As the fight wore on, Frazier started working over and over on the cuts that were growing near Stander's eyes.
Lewis stopped it after four rounds.
"Ron couldn't see me," Lewis said. "Not only could he not see how many fingers I was holding up, he couldn't even see me. He wasn't hurt at all. He wanted to go on. But I couldn't let him go out there when he couldn't see."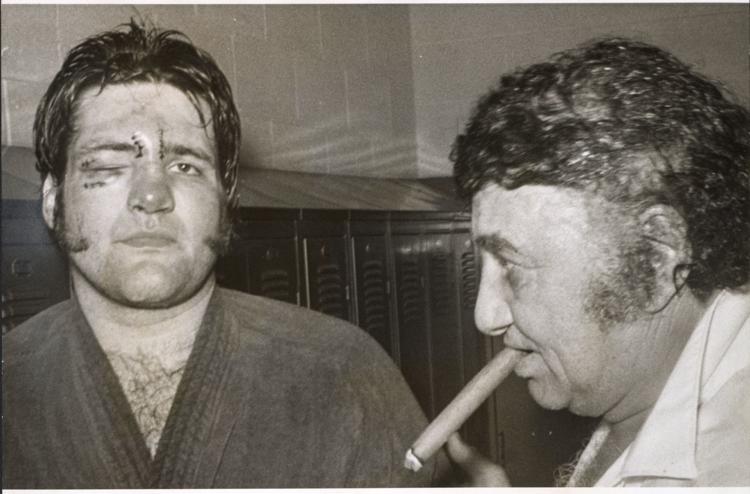 Lewis sewed up Stander's face. Then the two boxers went out for drinks together, or at least that's how the story goes.
They exchanged birthday cards for years.
Stander said he felt something of a kinship with Frazier. Both had been born in South Carolina. Both had blue-collar backgrounds. Frazier had moved to Philadelphia and worked in a packinghouse before he became a successful boxer.
"I just admired him. I liked talking to him," Stander said. "I went back there once to see him in South Carolina, but he got called to do that Aqua Velva commercial, and we never connected. I saw him once in Bismarck, N.D., in the 1980s or 1990, something like that. I was refereeing some fights up there, and his son had a bout there."
In June 2001, Frazier returned to Omaha to raise money for the Big Brothers Big Sisters of the Midlands. Stander dropped by. Frazier rubbed The Butcher's ample belly and asked, "What the hell is this?"
Fifty pounds of fun, Stander replied.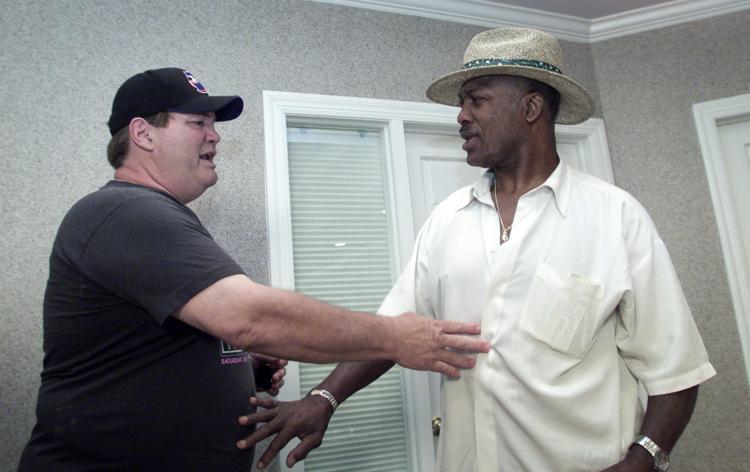 The bloodbath in Omaha would be Frazier's last successful defense of his title. Foreman defeated him in 1973. But Frazier had several great fights still in him, including his third match against Ali, The Thrilla in Manila, still considered by many to be the gold standard of boxing matches. Ali won, but "both of them left a lot out there in that ring, " Stander said. "It took years off both of their lives."
With Frazier's death, the world lost one of the all-time, old-time greats.
Stander knew Frazier had been ill, with diabetes and cancer. The champ was unlucky, the challenger said. He went too soon.
"I said a couple prayers for Joe, and away you go."
Check out 42 stories that built, defined and characterized Nebraska
The World-Herald has gone back through the archives and uncovered stories that define not only the Omaha area, but the entire State of Nebraska.