Editor's note: This piece originally was published on Feb. 28, 2010, as part of David Harding's "Everyday History" column in The World-Herald.
At the end of World War II, millions of GIs came home, married their sweethearts, and settled down in a new part of town called "the suburbs" to produce the baby boom generation.
Housing was tight and developers built homes as fast as they could. Then as now, proud owners of homes under construction suffered through delays, cost overruns and other surprises that pretty quickly became standard miseries.
It was in this environment that Eric Hodgins wrote the 1946 best-seller, "Mr. Blandings Builds His Dream House." The novel was based on Hodgins' own experience. He had contracted to have a new house built for $11,000. By the time his nightmare was over, Hodgins had paid five times that much. He avoided bankruptcy by selling the house.
Hodgins' story almost had a happy ending. He made enough money from the sale of movie rights to his novel that he could afford to buy back his dream home. Unfortunately, the new owners were not interested in selling.
Released by RKO in 1948, "Mr. Blandings Builds His Dream House" starred Cary Grant and Myrna Loy. The studio knew it had a hit on its hands with this romantic comedy, and the promotional campaign was a bigger deal than the movie itself. RKO arranged to have a duplicate of the dream house built in each of 73 cities, where it was raffled off in conjunction with the movie's local premiere.
In Omaha, the two-story colonial dream house was built next to a cornfield on the edge of town. The area was about to be developed as the Underwood Hills neighborhood, just west of 72nd and Cass Streets, across from what is now the Crossroads Mall.
Once the paint had dried, the dream house opened for public viewing. News reports estimated that 35,000 people lined up to see the extravagances built into this $45,000 home — a doorbell, touch-sensitive light switches and an all-electric kitchen with an automatic dishwasher, for example. It even came with ash trays, matches and cigarettes ready for use on the dining room table.
It was an eye-popping experience for young people like Dick and Maxine Schell, who were thinking of getting married at the time. Dick had just graduated from North High School.
"We were real young, " he said. "It would have been a dream to pick up something like that."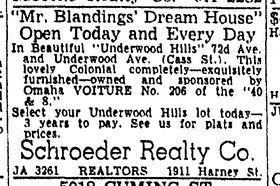 The late Dr. Michael Crofoot was in the market for a home at the time. According to his son, Mike, Dr. Crofoot bought 17 chances on the dream house.
Local officials supervised the drawing on Oct. 9 and placed a call to the winners, Mr. and Mrs. Richard Willey of Council Bluffs. The Willeys thought they might be the victims of a prank until they picked up the keys to their new home.
Apparently the Willeys didn't really need a dream house, because they sold it to Dr. Crofoot and his wife, Julie, who raised their six children there. The family still owns the home, which is now assessed at just under $160,000.
The dream house promotion was intended to stir up feverish interest in the movie just before it premiered at a local theater. But in Omaha, the film finished its run almost two months before the dream house raffle occurred. I don't know what caused the delay, but I'll bet it was the kind of construction problem that would have made Mr. Blandings pull his hair out.