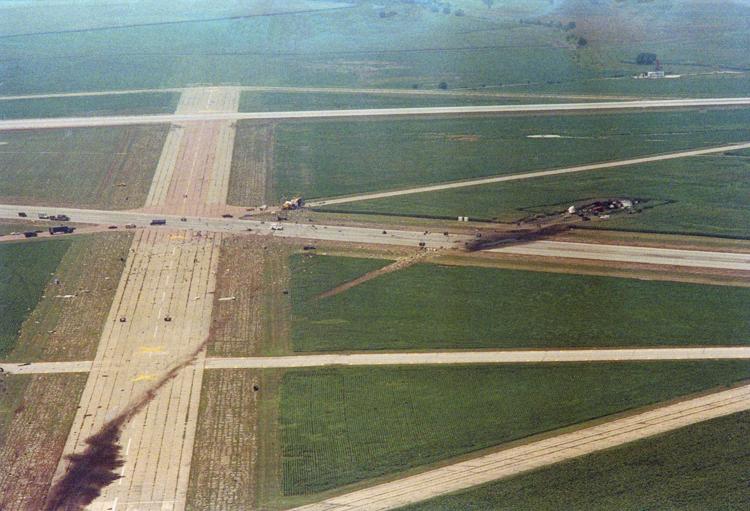 Crudely controlling his crippled DC-10 through almost sheer will, Captain Alfred C. Haynes put the plane into a perilous looping descent toward the airport in Sioux City, Iowa.
"I'll tell you what, we'll have a beer when this is all done," fellow pilot Denny Fitch told him at one moment.
"Well, I don't drink, but I will sure as hell have one," Haynes coolly responded.
Decades before Capt. "Sully" Sullenberger and the miracle on New York's Hudson River, there was Capt. Al Haynes coaxing United Flight 232 into a cartwheeling crash landing in Sioux City.
Flight 232 didn't have the same immaculate ending. One hundred and twelve souls died on that tragic day, July 19, 1989.
But even more remarkable was the fact that 184 others lived, their survival largely due to the cool resolve of Haynes and three other pilots as they fought to bring a jumbo jet that had lost all flight controls back down to Earth.
The crash of Flight 232 occurred 30 years ago Friday, long before Twitter and cellphone videos made instant celebrities of heroic figures like Sullenberger. In fact, even for most in our region, Flight 232 and pilot Haynes are but a distant memory, if they've heard of them at all.
But there are some who could never forget. Particularly those who owe their lives to the gritty heroes of that day — both in the air and on the ground in Iowa.
Said Spencer Bailey, who was just 3 years old on that fateful day: "I feel like every single survivor on that plane is indebted to those that were in the cockpit."
* * *
Thirty-seven thousand feet over northwest Iowa, Brandon and Spencer Bailey sat in the rear of the jumbo jet enjoying their lunch and the childlike thrill of flying.
The boys, ages 6 and 3, and mother Francie had left their home in Littleton, Colorado, for the Denver-to-Chicago flight. They would then be going on to Boston to meet up with their father and another brother.
Of the 296 passengers on board Flight 232, 52 were children like Brandon and Spencer, many taking advantage of a special United promotion that allowed kids to fly that day for a penny.
Up in the cockpit, Captain Haynes was just finishing his own lunch, with First Officer William Records at the controls. The 57-year-old Haynes, a former Marine Corps aviator, had made this same two-hour flight countless times during his 33-year career with the airline.
Suddenly at 3:16 p.m., shortly after the plane had passed from Nebraska airspace into Iowa, an explosion rang out from the back of the plane.
A fan disk in the DC-10's rear engine had disintegrated, causing the engine to blow apart and sending fragments ripping into the plane's tail section. Soon after, the plane went into a steep right bank, and Records turned to Haynes. "Al, I can't control the airplane."
Haynes tried his own controls and also got no response. It turned out that the engine's catastrophic failure had severed all three of the plane's hydraulic systems, disabling all flight controls.
That meant the pilots had no ability to steer the plane up or down or left or right. And no brakes to stop it once on the ground.
The odds of all three systems failing had been considered a billion to one, so there was no protocol for landing a plane in those conditions. Haynes and the crew would have to make things up as they went along.
The plane was tilting at nearly a 45-degree angle, dangerously close to rolling over and going into a nosedive from which it could not recover. Keeping a cool head, Haynes idled the left engine and fully throttled the right. After some tense moments, the plane roughly leveled out.
Haynes was soon on the radio with air traffic controllers in Minneapolis.
"United 232, we're declaring an emergency and request landing at the nearest suitable airport," Haynes said.
"Would you like to go to Sioux City?" came the response.
"Affirmative," Haynes said.
Had the engine's failure occurred just minutes earlier, it's possible Omaha, Lincoln or Offutt Air Force Base could have become the emergency destination.
As it happened, Dennis Fitch, a DC-10 flight instructor, was on the flight sitting in first class and volunteered to go to the cabin to help out. He took the seat of Flight Engineer Dudley Dvorak, meeting Haynes for the first time.
Haynes and his crew had continued to steer and keep the plane level by throttling the left and right engines. The task was made more difficult by the fact that the plane was also porpoising up and down, a motion that could also only be arrested through manipulation of the thrust controls.
With Fitch taking over the thrust controls and Haynes working other systems and gauges, the pilots brought the plane into a bumpy, right-circling descent over Sioux City.
"Little right turns," Haynes told Fitch as they continued one of three big loops over western Iowa. "Little right turns."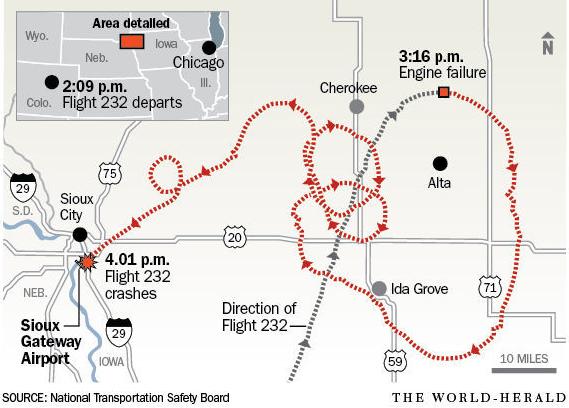 Haynes engaged with air traffic controller Kevin Bachman in the tower at Sioux City's Gateway Airport. Together, they navigated a final approach path that would keep the plane away from the city center. Haynes feared the plane coming up short and going down in the city of 80,000.
"Whatever you do, keep us away from the city," Haynes said.
Amid it all, Haynes also addressed the passengers on the plane's public address system.
"We're going to make an emergency landing in Sioux City," he said. "And I'm not going to kid you. It's going to be rough."
It was deathly quiet in the cabin as chief flight attendant Jan Brown calmly briefed passengers on how to survive a crash landing. The procedure called for passengers to bend over in their seats and brace themselves. Small children were to be stashed down on the floor.
The Bailey boys had been sitting side by side, but their mother and Spencer switched seats so she could put her arms around both her sons. Everyone remained so calm, to Brandon it all seemed very routine.
Flight 232 made one final sweeping left turn. At 4,000 feet altitude, the plane broke through the clouds. Haynes had the airport in his sights.
"You're cleared to land on any runway," Bachman told Haynes.
Haynes chuckled aloud. "You want to be particular and make it a runway, huh," he said.
On the tarmac north of the airport terminal, Gary Brown, the head of Woodbury County Emergency Services, stood watching the jet come in.
With about a half-hour warning, hundreds of emergency personnel had assembled from more than 40 communities in the tri-state region of Iowa, Nebraska and South Dakota, as well as guardsmen from the adjacent Iowa Air National Guard base. They now awaited the troubled jet's arrival.
Brown felt prepared. Just two years earlier, regional emergency responders had run a mock drill in which a plane carrying 100 passengers crashed, and on the same runway Flight 232 was aiming for.
As the plane drew nearer, things looked good to Brown. The nose was up. The wings were level. The landing gear was down. "It looked like he was going to touch down, and the passengers and everyone would be home for dinner," he later said.
But the plane was actually doomed.
A DC-10 typically lands at 160 mph while dropping at a rate of 250 feet per minute. Flight 232 was doing 247 mph and dropping 1,850 feet per minute, bound for a forceful crash landing.
Right before the 4 p.m. impact, Haynes called out to passengers: "Brace! Brace! Brace!"
Just above the ground, the plane's nose suddenly dropped, so Fitch fired both engines to try to bring it back up. But the left engine was running stronger than the right, causing the right wing to dip.
The right wing hit the pavement and was sheared off, sparking a fireball of leaking jet fuel. The fuselage bounced hard on the runway and then broke apart.
Brandon Bailey was pinned back in his seat by the force of the wind and then engulfed by a gray cloud of smoke and flying debris. Then he blacked out.
The tail section in which his family was sitting broke off and careened straight down the runway. Most of the rest of the plane veered off to the right and slowly rolled over on to its back, sliding more than a mile off the end of the runway into a cornfield.
Emergency vehicles raced to the scene. Brown initially didn't think anyone could have survived what he'd just witnessed.
Then he was astonished to see dazed passengers emerging from the corn and smoke. Many others were trapped in the wreckage or hanging upside down in their seats.
First responders went into triage mode. They quickly moved on from those who were breathing and stable and those who were clearly dead. The focus was on those in most need of lifesaving care.
When Brandon Bailey came to, he found himself still sitting in his seat, which had broken free of the plane and was resting upright on the runway. Both of his legs were badly broken and mangled, but he strangely felt no pain.
Spencer and his mother were nowhere in sight. But the boy didn't panic. Because he'd survived, he assumed they had, too.
A woman who had been sitting on his other side was still strapped in next to him, bleeding from a wound to the head. Her husband was about 25 feet away, face down on the pavement and not moving.
Shortly thereafter a young Iowa guardsman came by and checked on them. The woman insisted that he check on her husband, too.
The guardsmen glanced over and quickly moved on. "We will get him later," he said. Even as a 6-year-old, Brandon realized the woman's husband was dead.
Eventually, rescue personnel returned and cut Brandon and the woman out of their seats, taking them away on stretchers. Within 45 minutes, all 184 survivors had been evacuated to regional hospitals.
Spencer was among them. He was found beneath some seats in the rear fuselage, unconscious from head injuries. He was carried from the scene by Iowa guard officer Dennis Nielsen, a moment immortalized in an iconic photograph from that day.
But the boys' mother perished. Brandon Bailey's last heartrending memory of his loving and artistic mother was with her arms wrapped tightly around her sons as the plane crashed to Earth.
As for Haynes, the cockpit had broken off from the rest of the wreckage, and it took more than a half-hour for anyone to realize all four pilots were alive inside the crumpled shell.
Haynes would later be heralded for his bravery and calm under fire.
While he was happy that 184 people survived the crash, during a 25th anniversary gathering in Sioux City in 2014, he expressed regret for those who died.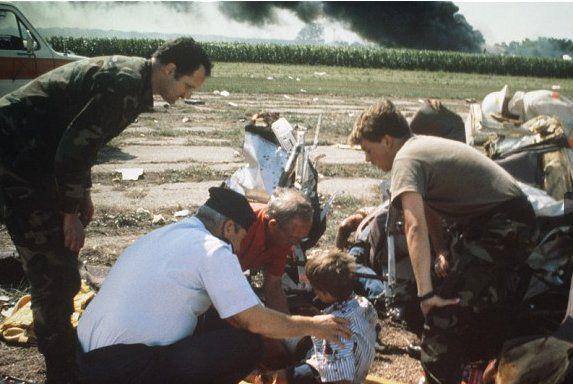 "It's our responsibility to get the airplane from A to B safely, and we didn't do it," said Haynes, who is 87 today and lives in SeaTac, Washington.
Despite such words, it's unlikely anyone could have saved those who lost their lives. When the Federal Aviation Administration used flight simulators to replicate the situation the crew faced, not one pilot in dozens of tries could bring the plane to the ground safely.
Brown, 30 years later, is still the head of emergency management in Sioux City. He said Flight 232 remains a tragic but proud moment for all the Siouxland region.
Besides the hundreds of first responders and medical personnel, citizens also stepped in to help. Some took it upon themselves to close off Interstate 29 and other roadways to traffic, clearing the way for ambulances to make multiple trips between the airport and hospitals. The lines of volunteers at the local blood bank went around the block.
"Everybody just went to work," Brown said. "This was a whole community that stepped up to do what needed to be done."
Spencer Bailey was in a coma for five days. Brandon Bailey would undergo years of surgeries on his legs and was hospitalized for months.
But both would eventually make complete recoveries. Brandon rebounded so well from his leg injuries he'd go on to play Division I lacrosse in college.
While the brothers still carry some physical scars from that day, mentally they long ago moved on. The Bailey boys grew very close to their father and each other, and were surrounded by outside support.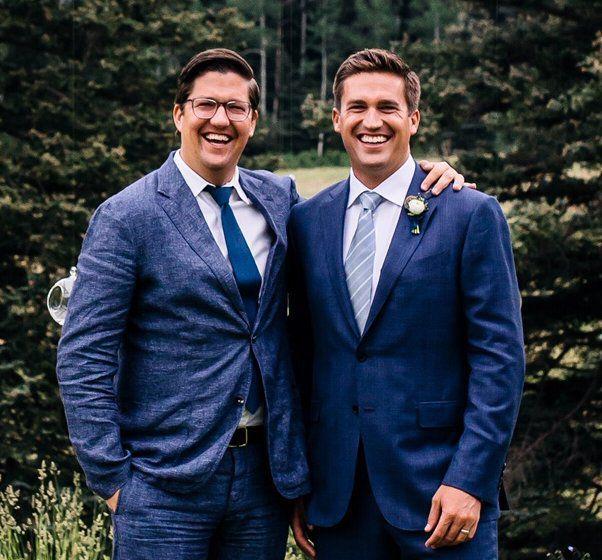 Spencer, who has no memories of that day at all, works as a journalist in New York. Brandon now lives in Chicago and works as a marketing consultant. Both remain grateful to Haynes, the crew and everyone else on the ground in Sioux City.
"It's just incredible what they were able to accomplish," Brandon said. "I owe my life to all of them for sure."
"The fact that they even got near a runway to land the jet is a miracle," Spencer said in a podcast he recently produced on the crash.
A year ago, Brandon once again flew from Denver to Chicago — this time with a poignant purpose.
He was getting married and decided to give his wife his mother's wedding ring. It was a way to include his mother in his new life. So he returned home to Denver to retrieve the ring from his father.
On Brandon's return flight, the ring landed safely with him in Chicago, just as it was supposed to on July 19, 1989.
"When I made that flight from Denver to Chicago, that was the most heavy and emotional this has felt in a long time," he said.
"But it felt special. It was a nice way 30 years later to get a little more closure."