Editor's note: This piece originally was published on Dec. 30, 2007, as part of David Harding's "Everyday History" column in The World-Herald.
I'm not much of a futurist. When I squint and imagine what's ahead, about all I can foresee are my own discarded New Year's resolutions. So I'm fascinated by people whose vision of the future is as clear as a road map.
Paul Lewis was one of those people. He designed a car called the Fascination in the late 1960s and turned an old Army munitions bunker west of Sidney, Nebraska, into his production plant a few years later.
Touted as "tomorrow's car today" in a sales brochure distributed by Lewis' Highway Aircraft Corp., the Fascination looked like a blend of rocket science and retro design. The front wheel assembly and the car's nose mimicked a passenger jet, as did the rear fenders, shaped like jet engines. The fiberglass body and small Renault motor produced good gas mileage, and Lewis claimed it handled better than an ordinary car.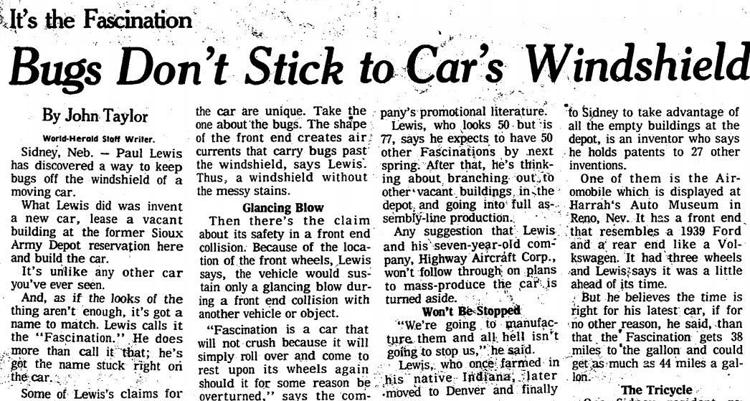 "It was fun to ride in, but it got to be a little dangerous because it attracted so much attention, " said Judy Lutzi of Lincoln. She and her late husband Tom owned one of these wondrous vehicles until a few years ago. "One guy on a motorcycle was looking at it instead of paying attention, and he ran into another car."
Lewis built the prototype in Denver. It was originally propeller-driven, but a prop flew off during a test run at a speedway, so Lewis went back to the drawing board. He partnered with a manufacturer in Sidney and moved to the munitions plant after the partnership went sour.
Lewis was no slouch when it came to promoting his company. While the first cars were assembled at the Sidney plant, Lewis made sure the prototype vehicle was displayed in high-profile spots like Denver's Stapleton Airport. He sold distributorships and combed the countryside in search of investors. Individuals around Sidney bought into the venture for as much as $300,000 apiece.
Check out 42 stories that built, defined and characterized Nebraska
The World-Herald has gone back through the archives and uncovered stories that define not only the Omaha area, but the entire State of Nebraska.
Steve McConaughey's parents bought a distributorship from Lewis. The McConaughey family had farmed in the Panhandle, and Steve's father was looking for some other line of work when a Fascination pulled up in front of the cafe where the McConaugheys were eating. They all went out to look.
"We were just blown away. Nobody had ever seen anything like that, " said Steve, who was 12 or 13 at the time.
It was love at first sight for Steve's father. In the following months, Steve went along when his father visited Lewis in Sidney. Lewis took them on the highway and drove at a high speed, then took his hands off the wheel as he stomped on the brakes. The car slowed to a stop without veering in either direction because the front wheels were side by side.
While Lewis promoted the company, investors grew more disgruntled by production delays. Lewis apparently kept changing his mind about design or operational details, and the corporation's board of directors finally voted him out. Only three cars were assembled in Sidney before the Fascination's fate was sealed and the company dissolved.
"My parents didn't talk about it, " said Steve McConaughey. "But they had farmed, and farmers take big chances every time they put seeds in the soil. They said if they lost everything, it would be like a hailstorm wiping out a crop. They had survived that several times."
The Fascination raised hopes and inspired imaginations before it ended in an industrial crop failure. Personally, I wouldn't have invested in it, but I would have rooted for its success. It's the kind of idea you want to see succeed, like my New Year's resolutions.