As Gloria Leiferman puts it, she finally stopped having babies at 82 years old.
For nearly 40 years, at all hours of the day and night, Leiferman answered phone calls asking if she would be willing to foster another infant. She said yes 250 times.
An upstairs room in her townhome became the nursery. A closet was filled with pastel-colored baby clothes, and the walls were lined with cribs and bassinets.
Even now, several months after retiring from the role of foster parent, a bag of diapers and bottle of baby powder sit in a corner of one of the cribs. A reading lamp still casts shadows on the rocking chair where Leiferman soothed so many babies to sleep.
And on the top of a dresser full of tiny socks and folded onesies, Leiferman has placed a few photos, arranged between carved angel figurines and a flickering candle. One of the photos shows a little boy with frizzy black hair. Another one shows a tall young man in a cap and gown, smiling next to Leiferman at his graduation from North High School.
And there, on the corner of the dresser, is the funeral program for that same boy, that same young man. At the start of his life — more than two decades before he was shot and killed outside a northeast Omaha middle school on a spring night — Brandon White was rocked to sleep in this same room.
He was Leiferman's 149th foster baby. Because his initials were B.M.W., Leiferman nicknamed the little boy "Beemer."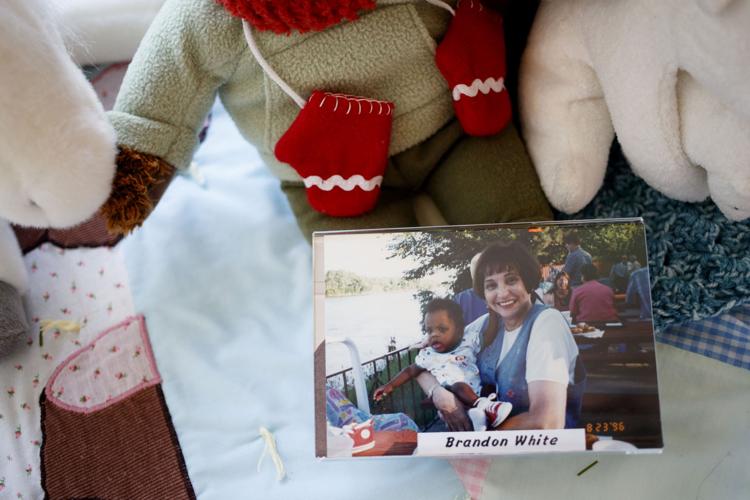 Leiferman still has the 94 pages of handwritten notes she kept during the nearly two years she cared for White. Leiferman took in many babies with all sorts of medical issues, but she remembers White as one of the sickest.
In her notes, she wrote of his improving health after a kidney surgery and of all the little things she wanted his next family to know about him.
Leiferman kept in touch with White through the years. She said she was honored to be invited to his high school graduation in 2014.
Three years later, in May 2017, Leiferman saw an article about a 21-year-old man who was shot in the chest in a parking lot at night at McMillan Magnet Center. Police found him behind a house and took him to a hospital, where he later died. Leiferman's stomach dropped when she saw the name: Brandon M. White.
She ran upstairs to check the date on those pages of notes. Would he be 21 already?
By the time she reached the stairs leading to the nursery, Leiferman said she could feel it in her heart. She knew it was Beemer.
"He had so much potential," she said. "It was a horrible shock."
Three teens and a 50-year-old man have been charged in connection with White's slaying. Prosecutors have said two of the suspects had told White and another man that they wanted to buy marijuana from them, but authorities think the meeting was a setup for a planned robbery of marijuana and money.
Leiferman attended the prayer walk for White and met his best friend, who told her that White had always spoken highly of his foster mom.
In the funeral program — the one she keeps on the dresser — Leiferman is listed as one of White's parents.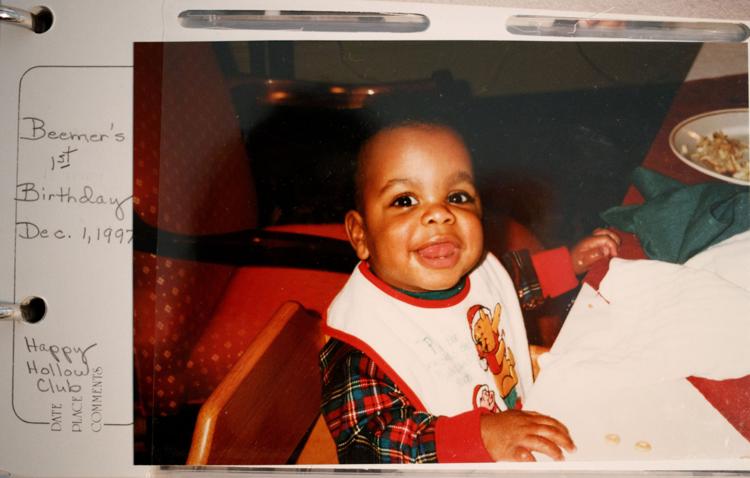 Near the window of the nursery, on top of one of the cribs, Leiferman has set up a small Christmas tree decorated with colored pacifiers. Tucked between the stuffed animals at the tree's base, she has placed a photo of her holding White when he was a toddler.
In a room full of so many memories, the photos of White have their special places, Leiferman said. She can recall stories about every one of the 250 babies and has books of photos and hand-scrawled notes for each. But seeing the newspaper stories about White's death and thinking so much about those years with him inspired Leiferman to do something in his memory.
So Leiferman donated $149 to Goodfellows, The World-Herald's charity, in memory of Beemer, her 149th foster child.
"He was a very special little boy and a great young man," Leiferman said. "I felt I needed to do something."
Leiferman misses fostering and the hours spent in the nursery, which is quiet now. She is hoping to get another call about a baby — she has offered to provide respite care for other foster parents, but no one has taken her up on it yet.
Even as a girl, she loved babies and remembers cradling her little brother until he fell asleep. When she became a nurse, Leiferman requested to work in the neonatal intensive care unit. After seeing so many medically fragile babies enter the foster care system, she decided to become a foster mom. She hated seeing the babies leave the hospital and not knowing who would be soothing them to sleep.
"Fostering was just something that I needed to do," she said. "I loved it. And believe me, those babies did more for me than I could ever have done for them."
mara.klecker@owh.com, 402-444-1276
Sign up for World-Herald news alerts
Be the first to know when news happens. Get the latest breaking headlines sent straight to your inbox.