In Episode 5 of the new season of Netflix's "GLOW" — an excellent dramedy set in the world of female professional wrestling in the '80s — the Omaha World-Herald gets name-dropped.
It's mentioned by the show's main character, Ruth (Alison Brie), an Omaha-native thespian and professional wrestler. And it's just one of the Omaha references you'll catch over the first two seasons of "GLOW." (Look out for the Blue Barn Theatre mention in Season 1.)
Clearly someone in the writers room is from the city that don't coast.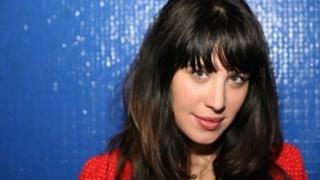 That someone is Rachel Shukert, a playwright, an author and a producer on Netflix's hit series.
Shukert (Central High School Class of '98) previously worked as a writer in New York. But TV (and the West Coast) beckoned.
"There's been a big exodus of playwrights and novelists from New York coming out to write for television," she said. "It's nice to live in L.A., and TV has become more prestigious and culturally predominant. It's also just really fun to write for."
She landed a writing job on the short-lived comedy series "Red Band Society." Then on the (now-CW) show "Supergirl."
Then she scored an absolute dream of a job on the "GLOW" writing staff ahead of its first season.
Shukert was already close friends with some of the writers in the room, including the show's creators, Liz Flahive and Carly Mensch. So everyone was comfortable with everyone, and they could be honest with one another. And "GLOW" ended up all the better for it.
The making of "GLOW" reflects the overarching story of the series: A group of women come together to put on one hell of a show.
Shukert said that she and most of the other writers grew up during the era that "GLOW" depicts. Writing the series has been a way of looking back at that formative time, but through the funhouse mirror of the Gorgeous Ladies of Wrestling. (Though the characters and stories are fictional, the show has drawn inspiration from the real-life story of GLOW.)
"We're looking at the '80s through this industry that feels very zeitgeisty and of its time," Shukert said. "The '80s is all about this conspicuous consumption and these political clashes and these simplistic Reagan-era stereotypes.
"I feel like there's a lot of clues in the '80s, and especially in professional wrestling — which were all these things sort of writ large. There's a breadcrumb trail to how we got to where we are now. I'd love to see the show continue into the '90s."
Like "Mad Men" before it, "GLOW" immerses itself in the styles and stories of its respective era, but without going overboard. It takes a light touch to its handling of history.
"GLOW" shares more with "Mad Men" than that. Both shows are workplace comedies. Both shows share a brilliant actress in Alison Brie. Both shows are composed of distinct, character-driven episodes that subtly build toward a larger narrative.
"GLOW" is a tight show: 10 episodes a season, most episodes around 30 minutes in length. It has to stay lean in its storytelling. But there are so many great actresses playing great characters on "GLOW" that it can be difficult to decide where to cast the spotlight.
The relationship between estranged best friends Ruth and Debbie (Betty Gilpin) serves as the show's emotional core. The production of the wrestling program itself, led by cantankerous director Sam Sylvia (Marc Maron), drives much of the narrative.
But then "GLOW" will take the better part of an episode to focus on a supporting character. In one episode of the new season, "Mother of All Matches," Tammé (Kia Stevens) takes center stage, as the show explores her relationship with her college-age son. He's mortified by the offensive African-American stereotype of his mother's wrestler persona, Welfare Queen.
The freedom of being a Netflix show, without commercial breaks or ratings quotas or set episode running times, allows the "GLOW" writers to play around in the margins. They don't have to make a show that appeals to everyone. "GLOW" takes risks.
Through this series about the making of a professional wrestling show, Shukert and her fellow writers explore race, feminism, sexuality, the creative process and, perhaps most of all, motherhood.
Many of the show's writers, including Shukert, are new mothers themselves. And they've struggled, Shukert said, "with what it means to be a working mom."
You can see this in the character of Debbie, in her long, touching goodbyes to her baby every time she heads off to work.
The writers at least figured out a way to bring their babies to the office. The kids got to be a part of the show, making their debuts as extras at a day care center in Episode 4.
Shukert's 1-year-old son, Theo, gets a fair amount of screentime. (He was 6 months old at the time of the shoot.)
"He just really loved being on set," Shukert said.
Perhaps, like his mother, he has a future in show business. Perhaps at Netflix.
Netflix apparently likes what they're seeing from the Shukert family. The streaming giant tapped Rachel to work on two more shows: an upcoming comedy series called "Huge in France" and "Cursed," which Shukert described as "this Arthurian, 'Game-of-Thrones-y' fantasy series, which is really fun because I love those types of shows, and I've never done anything like that before."