Following up one of the best debuts of the decade was always going to be difficult. "Get Out" just came out of nowhere, grossed hundreds of millions of dollars, won an Oscar and revealed that one of our best comedic minds was also one of our scariest.
Now comes the sophomore effort. And it's ... I'll have to get back to you. My feelings haven't fully settled yet.
I can say that "Us" is a bigger, messier and markedly more ambitious film that Peele's debut. It's scarier than "Get Out," but less satisfying. Its mythology feels vague in some spots and overly busy in others. Its metaphors are so malleable that "Us" could be ABOUT a lot of things. A book could be written about the film's subtext, as soon as someone gets through untangling it all.
If my reaction to "Us" is a work in progress, the fact that I'm still thinking about it should be recommendation enough to see it. Most movies evaporate the second you walk out of the theater; not "Us."
This movie wants to frustrate you, and that can be, you know, frustrating.
Right from the get-go, we're perplexed — some intro text telling us about the thousands of miles of abandoned tunnels that exist in the U.S. We begin with a flashback to 1986, when a young girl gets lost in a house of mirrors at a Santa Cruz, California, amusement park. In a moment of white-hot existential terror, she runs into her doppelganger.
Thirty-three years later, that little girl has grown up to be Adelaide Wilson (Lupita Nyong'o). She and her husband, Gabe (Winston Duke), are taking their children Zora (Shahadi Wright Joseph) and Jason (Evan Alex) on vacation near the site of Adelaide's childhood trauma.
Things are going well enough, even if Adelaide's having trouble unwinding. Then come a few odd coincidences. The score kicks into high gear — Hitchcock-esque intermingled with jarring sound effects and creepy children singing. (N.W.A.'s "**** tha Police" is put to great use in one scene.)
Finally, the Wilsons meet the Wilsons, their red-jumpsuit-wearing doppelgangers. These feral, violent lookalikes break into the vacation home and begin a series of funny games.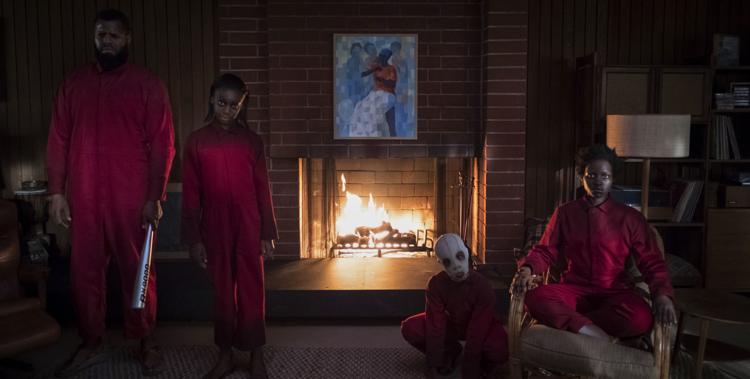 I won't spoil any of the rest, as the trailers have done a good job of keeping the film's plot revelations and reversals under wraps. Suffice it to say that the scope of "Us" gets much bigger as it goes along, the stakes practically apocalyptic.
If nothing else, Peele has grown as a director since "Get Out," staging the setpieces of his home-invasion horror show with great skill and precision. Being such an astute student of the genre, Peele can't help but squeeze in plenty of references to great horror films: obvious homages like "The Shining," but less obvious ones, too, like "Jaws."
He likes to convey the film's themes through objects — mirrors and masks, for instance. Handcuffs symbolize the Wilsons' connection to their doppelgangers. The scissors (this movie's weapon of choice) represent their efforts to sever that connection.
"Us" sticks mostly to the Wilsons, with the four actors (all tremendous) each playing two versions of themselves. We do get to meet a couple of bougie wastrels played by Elisabeth Moss and Tim Heidecker. But beyond that, Peele keeps the story tight, focused. Until he doesn't.
The problem with "Us" is that it's such a second film. With the runaway success of "Get Out," Peele had the creative capital to do anything he wanted with his sophomore effort. Instead, he did everything he wanted.
He's crammed in too much: hidden tunnels, vast conspiracies, doom-laden Bible scriptures, class war, societal unrest, a climactic fight intercut with a ballet performance and, strangest of all, a callback to 1986's "Hands Across America" super-event.
Most of it works, some of it doesn't. The competing tones and ideas and laughs and scares — almost all interesting or enjoyable in isolation — just don't come together as they did so beautifully in "Get Out."
This makes "Us" a flawed but endlessly fascinating film, and from a filmmaker who's just getting started.
Sign up for the Go newsletter
This complete guide of local music, movies, dining and entertainment will have you weekend ready.