Jave Yoshimoto always rooted for Godzilla.
When he was a child in Japan and his mother worked night shifts, Yoshimoto often curled up under a cozy blanket fort and watched old black-and-white movies featuring the prehistoric sea creature. But instead of being like most of us and being frightened by Godzilla, the future artist and UNO professor felt a kind of kinship.
"He was always being attacked by other monsters and humans, and I always thought, 'Why is everyone picking on Godzilla?' I related to him."
That's because Yoshimoto felt like he didn't really fit in. Born in 1974 in Tokyo to Chinese parents, he often identified as a foreigner in his homeland.
"I was the shortest kid with the biggest head," Yoshimoto said. "I always stuck out like a sore thumb, and I was always picked on. I felt like an outsider. I was somewhere between Chinese and Japanese. That feeling of displacement gave me perspective, and has stayed with me through all my work."
A strong selection of that work is on view with "Tempestuous Microcosm" at The Union for Contemporary Art in Omaha. Yoshimoto's show features a series of paintings and sculptures that speak to displacement — not just his own, but also of those frequently overlooked by society.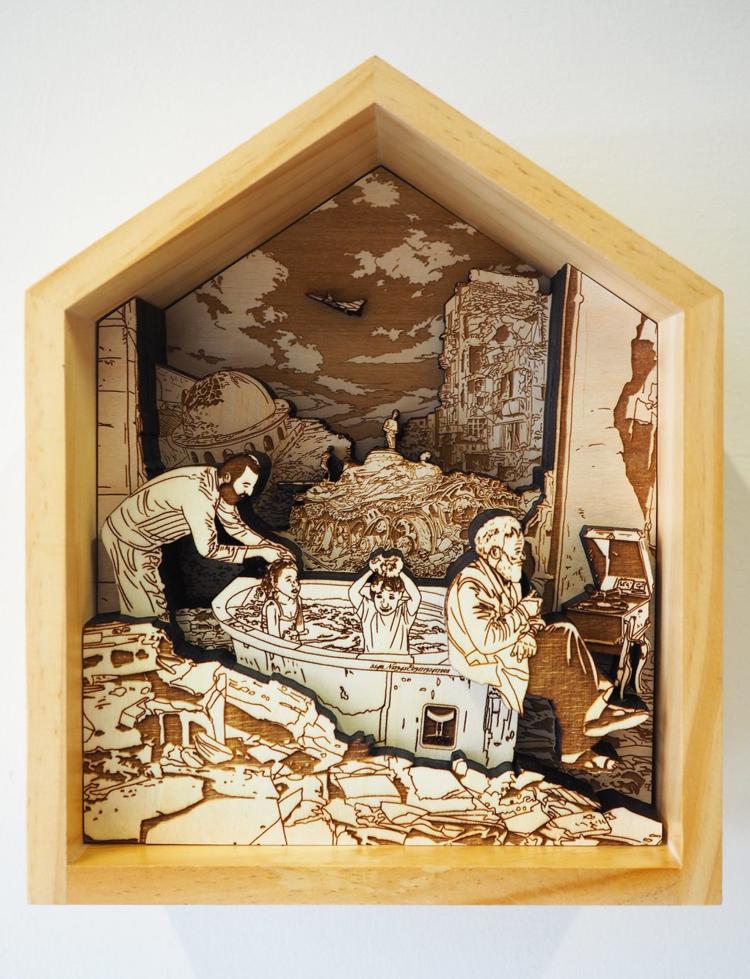 His subjects include the refugee crisis in Greece, the devastation of the 2011 tsunami in Japan, the aftermath of the 2015 earthquake in Nepal and this year's flooding in Nebraska. Yoshimoto focuses on human trauma in a way that is often equal parts gut-wrenching, wry and even witty.
His inimical approach is the result of his own life's journey, one that has made him keenly sensitive to the plight of others.
Yoshimoto and his mother moved to San Francisco when he was in the fourth grade; it was in the U.S. that he finally began to feel at home.
"Everything seemed so wide open to me here," Yoshimoto said. "I played soccer and games like Godzilla vs. King Kong with the other kids. I never felt more welcome. I remember those as some of the happiest moments of my life."
Those were also the moments when he drew, sometimes getting in trouble in school for doodling on tests rather than focusing on the work at hand.
He tried studying art immediately after high school — "I knew I was good at art, and I wanted acceptance and appreciation" — but admits his ego got in the way.
"I thought the assignments were silly and dropped out," he said. "It was a humbling experience."
Sign up for the Go newsletter
This complete guide of local music, movies, dining and entertainment will have you weekend ready.
For six years, he worked a series of what he describes as "dead-end jobs" in the retail, restaurant and video game industries.
His fortunes changed when a cousin from Japan arrived to attend classes in the U.S.
"Since I drove her to school every day, I thought I might as well take classes, too," he said. "At age 25, I started to believe in myself again."
Yoshimoto went on to earn his bachelor's in studio art from the University of California-Santa Barbara in 2004, a master's in art therapy in 2007 from the School of the Art Institute of Chicago, and a master's of fine arts in painting from Syracuse University in 2012.
His time as an undergraduate in Santa Barbara was critical to his professional development.
"The first thing my professor told me was that my work was too shallow," Yoshimoto said. "It was too aesthetically oriented. I was drawing things like cars. A friend told me that art is a very egocentric act. That still haunts me today. Whenever I create art, I wonder if it's about the content or wanting to be accepted."
Feeling that he was living a "very selfish life," Yoshimoto started volunteering at homeless and rape crisis shelters.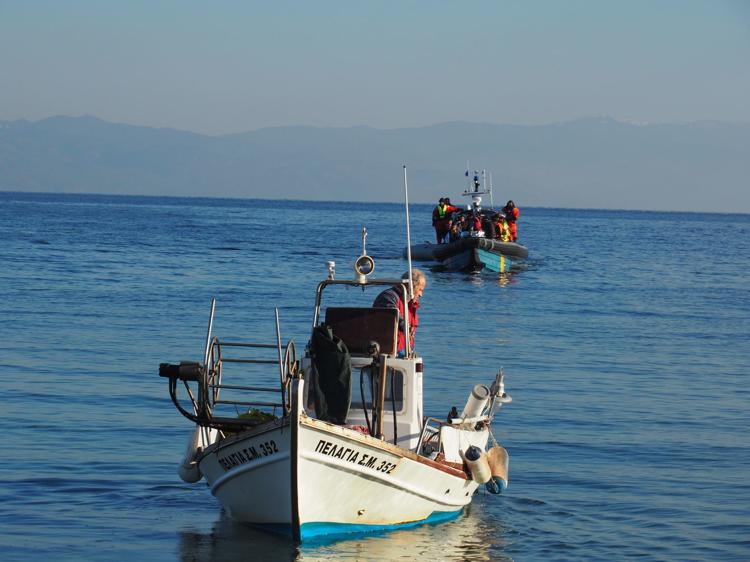 Working with people in need prompted him to pursue art therapy, and while working with immigrants in Chicago, he met his wife, Emily, who grew up in Lincoln. (The couple married in 2012.)
The time was transformative for Yoshimoto.
"I started learning about the different aspects of what art is and what art can be," he said. "Creating art is a very privileged place to be. I feel like I struggle with it daily."
In 2015 — the same year he moved to Omaha to join UNO's art faculty — Yoshimoto was able to further explore how he wanted to use his art thanks to a Joan Mitchell Foundation Painters and Sculptors grant. He performed volunteer work in Nepal and Greece the following year. It was an eye-opening experience that dramatically impacted his practice.
"I wanted to be part of something greater than myself," Yoshimoto said. "I wanted to see how people were affected by the humanitarian crises all over the world."
Yoshimoto helped refugees seeking asylum on Lesbos, a Greek island. He aided with landing crafts coming to the island and transported people to refugee camps. He also traveled to Nepal, where he spent time with earthquake survivors and learned how they were moving past their trauma.
"When you rely on the news, it can sometimes feel distant and disingenuous," he said. "With these experiences, I felt like I got closer to the truth."
His work on view at the Union shows how close Yoshimoto gets. Drawing on aesthetics as varied as 18th-century Japanese woodblock prints, Eastern European icon paintings and social media emojis, the artist creates work that is simultaneously timeless and very much of the moment.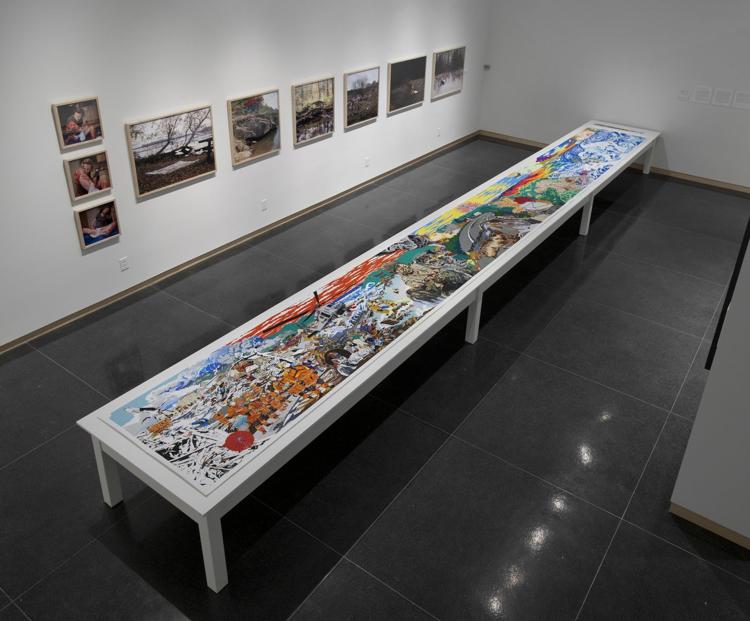 His panoramic 30-foot scroll "Baptism of the Concrete Estuary" references the 2011 Japanese tsunami. Imagery, created in bright, vivid colors, ranges from the horror of the flooding to the tragic aftermath. It took him 328 days to paint, and the artist confesses to an obsession creating the work unlike any other he's experienced.
"It was a trauma in the country I was born in, and I felt helpless. When it happened, I couldn't sleep for days," Yoshimoto said. "I wanted to honor the dead and the people who lost their homes. When I visited where it happened, I just cried for 30 minutes straight. My efforts just felt so tiny."
By adding social media references and symbols to his art, Yoshimoto renders difficult subjects more relatable.
"It helps people to slow down and look at the issues," Yoshimoto said.
Patrick Mainelli, the Union's communications manager, said that's one of Yoshimoto's gifts as an artist.
"He speaks to specific events of human trauma that happen in news cycles that come and go so fast," Mainelli said. "We gloss over events like the refugee crisis, and his work addresses the superficial way we often encounter them."