I've spent a lot of hours at 2929 California St. over the years.
When it was the Creighton University Medical Center, I was far more familiar with its many nooks and crannies than I wish were necessary. Between appointments, I discovered they made a pretty good cheeseburger for a hospital cafeteria, their ATM didn't charge fees and they had the best valet parking offsetting the worst parking lot ever.
Alongside all the illness and trauma, I met a number of people who not only helped reinvigorate me physically, but spiritually — including Dave the Buddhist, in charge of pastoral care, who sponsored a round robin for me with a nun and a Jesuit priest/astrophysicist. My physical therapist and weight-loss support group were priceless. Besides the parking and minus the alcohol, it was, in many ways, a good hangout. Foreshadowing.
I had mixed feelings when I found out the hospital was being converted into an apartment complex with commercial space. Sacrosanct as hospitals might seem, they really aren't holy ground.
If you haven't set foot in Atlas Omaha — as the reimagined space is now known — it is an impressive, solid, aeronautical-themed edifice that promises to get bigger and better in the long-term, adding to the Omaha cityscape better than an abandoned hospital would. If you need an excuse to check it out, I recommend buying a round-trip ticket to the Flight Deck Tap & Grill. Segue.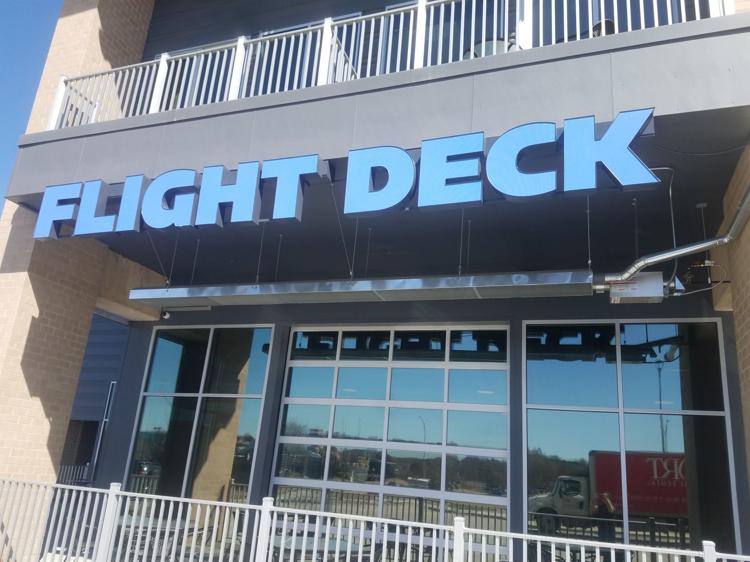 Though only a couple of months old, the Flight Deck is already promising to be a pretty hip hang. Located next to Creighton University, as well as on the first floor of this swanky apartment complex, it serves a good many professionals and your wealthier college students who will be professionals soon enough.
I hit up happy hour with a number of other professionals. I had a great conversation with my gregarious and friendly barman Chris about all kinds of movie nerdery, as well as the building and business.
Appropriately enough, this air travel-themed bar serves many air travel-themed drinks, including the $6.50 Blue Jay Bomber (UV Blue, Curacao and Alert Energy), the $9 Aviator (Aviation Gin, cherries, simple syrup and fresh lemon) and the $12 Hub (three ounces of Bulleit Rye, simple syrup, cherries, orange slice and bitters, garnished with a burnt lemon peel).
All sounded good, but it was warm enough that evening that I stuck with a delicious $1-off draft of Alaskan Amber Ale ($4.50) and half-price onion rings ($4.48) with house-made flight sauce ($9.43 total after tax and before tip).
Taps also include Bud Light, Busch Light, Michelob Ultra, Stella Artois, Pacifico, Guinness, Nebraska Brewing Co. Cardinal Pale Ale, Infusion Vanilla Bean, Kinkaider Raspberry Devil's Gap, Kros Strain Fairy Nectar, Pint 9 Oso Café, Blue Moon, Brickway Rotator, Keg Creek Rotator and Angry Orchard. There are also 37 cans and bottles on hand, from the usual domestic suspects to such interesting offerings as St. Bernardus Abbey Ale, Ace Pineapple Cider and Bell's Flamingo Fruit Ale.
Sign up for the Go newsletter
This complete guide of local music, movies, dining and entertainment will have you weekend ready.
Happy hours are from 2 to 6 p.m. and 9 p.m. to close Monday through Friday and all day Sunday, with half off appetizers and $1 off drafts and wells.
Daily specials include happy hour and pizza specials on Sunday, meatball Mondays, pizza, subs and taco Tuesdays, wing Wednesdays and pizza specials on Thirsty Thursdays. DJ Devon Dupree appears at 9:30 p.m. twice monthly, along with $1 off wells, $8 Busch Light Pitchers, $3 Thin Mint shots, $3 Blue Jay Bombs and two Jello shots for $1.
Amenities include seven TVs, darts, a large patio, plentiful tables and bar seating.
I hope you enjoy your flight as much as I enjoyed mine. Hope to see you there.
Recent World-Herald nightlife reviews
Trying to find a new go-to bar? Check out some of the latest World-Herald nightlife reviews to find the place that's right for you.