At first glance, it looks like the control panel on the Starship Enterprise.
But it's an organ, one extremely tricked-out instrument. And with its sibling organs at west Omaha's Critchett Lowrey Organ Center, it's ready to teach about 20 enthusiastic retirees how to play.
On a recent afternoon, the seniors are seated in rows of chairs amid a circle of Lowrey organs, some extremely daunting, others merely imposing, all with lots of glowing buttons and, together, worth hundreds of thousands of dollars. (The brand-new, top-of-the-line model alone retails at a hundred grand.)
The students chat like old friends.
"So how long was your husband in the service?" a woman with a walker at her side asked another woman wearing sweats, socks and flip-flops.
The classes have a name: Club Academy. And both the casual clothes and camaraderie are comfortable at the club. In 25 years Critchett has offered the classes, retirees have taken music lessons, but they've also found new friends, support systems and social activities.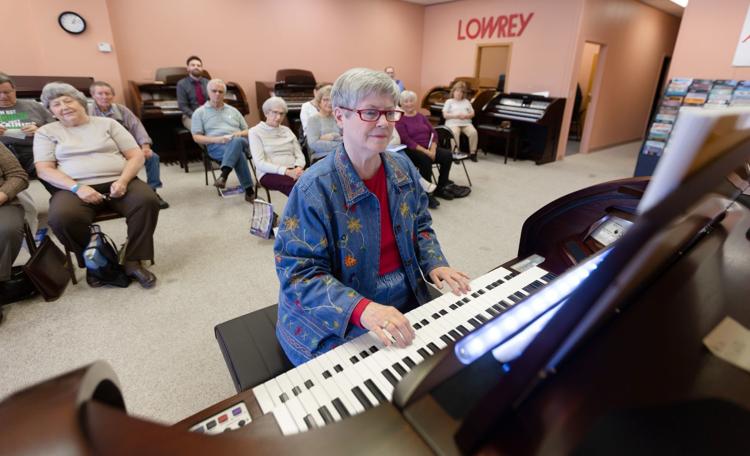 "We've gotten to know each other so well, it's really kind of like our family," said Betsy Olson, a retired teacher and businesswoman who has been a club member for more than three years. "We have our celebrations and our sorrows."
Before the bonding, however, many of them shared something else. They've always wanted to play a keyboard instrument, and now they have the time to learn. They start on small keyboards they get to take home for 10 weeks, and work their way up to the behemoths.
These aren't standard lessons like those you may have taken in grade school from a teacher hung up on sight-reading and complicated theory.
Instructor Kevin James, who's been teaching Lowrey organ lessons for 17 years, says you don't need to read music to immediately create credible sound. Sheet music for the organs has chords produced by a single key and a melody line that corresponds to other keys.
"If you were playing the piano and you had to learn the C chord, you'd have to use three fingers," Olson said. "On (these) organs, all you have to do is hit the C (key)."
The organs have an almost limitless library of background accompaniments for every imaginable musical style. The more deluxe the instrument, the more accompaniment choices it has, down to individual songs such as "Rock Around the Clock." With the touch of a button, for instance, you can play the melody to "Amazing Grace" with a virtual orchestra in a variety of genres.
James, a personable 37-year-old who clearly loves his students, teaches with help from a large wall-mounted flat-screen TV. It scrolls the names of some of the popular accompaniments (including "Star Trek theme," which seems apropos as you gaze at the organs). He also plays YouTube videos so the class can get an idea of how the song should sound. (At a recent class, centered on the music of Billy Joel, he showed the Piano Man performing "Just the Way You Are.")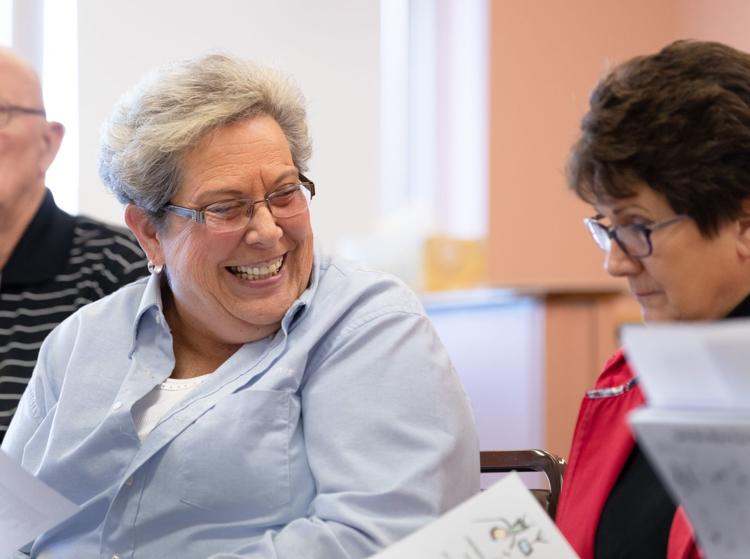 He asked for volunteers to perform before he got into the meat of the class.
Bonnie Monico stepped up to a dazzling keyboard.
"Lemme get all situated," she said, pulling down her shirt and looking for the sweet spot on the padded bench.
Guffaws rang out as she continued to joke, asking the audience how she looked from behind. She told them she would play the hymn "In the Garden."
"Feel free to clap your hands."
That easy back-and-forth speaks to the cozy friendships these folks have found in the group. With elaborate organ accompaniment, they warbled "Happy Birthday to Judy" before class. They have regular potlucks with some sort of organ entertainment, and they look forward to Critchett owner Dave Brown's summer barbecue and Thanksgiving feast in a rented hall.
One woman even Skypes into the classes from her home in Tennessee.
"It's just like being there in person," said Ann Duncan, who "attends" class every Friday with several other remote learners. "(James) puts the camera up to the organ, and we can see exactly what he's doing."
Living in Knoxville doesn't stop her from hanging out with Omaha organ students. As a military wife, she lived in the area with her husband, and two of her children and their kids are still here. On a visit, she went to Critchett's to see if they had music she couldn't find in her local store, and met the local crowd. When they discontinued classes in Knoxville, James invited her to Skype into classes he'd already been teaching with students in Nashville.
Duncan now has an active social life in Omaha, cultivated when she attends local classes while visiting.
"Every time we come to Omaha, we have several couples we get together with for dinner," she said. "We enjoy each other's company, go back to one of their homes and have dessert and play for each other. And that's fun."
She also traveled from Tennessee to northwest Iowa for the store's annual trip to an organ extravaganza at a Lake Panorama resort a few weeks ago along with a number of Omaha students.
This year's four-day conference featured concerts by Lowrey experts, including James, along with education sessions and fellowship.
The Club Academy faithful look forward to the trip each year, much as they anticipate their weekly sessions with James, who stumbled into his true vocation right after high school 17 years ago, when he was walking through a Florida shopping center seeking work.
Sign up for World-Herald news alerts
Be the first to know when news happens. Get the latest breaking headlines sent straight to your inbox.
"I needed a job and it was inside the mall, right by Auntie Anne's and the mattress place," he said with a grin.
His levity seeps into his classes amid discussions of musical genres, computer-generated sound and coming events.
"I'm workin' hard up here, lemme tell ya," he said at the recent class as he pressed a single key to produce an orchestral wall of sound.
He went over last-minute details for the Panorama trip, which was the next day. There would be dueling organs, something called "The Famous Thursday Night Great Steak Cookout" and a cocktail party.
"We'll be there for that," one guy called out.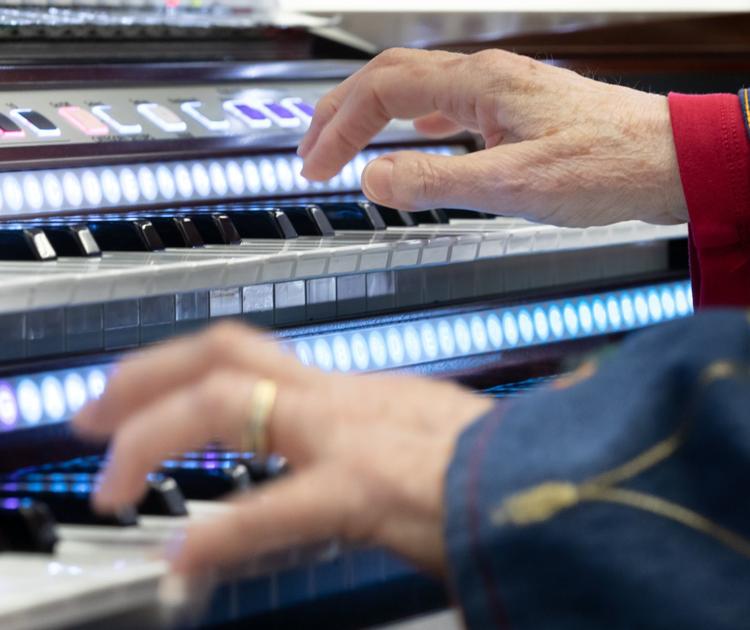 When class was done, everyone retired to the break room for coffee and cookies, and James was right in the middle of the action.
"Kevin has a way about him," said Olson, the retired teacher. "You just want to pinch his cheeks sometimes because he's such a nice guy."
For the 71-year-old Olson, the classes are way more meaningful than she anticipated when she answered a newspaper ad seeking students. She had zero musical experience.
"I thought, 'I'll try it, we'll see,' " she said. "They were so welcoming when you walked in the door. It just had a really good vibe to it."
The vibe extends to the joy she feels making music.
"When we first started, we saw the organs, with all the lights and bells, and we were dumbfounded. Now we're doing it. I know it's cheating, sort of, but by the time you're retired, you don't have 30 years to learn all these chords. You can play right away. And when you start playing, it's just a thrill."
Photos: Omahans to share songs, celebrations and sorrows
Casual clothes and camaraderie are comfortable at Club Academy, where students take the fast track to learn to play the organ.