Rock 'n' roll and politics — and a whole lot of killer rock artifacts — meet in a new exhibit at the Durham Museum.
"Louder Than Words: Rock, Power & Politics" debuts Saturday at the museum, but I got to check it out early.
Forgive me for how long I stood slack-jawed while staring at Joe Strummer's guitar, Chuck Berry's handwritten lyrics to "School Days," Odetta's acoustic guitar and even the hat Rod Stewart wore on the cover of "A Night on the Town." (I'm a fan, OK?)
The exhibit, which runs through Feb. 2, was unbelievably cool. And educational, too. (But more on that later.)
Naming all the things that are in the exhibit would take too long, but count me impressed by Pete Seeger's banjo head, Bob Dylan's lyrics to "The Times They Are a-Changin'," Johnny Cash's shirt (black, of course), John Lennon's "War Is Over" T-shirt, Stevie Wonder's sunglasses, Chrissie Hynde's guitar, Madonna's jewelry, Sid Vicious' "God Save the Queen" T-shirt, the actual letter releasing Ice-T from his record contract after he released "Cop Killer," a massive display of The Village People's costumes and the jacket Bono wore during U2's iconic Super Bowl halftime show.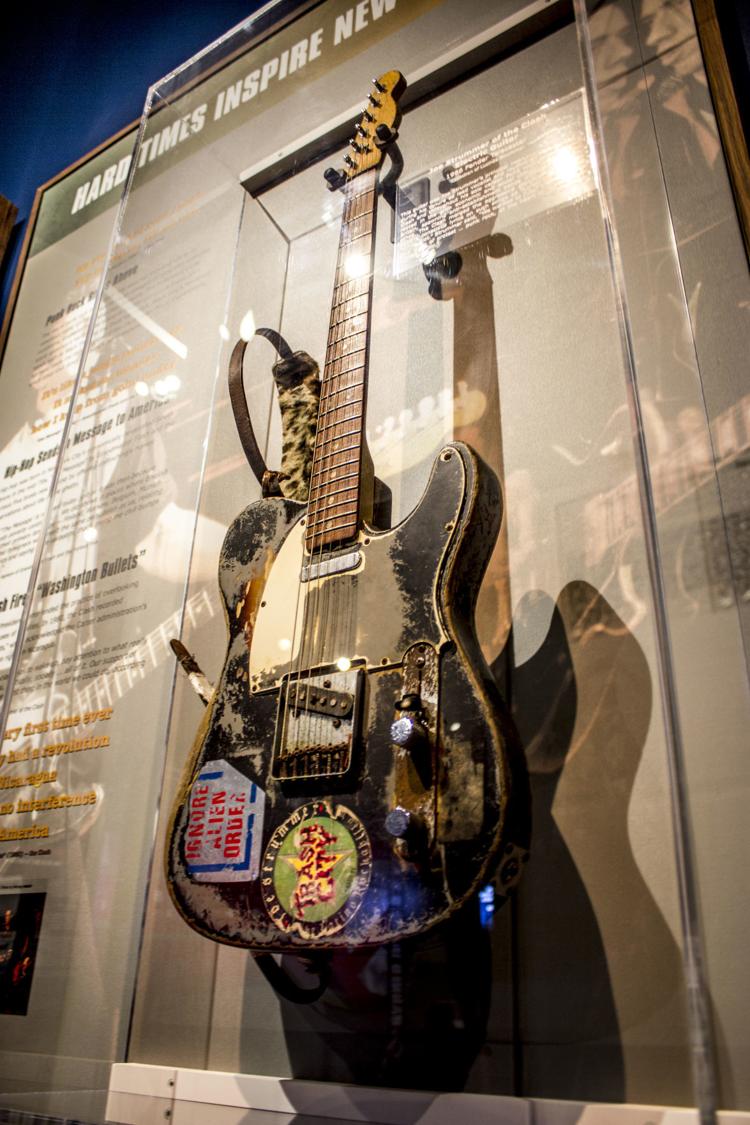 For a Clash fan, Strummer's guitar — a horribly battered Telecaster complete with rubbed-off paint, fading stickers and a set list taped to the side — was simply amazing to see in person.
But remember how it's about politics and protest? Every item on display (those I mentioned earlier and many, many more) ties into American history.
The exhibit is actually arranged in chronological order by president, starting with Dwight Eisenhower and running all the way through Donald Trump, a relatively new addition to the display. (So new, in fact, that when the Durham booked the exhibit, Trump's section hadn't yet been added.)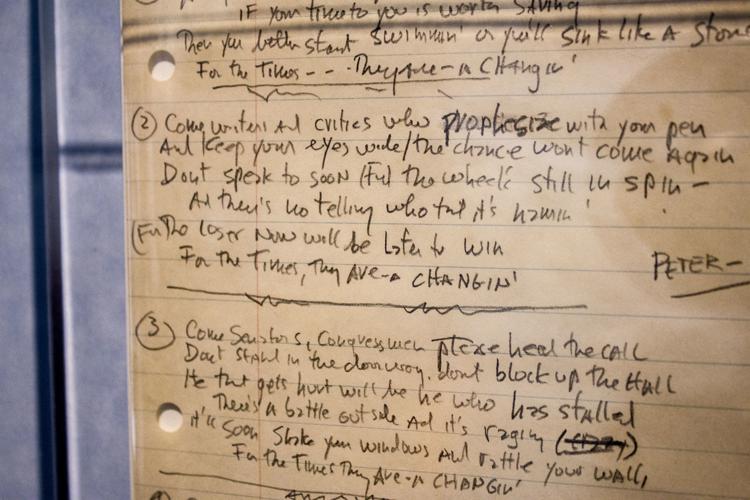 Each section names the president's campaign song (say, "Nixon's the One" or "Don't Stop"), gives bullet points on what was happening in the country at the time and even tells you the top five songs when the president was sworn in. (The No. 1 when Jimmy Carter took the oath was "I Wish" by Stevie Wonder.)
Throughout the show, videos featuring old newscasts and famous musicians talking about the power of music play, mixing both classic and current songs into the experience.
Several interactive displays were also really cool. One organized political songs by decade, giving historical context to each and letting you listen by tapping the screen. Another showed off how protest music impacted history around the world. Still another featured three kiosks (complete with headphones) to peruse music, interviews and documentaries related to the entire exhibit.
It is really cool, which is no surprise considering it comes from the Rock & Roll Hall of Fame and the Newseum.
As I walked through the exhibit, I couldn't help but think of what Rage Against the Machine guitarist Tom Morello said in an intro video playing at the front of the display.
"One hundred percent of music is political," he said. "Music either supports the status quo or challenges the status quo."
(Morello would know. He graduated with honors from Harvard with a degree in political science, and his band, Rage, specializes in rock 'n' roll protest.)
Anyway, he's right. Music is powerful stuff, and it has created real change throughout our history.
And in case you're worried, "Louder Than Words" has a lot to say, but it does not take sides. It's about all kinds of music and all kinds of politics.
It'll be wildly fascinating for fans of either — amazing rock 'n' roll artifacts for the music fans, and educational entries for every president since Eisenhower.
If you care about music or American history on any level, you'll find a lot to love.
Our best concert photos of 2019
Relive your favorite local shows with some of our best photos.