Anyone who has bought concert tickets can tell you: The price just keeps going up.
In fact, the average price of a ticket to see your favorite band has tripled in the last 20 years.
But higher prices haven't deterred concertgoers, according to arena officials and industry experts — even if fans say they're more choosy about which shows to attend.
"Everybody wants to be entertained," said Roger Dixon, president of the Metropolitan Entertainment and Convention Authority, which runs the CenturyLink Center Omaha.
Lady Gaga's upcoming concert at CenturyLink Center boasted some of the priciest seats ever at the arena, but even with some tickets costing $250, Gaga's concert quickly sold out.
"Price wasn't a factor," Dixon said.
Diana Lindloff, 34, of Omaha, bought tickets for the show even though she thought even the cheapest tickets were pricey.
She spent about $150 per ticket plus fees, and had she not gotten her tax return the day tickets went on sale, she might not have been able to go.
But she had to see Lady Gaga.
"She's one of my bucket list (singers)," Lindloff said. "I know all her songs and love her message."
A concert industry magazine that tracks ticket sales and other data, Pollstar, reports the average concert ticket price in North America has nearly tripled since it started compiling the average in 1996.
Meanwhile, the concert industry has posted record sales numbers.
The average ticket cost $25.81 in 1996. In 2016, the average cost was $76.55. That's nearly twice the rate of inflation, which would make the $25.81 concert ticket from 1996 worth about $39.48 in 2016 dollars.
Ticket price averages have risen steadily, with only two years — 2009 and 2010, during a recession — seeing declines. By 2011, the average recovered to its pre-recession level, and every year since has seen a new record average.
Cost is a big factor for some fans, who said they pick and choose which shows to attend.
"I've skipped a few shows that I wish I didn't because of the prices alone," said Derek Bremer, 21, of Lincoln.
Bremer, a University of Nebraska-Lincoln student, has attended numerous concerts at CenturyLink Center and Lincoln's Pinnacle Bank Arena as well as countless others at smaller venues in the area.
To keep within his budget, Bremer sometimes browses secondary sellers such as StubHub to find good deals. He also appreciates artists that keep tickets at a lower price.
But Bremer can't stop going to shows. He loves feeling connected to others in the audience.
"It's those big arena and stadium shows that get me," he said. "I always want to sit as close to the stage as possible in the best seats. It's the best way to get immersed in the concert."
But ticket costs do price some people out, said Gary Bongiovanni, editor of concert industry publication Pollstar.
"(Price) certainly does limit the size of the audience," he said. "There was a time where rock was about music for the people. It was countercultural. Those days are long gone."
Rising ticket prices have to do with several factors, Bongiovanni said.
Two decades ago, tickets were undervalued. Sellers on the secondary market, including scalpers, were charging premium prices to buy tickets with a low face value, and the public had no problem paying those inflated prices.
Since artists didn't share in the revenue earned by secondary sellers, they upped pricing to meet what fans would spend.
Tiered ticketing also became the norm. In the early '90s, most concerts charged a single price from the front row to the nosebleed seats. Now, tickets are typically organized into tiers with the best seats costing the most.
The highest tier includes VIP tickets, extra-pricey passes that typically include a seat near the stage, merchandise and, sometimes, a meet-and-greet with the artist.
Rising prices aren't alarming, and arena officials aren't worried.
"We are not alarmed nor surprised," said Tom Lorenz, general manager of Pinnacle Bank Arena.
Lorenz watches ticket prices carefully, and he's encouraged by artists who provide a variety of price points to allow fans across the spectrum to attend their shows.
"We see a strong demand for tickets, which is translated to strong attendance for shows," he said. "Higher ticket prices have not significantly negatively affected attendance. Demand to see the artist or band and the artist's production remains strong."
The supply of tickets is plentiful as well. With prospects of dwindling income from selling music, artists are touring more often.
Demand does vary from artist to artist depending on how much they tour, how much fans like them and the market in which they're playing.
"Everyone has a little different demand and a slightly different audience," Bongiovanni said. "Depending on the market they're in, the demand may be higher and the fans may be able to afford more."
Artists and promoters typically pay close attention to those factors when determining prices. What happens in one market wouldn't fly in another.
"In Omaha, the fans would go into shock if they faced New York prices," Bongiovanni said.
Even with a record ticket price average, the public is still flocking to concerts in record numbers.
The top 100 tours in North America grossed a record $3.34 billion last year, according to Pollstar. Those tours sold a record 43.63 million tickets, which is 1.5 million higher than the previous year.
"I don't get a sense that people are alienated," Bongiovanni said.
Higher prices do have one big benefit for fans: Artists who earn more at each show are more inclined to create more intricate and over-the-top productions.
"More video, more lights, bigger stages, better sound are all part of the live concert experience, and the level of production today can be very expensive," Lorenz said.
In 2016, CenturyLink Center sold more than 167,000 tickets. Pinnacle Bank Arena sold more than 143,000. This year is looking to be another bright spot.
CenturyLink Center averages about 14 concerts per year. As of right now, the arena is set to host 19 concerts in 2017. Pinnacle Bank Arena has 12 planned so far for the year.
"This year is very good," Dixon said, adding that he appreciates the community's support.
"If you don't sell tickets, then these artists don't come through. We're fortunate that we got to build this facility and make a nice place where people want to come."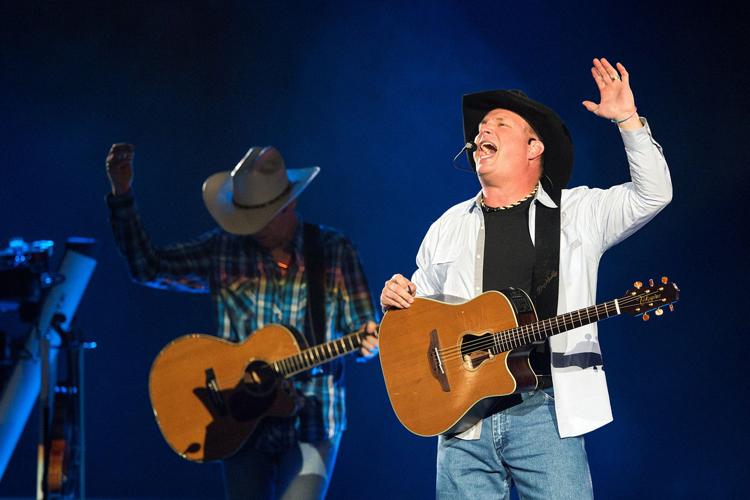 5 of the biggest
In its years, Omaha's CenturyLink Center has played host to some big shows. These are five of the biggest.
The largest-ever audience at CenturyLink Center clocked in at 17,486. George Strait's farewell tour landed at the arena and brought a record crowd to the venue. Part of the audience were 215 fans who had been sold bogus tickets and traveled from western Nebraska via bus. Arena officials were kind enough to let them in anyway, seating most of the fans in the arena's press box. It solidified the attendance record.
George Strait and Reba McEntire — 2010
As it happens, one of the next largest shows at the arena was also from George Strait. The troubadour's co-headlining tour with Reba McEntire drew 17,206 people to the arena.
Gone from Nebraska for more than 25 years, the Boss finally made an appearance back in the state to a massive crowd totaling 17,279. He played 26 songs, including "Because the Night," "Darkness on the Edge of Town," "The River," "Badlands," "Born to Run" and "Thunder Road."
When George Strait set the arena's attendance record, Church opened the show. He returned later that year for his own headlining show, which brought in more than 17,000 fans. They breathlessly sang "These Boots," slow-danced to "Springsteen" and thrust beer cups into the air during "Sinners Like Me."
When the country star comes to town, he does it big. Through six shows at CenturyLink Center, Brooks drew 101,863 to the arena. (On average, that's more than 16,800 at each concert.) In all, ticket grosses were more than $6.7 million, Brooks' second-biggest gross in 2015.