Alamo Drafthouse Midtown opens Friday in Midtown Crossing, a $3 million renovation to the theater space formerly occupied by Marcus Midtown.
Friday will be a "soft" opening, showing a handful of films as new staff members train.
This will be the second metro-area location for the Austin, Texas-based theater chain. Its first, in La Vista, opened in 2015. Omaha is the smallest market in the U.S. to have two Alamo theaters.
"Back when we proposed the idea, it made a bunch of sense to turn this into an Alamo Drafthouse," said Derek Dillon, Alamo Drafthouse Omaha's creative director. "We've been behind the scenes working on this for about two years. It's been a long process, it's been an up-and-down process. But just seeing the whole transformation of the theater, we're so stoked for our guests to finally see this."
Thursday morning, Dillon and Alamo franchisee principal Tyler Calabrese hosted a first-look media tour of the new theater.
Box office on the first floor. Liquid Sunshine Taproom — a full bar and restaurant with 24 beer taps, many local and regional brews — on the second. Five auditoriums and the main lobby on the third.
Arriving on the third floor, your first question is: Why are there 2,000 license plates on the walls?
"There are 2,000 license plates on the walls," Dillon said, "because our theater-level lobby is actually going to be themed to 'The Iron Giant.' "
Those who've seen the 1999 classic know that much of it takes place in a junkyard, which Alamo has turned into the third-floor theme: old beams, rusty corrugated tin tiles and old license plates from every state covering the walls. (Calabrese got the 2,000 plates from a dealer in Kansas City. It took him and some friends about three days to hang them all.)
In the coming weeks, Alamo will install a 16-foot Iron Giant statue in the lobby. Also coming soon: a new Alamo sign and neon marquee.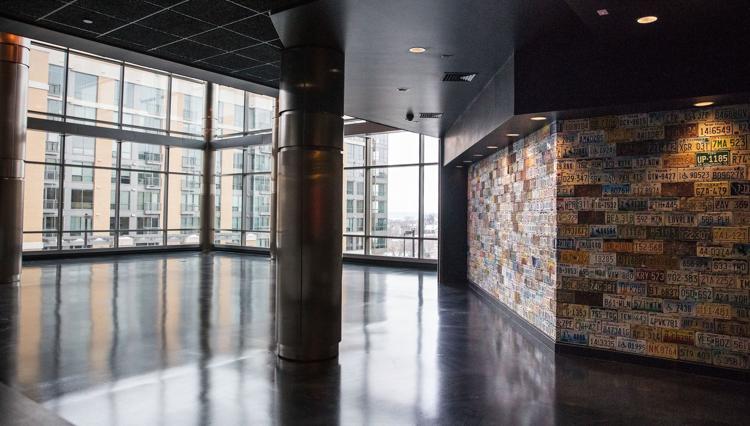 During Thursday morning's tour, we got to watch a few trailers in theater 1, the biggest auditorium at 182 plush recliner seats. Alamo Midtown has about 600 seats overall.
The trailers shown — to the superhero movie "Captain Marvel" and the 1978 cult curiosity "Massacre Mafia Style" — were a reflection of Alamo's brand, where big-budget franchise films meet smaller, stranger fare.
"We will continue to do weird movies like 'Massacre Mafia Style,' " Dillon said, "but we'll also continue to show the big blockbusters, as well."
Alamo Midtown will launch two new film series: Terror Tuesdays and Weird Wednesdays. It will also bring the Novel Pictures series, a collaboration with the Omaha Public Library, from La Vista to the Midtown location.
Alamo's goal, Dillon said, is to continue driving traffic to the La Vista location as well as their new satellite.
"The idea is to not cannibalize La Vista (for the sake of) Midtown," he said. "It's to have them both be extremely successful."
Going from eight screens (the number at the La Vista spot) to 13 certainly gives them more flexibility in their programming, Dillon said. Expect plenty of weirdness amidst the mainstream studio films.
For its soft opening, Alamo Midtown will operate the theaters at about half-capacity while new staff find their bearings. Moviegoers will receive 25 percent off their bill for the first week.
The soft-opening week will include screenings of blockbusters ("Avengers: Infinity War"), prestige films ("The Favourite"), classics ("Casablanca") and cult classics ("Dune," "Big Trouble in Little China").
Alamo Midtown will inaugurate its March 7 grand opening with a 7 p.m. screening of "Captain Marvel."
Dillon said tickets are selling very well, much better than the La Vista location ahead of its 2015 opening. Anticipation is high, with a few shows having already sold out.
Dillon said their measure of success won't just be ticket sales, but how well Alamo Midtown fits into this revamped version of Midtown Crossing, which includes recent additions of Culprit Cafe and Modern Love.
"I honestly think it's going to revitalize the place," Dillon said of the theater. "There have been great additions recently ... but I think Midtown's been looking for a form of big entertainment in the area. Once we open our doors, they're finally going to get that."
Showtimes start at 6 p.m.