If I could sum up my experience playing through the zombie-filled hallways, streets and pitch-black corridors of "Resident Evil 2," I would do so thusly:
"I like this perspective. Oh man! The body falling out of that closet made me jump. Oh, hey. Here comes a zombie! Ha! I got hi ... HE'S GETTING BACK UP! Oh, OK, I think I really got hi — OH MY GOODNESS, it bit — IT JUST WON'T DIE! HOW DO YOU KILL THESE — AMMO! I NEED AMMO!"
Sign up for the Go newsletter
This complete guide of local music, movies, dining and entertainment will have you weekend ready.
It's a hair-raising adventure where you must survive at all costs.
And though it feels fresh, the latest installment in the long-running zombie-killing franchise is, actually, a remake of an old game.
Released in 1998, "Resident Evil 2" was the first game's sequel and arguably the best game in the series.
This "Resident Evil 2" is a top-down reconstruction of the old one. It keeps the characters and story, but it's been updated with entirely new graphics and puzzles, making what was a horror-show zombie survival game into a bloody, disgusting, creep-filled, oh-my-goodness-we're-all-gonna-die horror-show zombie game.
The plot is the same: Leon Kennedy and Claire Redfield find themselves in zombie-overrun Raccoon City. The pair must survive and find their way out of the city, finding new allies and enemies along the way while they uncover exactly what's behind this zombie outbreak.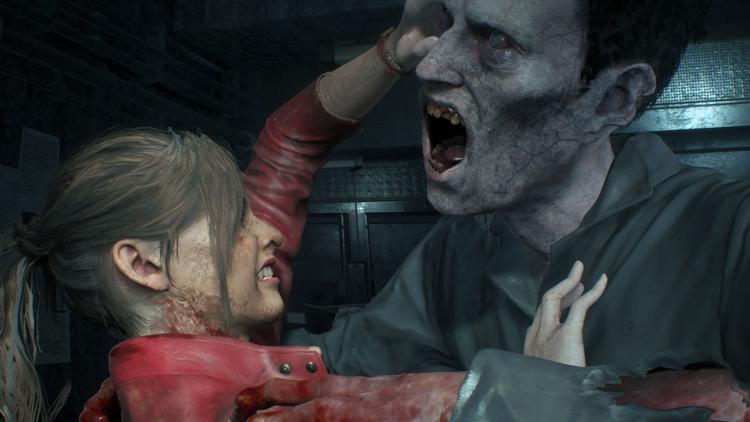 As with the original, you can play as either Leon or Claire. The game starts out in the zombie-infested police station, but the characters' stories branch off (and occasionally intersect) from there.
Their stories involve different characters. Different weapons. Different puzzles. There are even some rooms Leon can access that Claire cannot. You simply won't get the complete experience unless you play the game with both characters.
In your way are zombies. Regular zombies and flaming zombies. And also wall-crawling lickers. And there's also Mr. X — an unkillable zombie villain who will never, ever, ever stop pursuing you with an unstoppable Michael Myers-esque persistence.
When confronted with these enemies, sometimes it's better to shoot your way out. Most of the time, it's much better to just run to safety. (Safety, of course, is relative. You never know what's around the corner.)
"Resident Evil" is a game of zombie-killing, yes, but you'll spend more time solving puzzles, doubling back to find items and, simply, surviving this apocalypse.
And that's when the literal hair-raising arrives. Sure, things are tense when you only have four bullets while facing down a room of five flesh-eaters, but you'll also creep into pitch-black rooms with only a dim flashlight. That body you walked past will rise up and grab you from behind. A previously deserted hallway now has a flame-engulfed zombie in it.
Then there's the dead zombie strung up from the ceiling in a hallway. Initially disgusted by the grisly scene, you'll become familiar with it as you pass by several times. Then the fifth time, the corpse will come loose and drop in front of you, causing you to shriek and throw your controller.
It's that kind of immersive atmosphere that makes it scarier than any horror movie you'll see this year.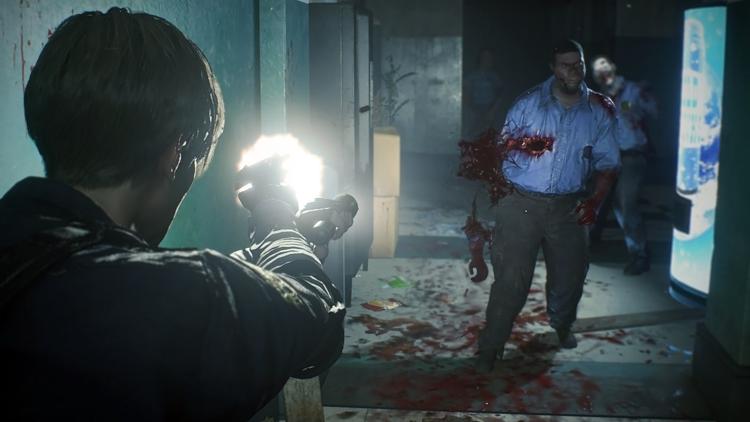 It's a tense game with some fun, interesting and occasionally bizarre puzzles. (The police station is, uh, an old art museum. Which, apparently, is why it's full of secret passageways and old statues.)
The game is chock-full of more mysteries than you'll ever be able to solve. Some puzzles are necessary to advance in the story. Others are ultimately not needed to finish the game. (A tip: Many combinations, passwords and clues are hidden in papers and books scattered around the game. So search everything.)
"Resident Evil 2" is satisfying on many levels.
All of it makes for an intriguing experience that will have you thinking about what's around the corner even after you've switched off the game.