Dundee's newest spot pulsated with an excited crowd on a recent Friday night. Animated diners looked chic sitting under the flattering glow of giant, crystalline orb chandeliers. Hearty aromas wafted out of an open kitchen. And for a moment, we all might have thought: "Are we in Omaha right now?"
If there's one thing you can say about restaurateur Willy Theisen, it's that he knows how to open a hot, hip spot. He's done it again with his latest, Paragon Dundee.
The atmosphere makes diners — this one included — feel like they're part of something vibrant and fresh. The comfort food menu has moments when classic dishes take a turn toward the modern, though that didn't always happen. Two dishes especially arrived looking a little too close to what grandma actually does make.
Concerns aside, I like Paragon. I like it a lot.
Paragon, like Theisen's former Dundee effort, Pitch Pizzeria right across the street, hits the nail on the head in terms of look — cool gray walls, warm lighting, big windows facing Underwood Avenue, a white marble bar against warm wood and modern subway tile — and feel. Servers, who were professional and friendly every evening, glide through the space, full of tables but not overcrowded, and past a big opening that looks into the busy kitchen. It's noisy but not so noisy you can't chat; instead, that sound of the kitchen and of diners brings the dining room alive.
Omaha has restaurants known for their atmosphere; M's Pub was one. Paragon has that same timeless style.
Theisen describes Paragon as "an eclectic fusion of glamour and Southern charm," and that's pretty accurate. It's comfortable but new, and it's got an undeniable cool factor.
Chef John Rea, formerly of M's Pub, is behind the menu full of dishes like hush puppies and tater tots, big steaks, burgers and saucy home-style staples. Over three visits, we found some surprisingly modern interpretations of classics.
I really liked Paragon's burger, hearty but refined. The medium-thick wagyu beef patty come topped with thick-cut smoked bacon, a slather of house-made pimento cheese and two thick pickled green tomatoes, all on a potato bun made in the neighborhood's Le Quartier bakery. It's a burger that sits somewhere between fancy and down home, and when Paragon hits that bull's-eye, it's at its best.
An order of meaty crabcakes, charred on the outside, comes with a crunchy slaw made with Granny Smith apples and celery, a surprisingly good combination. Rounds of sweet roasted delicata squash, a personal favorite, topped the slaw.
I found other hits. An order of sushi-grade salmon came cooked to perfection, flavorful and rich, served with a light, bright hollandaise. The $50 Angus rib-eye — a gigantic piece of beef — also came cooked perfectly medium rare, with a fantastic charred sear on its exterior. Alongside the meat were rich roasted carrots and a bit of caramelized onion jam.
The toasts, on the appetizer menu, are designed for sharing and come with tasty, varied toppings: pimento cheese and charred chives; country ham and spicy chow-chow, a mixed vegetable and pickle relish; and apple, honey and tangy blue cheese. I'll order them again, no doubt.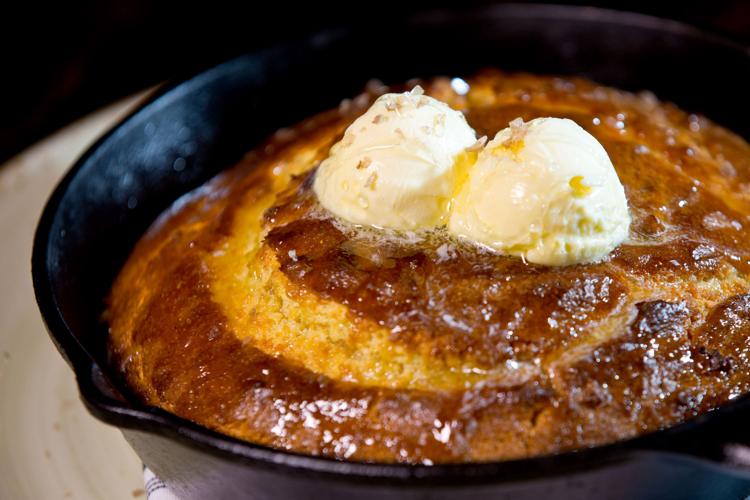 We saw lots of diners ordering the cornbread, served in a cast-iron skillet, and it's almost dessert-like in its sweet-savory flavor and crumbly texture. Theisen said diners have ordered it with a scoop of ice cream, and it might eventually make it onto the menu that way.
We tried both the homemade tater tots and the pimento cheese hush puppies; if you're choosing, go for the former. Homemade tater tots are having a moment, but these tots, about three times the size of a frozen tot, are fantastic, with a crunchy exterior, a pillowy inside and a surprise in the center — a hit of sunny egg yolk. They come with a green tomato remoulade for dipping.
The pimento cheese hush puppies sound great on paper. They were fine examples of a good hush puppy, but no one at the table tasted even an inkling of cheese. Another side, arancini that came with the salmon entree, had nice texture and crunch but desperately needed salt and pepper.
Twice I found myself perplexed by Paragon entrees. One night, the waitress suggested I try the milk-braised pork cheeks, served with herbed dumplings and a Fresno chili sauce. What arrived was a big bowl of brown: brown, slow-braised meat in brown sauce with pale tan, bland dumplings. A hot sauce on the side did add flavor, but if I used more than just a drop, it overwhelmed the dish entirely.
Another night, a dining partner tried the "hot dish," made with beef short ribs, cream of mushroom soup, diced carrots, peas and a few of those great tater tots on top. It tasted and looked like a beef pot pie but without a crust; texturally, it was similar to the pork — super saucy — and again, its appearance was basic and brown.
I understand the goal with these dishes, but for me, they're too retro and lack any kind of modern zing. Comfort food is great, but not when it's this literal.
Theisen said the pork cheeks are one of the restaurant's top sellers, and they're designed as a traditional Southern dish. The hot dish is in the same category, he said.
But he also said the menu is still in development, and there are more new dishes to come.
There's a list of tasty handmade cocktails at Paragon, and we especially liked the Cuban Manhattan, with a rum-induced caramel finish, and the Spectra, a bitter but fruity concoction topped with prosecco.
If you frequent Pinterest, you've seen a "poke cake," a sheet cake poked full of holes and topped with some sauce that soaks into the dessert. Here it's a tender white cake topped with dulce de leche served alongside a terrific scoop of malted milk ball ice cream. When it comes to dessert, what grandma used to make strikes me as just fine.
Paragon has a clear focus, and I know what it wants to be. I like what it wants to be. With Theisen's promised refinement, I think it will quickly become a favorite for its atmosphere — maybe the best in Omaha at the moment — and, eventually, for its menu, too.
Paragon Dundee
Address: 5018 Underwood Ave.
Hours: 4 p.m. to 10 p.m. Monday through Thursday, 4 p.m. to 11 p.m. Friday, 10 a.m. to 2 p.m. and 4 p.m. to 11 p.m. Saturday, 10 a.m. to 2 p.m. Sunday
Hits: A terrific burger, jumbo-sized homemade tater tots and a modern take on the Pinterest favorite, the "poke cake," are all worth trying.
Misses: Two dishes, the "hot dish" and the milk-braised pork cheeks, arrived brown and sauce-heavy; both are too old-fashioned for a modern palette.
Drinks: Wine, beer and a selection of house-made cocktails. A non-alcoholic seasonal shrub spritzer is worth sampling, too.
Prices: The burger is $15, an order of crabcakes $23.
Other things to know: Owners have a plan to add a Sunday supper to the offerings. Brunch, served on weekend mornings, is now available. The restaurant can be noisy, but the vibrant atmosphere is also its best asset.