Offering creations from blown glass, bright paintings and sculptures made from musical instruments, artists on Friday kicked off the 45th annual Omaha Summer Arts Festival in a new location.
Now lining Mike Fahey Street between 10th and 14th Streets near the CHI Health Center and TD Ameritrade Park, the new location is about a half-mile move from the festival's previous spot near Gene Leahy Mall, which is under construction.
For the 135 artists drawn from across the country to the festival, their feelings about the new location will likely depend on how the three-day festival goes.
"As long as people come out and buy I'm good with it," said Kale Van Leeuwen, who brought his colorful art style from Kansas City, Missouri, to the festival for a second time. "Actually, If more people come around I'll love it."
Festival founder Vic Gutman said in a statement, "We're excited to be in such a vital and growing part of the city. … This emerging hub of activity is a fitting place for the community's largest celebration of the arts."
Joseph Farmer traveled from St. Charles, Missouri, with his unique sculptures and said it's too early to say how the new location compares with Gene Leahy Mall. He's more concerned with the weather affecting the turnout.
"I just hope it isn't so hot this year," Farmer said. "Hopefully the people come out."
Temperatures in the high 80s are expected Saturday followed by a cloudy cool down Sunday with a predicted high of 68.
Robin Samberg was optimistic about the move. "It's been pretty good," said the artist from Overland Park, Kansas. "It's a new spot for everyone so that can't be easy for the show coordinators either."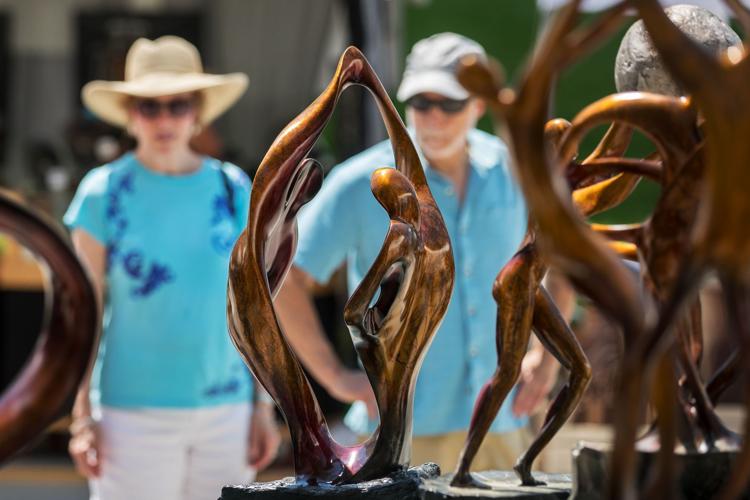 Artist Jeff Easley brought his studio furniture and abstract wall art from near Iowa City. He said he misses the free artist parking and shuttle that was provided in past years.
"There's plenty of parking," he said, "they should have just given us the free parking."
Denise Isenberger has attended the festival for the past six or seven years. She said her only problem with the new spot was a lack of seating.
"My husband is 76 and he uses a cane so it would kind of be nice if there was some more seating," Isenberger said. "That was the advantage of having it at the old location."
Sign up for the Go newsletter
This complete guide of local music, movies, dining and entertainment will have you weekend ready.
Despite the struggle of finding a seat, Isenberger said she's glad to see all the artists. "It's still worth coming down."
Isenberger's statement was echoed by Ann Wees, who's attended the festival off and on for 10 years.
"We love all the food stuff down here," Wees said. "We wish we could move up that (Gene Leahy Mall) completion date, but it's a nice venue."
The annual arts festival is expected to return to its Farnam Street location in 2022.
The Artists Market will continue from 10 a.m. to 8 p.m. Saturday and 10 a.m. to 4 p.m. Sunday. Fifteen free concerts will be played at the World Music Pavilion from 11 a.m. to 11 p.m. Saturday and 11 a.m. to 4 p.m. Sunday.
30-plus weird, unique places to go and things to do across Nebraska this summer
Looking for something fun and interesting to do this summer? Check out our list of fun destinations across the entire state of Nebraska.