Omaha's Summer Arts Festival has been held downtown for the past 44 years, and even with its usual home, the area near the Gene Leahy Mall, under construction, the annual event isn't moving too far away.
Only about half a mile, to be exact. The festival is moving north, to Mike Fahey Street between 10th and 14th Streets, near TD Ameritrade Park. Plans call for the festival to remain in this location in 2020 and '21, and return to its usual spot on Farnam Street in 2022.
It isn't the first time the festival has relocated, said Liz Kerrigan, chair of the festival's board of directors. "It was in front of the courthouse before moving to the Gene Leahy Mall. This summer's layout and the surroundings are going to give the festival a whole different look and feel."
This year's event, which runs Friday through Sunday, includes more than 130 artists from across the country, 15 live concerts, children's activities and TasteFest, which features cuisine as varied as Pacific Rim noodles and Hawaiian shave ice.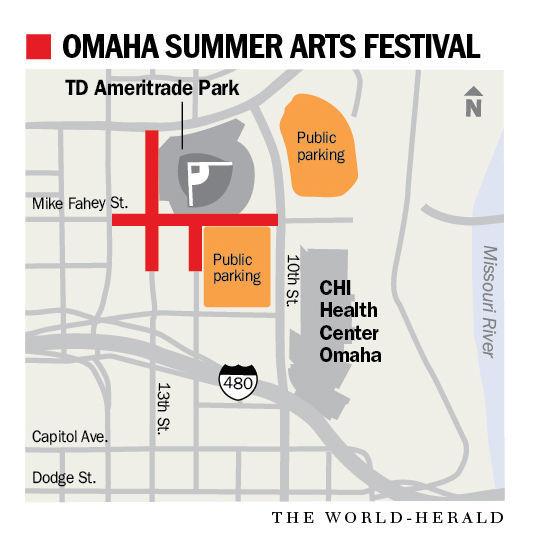 "We work to make sure to offer something for everyone and to stay relevant and interesting," Kerrigan said. "We do a lot of strategic planning and design the event to be inclusive for all members of the community."
What people want above all else, of course, is art — lots of it. A jury of local artists and educators selected the lineup of artists from a pool of more than 250 applicants.
Just about every medium will be represented: painting, ceramics, sculpture, drawing, fiber, glass, printmaking, leather, photography and wood.
"There is something for everyone," Kerrigan said.
Painter Ashley Corbello made the lineup. Based outside Kansas City, Corbello specializes in pet portraits and has attended the festival for the past four years. She comes back, in part, she said, because event organizers treat artists so well.
"They provide you with extra weights for your tents, which is the only show I know of that does that, and they bring you water when it's blazing hot," Corbello said. "They focus on artist safety. And the crowds are so pleasant. It's so nice to be there."
Katarina Gleisberg, an Omaha teacher and veteran of more than 10 Summer Arts events, said the event is the start to her summer ritual.
Sign up for the Go newsletter
This complete guide of local music, movies, dining and entertainment will have you weekend ready.
"It's a happy start to summer," Gleisberg said. "This has been the longest winter of my life, and I'm looking forward to the event even more this year."
Gleisberg is also looking forward to seeing how the ambiance changes with the new location.
"It's going to be weird not having the festival at the Gene Leahy Mall, but the new setting is going to be cool," she said.
30-plus weird, unique places to go and things to do across Nebraska this summer
Looking for something fun and interesting to do this summer? Check out our list of fun destinations across the entire state of Nebraska.