A high school teacher encouraged Jackie Nguyen to see the musical "Miss Saigon."
Nguyen was about to graduate, and wasn't sure what she wanted to study in college. Drama was one of the possibilities. Her teacher thought seeing a major musical production might help her decide.
It did. Nguyen went on to earn a bachelor's degree in musical theater from Cal State-Fullerton.
Now she's in the touring cast of "Miss Saigon," which arrives in Omaha next week for six days at the Orpheum Theater.
The show is compelling to Nguyen because it tells a similar story to that of her mother, who lived in Saigon at the height of the Vietnam War. In the musical, a 17-year-old bargirl named Kim gets involved with Chris, a U.S. Marine. They're separated when Saigon falls, and Kim embarks on a three-year quest to find Chris and tell him he has a son. She endures hardship as the war rages, and as the last Americans leave by helicopter from the embassy rooftop.
Nguyen's mom also was 17 when she met an American soldier. They fell in love, got married and had three kids. He went home to Florida without her, but stayed in contact and visited her until he finally brought her to the United States in 1984.
The situation was made more difficult because of the discrimination half-American children faced in Vietnam.
And, Nguyen said, "Mom was being stubborn because she didn't want to leave her country."
The war had a huge impact on Nguyen's mother. She lost everything — all her clothes and belongings — because the Communists seized all assets from the people of south Vietnam.
After coming to Florida, she enrolled her sons in high school and rebuilt her life with her husband, but the marriage didn't last. She divorced and moved to California, where there was a large Vietnamese community. She remarried a Vietnamese man and had Jackie.
The family connection played a part in Jackie's deep desire for a role in the Broadway production, but that wasn't the only reason she kept trying out after being turned down several times.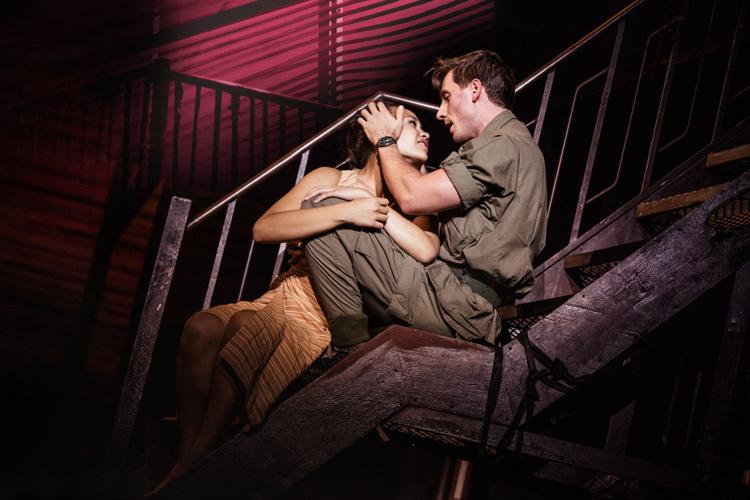 "I needed to be in it, not just because of my history," she said. "It's an amazing musical. As an actor, it's kind of the cream of the crop to be in, especially if you are an Asian actor. Asian actors don't have much work in New York."
Nguyen said her mother also loves the musical, though she doesn't like to talk about the painful details of her days as a young woman.
"She feels very honored and finds it amazing that there is an outlet of musical theater that can portray just a snippet of her life," Nguyen said. "She thinks it's a great opportunity for audiences to see just a fraction of what happened back then."
On the tour, Nguyen plays Yvette, a bargirl in the ensemble. She has played the role of Kim in a regional production.
Her proud parents flew to Chicago to see her on tour, and will come again when it reaches San Diego, her hometown, in July.
"They probably will see it every night," she said.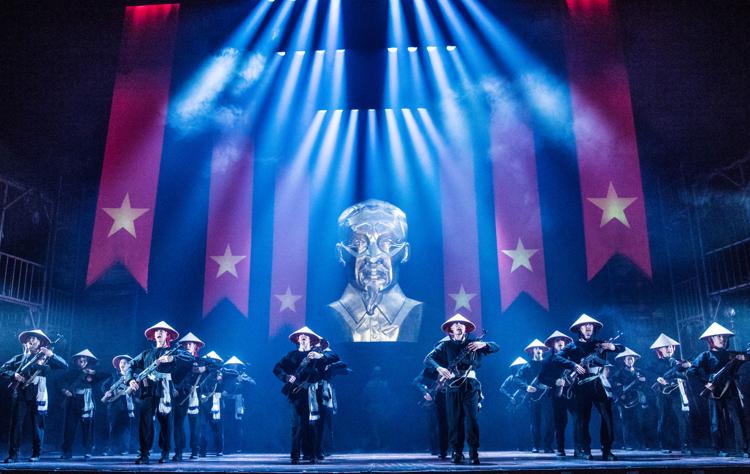 Nguyen has been to Omaha before. She got her first professional theater experience in the national Broadway tour of "How the Grinch Stole Christmas" about nine years ago, and its first stop was at the Orpheum Theater.
She hopes to be with "Miss Saigon" until the tour ends in summer 2020 — "as long as they want me," she said. In addition to her role, she's also the company's language consultant.
"I help make sure that any ad libs or anything that's spoken is proper Vietnamese," she said. Most of that occurs in crowd scenes.
She's proud of the production, and hopes Omahans will enjoy it.
"We're bringing every bell, every whistle, everything that was on Broadway and more," Nguyen said. "It's a beautiful story that will resonate with a lot of people, whether you lived through the war or not."
Sign up for the Go newsletter
This complete guide of local music, movies, dining and entertainment will have you weekend ready.
Great Plains Theatre Conference is this week
If it's the end of May, it must be time for the Great Plains Theatre Conference.
It starts Sunday at Metropolitan Community College's Fort Omaha campus with orientation and a couple of workshops. It gets going in earnest on Monday, when daily play readings begin and an evening event about mentors celebrates the life of this year's honored playwright, Cuban-born Maria Irene Fornes, who died last year. Fornes won eight Obie Awards for off-Broadway productions and was a teacher at several universities and theater festivals. She also was the founder of New York Theatre Strategy, which encourages stylistically innovative productions.
The conference, which runs through Saturday, covers all aspects of theater, from play development to acting to production design. Since it began in 2006, scores of noted theater professionals have come through Omaha. Pulitzer Prize winner Edward Albee was here in 2006 and '07. Others attending over the years have been actors Patricia Neal and Tammy Grimes and playwrights Arthur Kopit and Theresa Rebeck.
The importance of the conference — and the cachet it gives Omaha among theater people far and wide — is hard to overstate. Many plays that had their first exposure to the public at the event went on to be successful in theaters here and elsewhere. It provides opportunities for theater practitioners who live here — locals are directing and acting in play readings all week, and those from the local theater community can network with people from across the nation and even meet their idols, in some cases. (I wish I had been covering this beat when Albee was in town.)
Some events are open to the public. For more information and a daily schedule, go to gptcplays.com.
Photos: Our best shots of 2019 (so far)
Take a spin through the best of our staff photos from 2019. The gallery will be updated throughout our journey through the next year.