When and where you can watch the Coen brothers movie filmed in Nebraska
The new Coen brothers movie that was partially shot in western Nebraska has its first trailer, and its first reviews. And both are quite good.
"The Ballad of Buster Scruggs," Joel and Ethan Coen's Western anthology film originally conceived as a TV miniseries, features six tales — about a singing cowboy, a high-plains drifter, an impresario of a traveling show, a prospector, a stagecoach and a woman on a wagon train. The last story was the one filmed in Nebraska.
"Scruggs," which will premiere on Netflix on Nov. 16, has now released its first trailer.
A collection of short, interwoven comedies set in the Old West, "Buster Scruggs" looks like the Coens' "True Grit" remake but appears to be closer tonally to their more overtly farcical efforts such as "O Brother, Where Art Thou?" (Part of this might be due to the fact that the wonderfully goofy actor Tim Blake Nelson plays the titular role.)
The film's cast is somethin'. Playing various pioneers and outlaws are James Franco, Liam Neeson, Brendan Gleeson, Tyne Daly, Clancy Brown, Stephen Root, Tom Waits and Zoe Kazan, who stars as a pioneer woman in the Nebraska-shot chapter.
You can see Nebraska in a few shots of the trailer. Behind Kazan in one moment: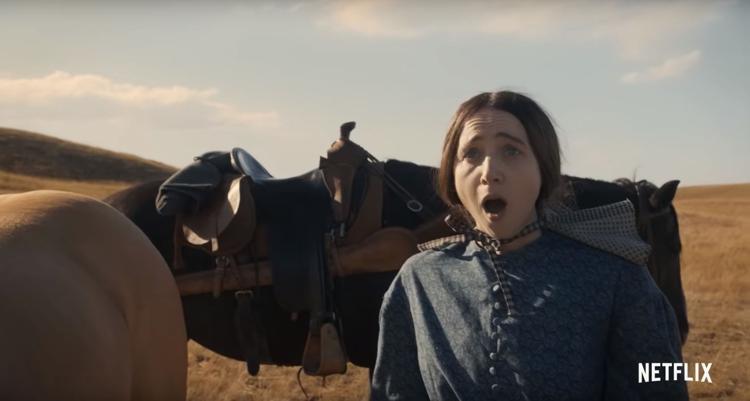 And in a gorgeous wagon train shot: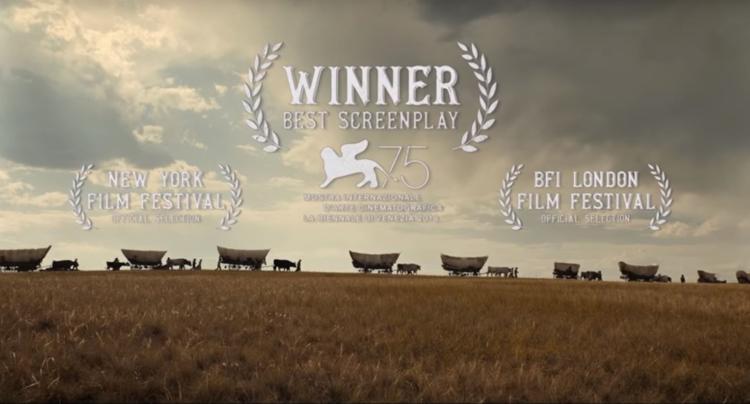 The film shot the scenes in western Nebraska last fall.
The majority of the filming took place in Sioux County about 20 minutes north of Scottsbluff, but a few scenes were shot along the North Platte River, west of town.
Several weeks prior to the shoot, the production held casting auditions for extras — seeking women with long hair and men with big beards. More than 700 tried out; about 50 landed parts as wagon-train pioneers.
"It is so exciting to see the beautiful western Nebraska landscape in the trailer, in the wagon train scene and also the Indian attack scene," said Starr Lehl, economic development director for the City of Scottsbluff.
Lehl said the community is abuzz about the film, saying things like, "We can't wait for 'our' movie to come out."
"The people here," Lehl said, "feel like they were a part of it and have taken ownership."
Billy Estes, who runs the Midwest Theater in Scottsbluff, has sought Netflix's permission to screen "Scruggs" as a community event.
Even though the majority of viewers will be watching the new Coen brothers movie in their living rooms, the film appears to be a possible Oscar contender.
The film premiered last month at the Venice International Film Festival, where it was met with good (if not outstanding) reviews and earned the Coens the Best Screenplay Award.
"Scruggs" currently has a 94 percent rating on Rotten Tomatoes, with most critics sayings it's a lesser yet still mostly delightful version of what the Coen brothers do best.
But there are a few raves.
The Guardian gave it five out of five stars, calling it "a hilarious, beautifully made, very enjoyable and rather disturbing anthology of stories from the Old West ... (with) vignettes that switch with stunning force from picturesque sentimentality to grisly violence."
"Scruggs" is part of Netflix's biggest push yet to make noise during Oscar season.
We'll see other Netflix Oscar contenders this fall: "22 July," Paul Greengrass' drama about the 2011 Norway terrorist attacks; "Roma," a Mexican family drama directed by Alfonso Cuaron, his first film since he won an Oscar for 2013's "Gravity"; and "Private Life," the Kathryn Hall drama from "Savages" director Tamara Jenkins, who, incidentally, is married to Jim Taylor, Alexander Payne's writing partner.
The Nebraska/Netflix connections abound this fall. Which makes sense if you think about it, as both entities are represented by their own big red "N."
In the "Scruggs" trailer, a raconteur character's monologue describes the streaming era perfectly. In fact, this could be Netflix's mission statement:
"People are so easily distracted. So I'm the distractor, with a little story. People can't get enough of them. Because, well, they connect the stories to themselves, I suppose. And we all love hearing about ourselves. So long as the people in the stories are us … but not us."