Instead, I've created a list of my favorite local places to get mostly non-fried, sometimes local and always delicious seafood and fish. I'd eat fish pretty much any day of the week and any time of year, so you could say I've put in my due diligence when it comes to listing my favorites.
Here, in alphabetical order, are my picks.
It's mostly known for pizza, but as I've said before, there's a lot more to discover at the west Omaha Dante, fish included. The restaurant is part of the James Beard Foundation Smart Catch program, which aims to help chefs make seafood more sustainable. To that end, the restaurant flies in its seafood fresh from the dock through a supplier called Sea to Table. Freshness makes all the difference, in my experience, and in the past, I have particularly enjoyed the restaurant's ever-changing fish and seafood-focused specials.
It's known for fish and chips for a reason, but fish and chips isn't the only seafood dish on the menu. The Dell also serves mussels, salmon, shrimp mac and cheese and crab cakes. Did you know you can get your fish and chips "skinny" with a lighter breading instead of batter? I didn't before, but I know what I'm doing next time I'm in midtown.
Sign up for the Go newsletter
This complete guide of local music, movies, dining and entertainment will have you weekend ready.
The rock shrimp toast at Le Bouillon, which isn't currently on the menu at the Old Market restaurant, is one of my favorite "stuff on bread" combinations I've had, well, ever. Bouillon's raw bar serves up some of my favorite oysters in town, and during happy hour, they're $1.25. The brandade tartine, featuring salt cod, is my current favorite toast on the menu, and there's a daily fish on the entrée list that I've found won't disappoint.
Plank also serves an excellent selection of oysters. If you're a newbie, I'd suggest asking for help; I've learned from experience that I prefer oysters with a higher salinity, which basically just means ones that taste saltier. During happy hour, Plank also serves a $1.25 selection.
Other dishes I really like: the BYO salmon crostini, which comes with excellent house-smoked salmon and all the fixings: dill caper cream, pickled red onion, tomato relish, boiled egg, baguette and charred lemon. I also love the menu's "simple fish" selections. Diners choose whether they prefer their fish (tilapia, salmon, grouper, trout or scallops) grilled or blackened. It comes served with a simple roasted vegetable and herby fingerling potatoes.
Flagship Restaurant Group (which also runs Blue Sushi Sake Grill) has also partnered with the Sustainable Fisheries Partnership, an organization that helps rebuild depleted fish stocks and works to reduce the environmental impact of fishing and fish farming.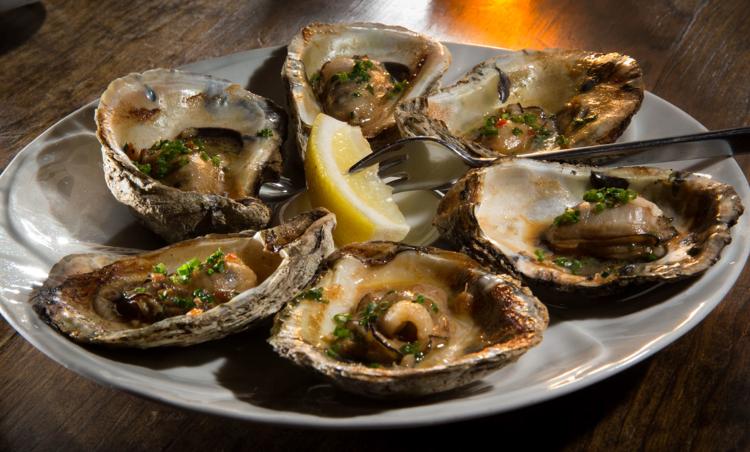 Shucks Fish House & Oyster Bar
1911 Leavenworth St.; 1218 S. 119th St.; 16901 Wright Plaza
Shucks is the restaurant arm of Absolutely Fresh Seafood, and that's the main place I shop for the fresh fish I cook at home. (I also like the selections at Whole Foods and the Fareway Meat Market.) Shucks does all the classics fried, and you'll find plenty of fresh catch specials that vary depending on the location. Crab legs are a particular love of mine, and Shucks has them at an excellent price.
The Boiler Room Restaurant
When I think of one of the best crudo plates I've had almost anywhere in Omaha, I think of The Boiler Room. Their version of crudo — seafood typically dressed with oil, citrus juice and seasonings — is always outstanding. I've also had varieties of fish at The Boiler Room I haven't had elsewhere, like the barramundi, an Asian sea bass.
A note: The restaurant's chef, Tim Nicholson, just got nominated for a James Beard Award in the best chef Midwest category, a huge honor. He's consistently turning out some of the best plates in the city. So, in short, if you go to The Boiler Room, yes, get a bottle of wine and a plate of charcuterie. But don't shy away from the fish or seafood, either.
The Plume often features local fish on its menu, particularly trout from Blue Valley Aquaculture, which is located near Sutton, Nebraska, and specializes in steelhead. The business harnesses water from the Ogallala Aquifer for its operation. In my experience, the trout is great. Another fun fact: Athletes at the University of Nebraska-Lincoln eat it, too.
I'll get on my soapbox for one moment here: A lot of types of fish aren't sustainable, and it's an issue few diners know much about. I like the fact that restaurants here are supporting businesses in Nebraska trying to change that. Worth noting: The Plume is also part of that James Beard sustainable fish program.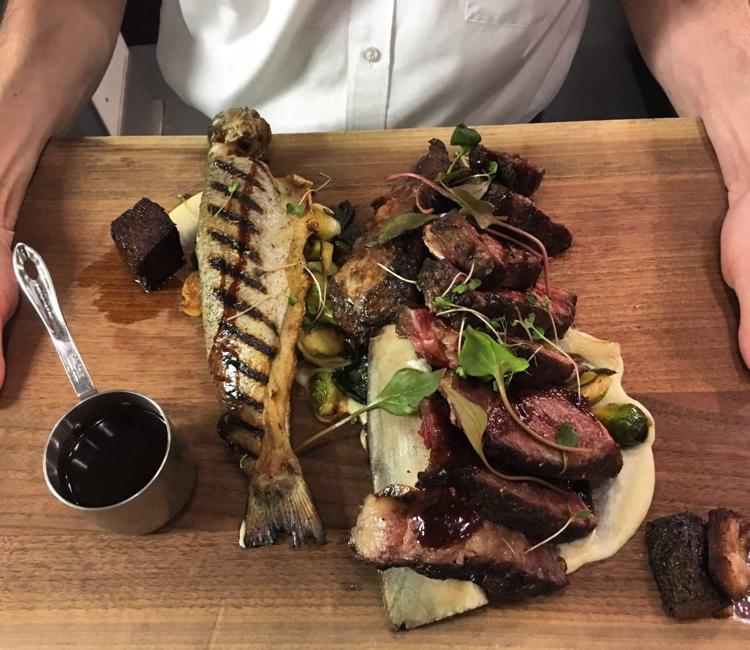 Twisted Cork's menu has a singular focus: the upper northwest. With that in mind, seafood has to be part of its menu. I've often enjoyed the restaurant's sockeye salmon or its sea scallops. The totem tartine, on the brunch menu, features more salmon, this time sandwiched between rye bread and topped with, among other things, a sunny-side egg. There's also a slight Hawaiian bent to the menu: shrimp appears on the Honolulu cobb salad, and the salmon poke stack and Hawaiian ahi nachos are a nod to the region, too.
Admittedly, V. Mertz is a special occasion spot for us like it is for everyone else. But when I have visited in the past, I don't get a steak or pasta. I almost always go for seafood. I know whatever the kitchen has is fresh and will be prepared both deliciously and creatively.
And looking at the restaurant's most recent menu posted online, it looks like things are just the same: there's a grilled steelhead trout served with kumquat, olive, spinach dumplings and brown butter, and a baked monkfish served with leek risotto and grilled oyster mushrooms. There's also delicious sounding baked north shore gold oysters and a crudo prepared from razor clams. So yeah, you see what I mean.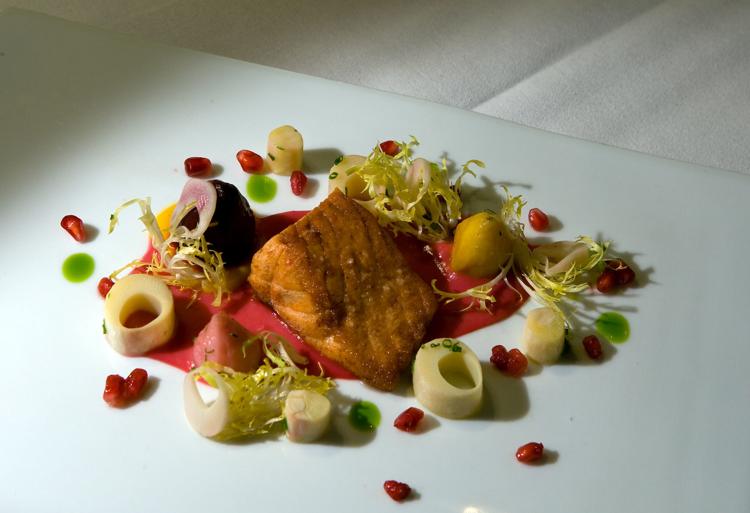 Yoshitomo is changing the sushi game in Omaha, and two things have a lot to do with that: The fish the restaurant imports, which is of the highest quality. And then there's chef and owner David Utterback. He spent years learning everything there is to know about sushi, and his mastery is clear in the quality of his product and the way it's served.
But he's not satisfied with that alone. He ups his own game with playful touches and bold flavors, pushing a meal toward an experience. The menu is always rotating, but look for the hamachos, a fun small plate that's an Asian play on nachos, and hotate, excellent smoked scallop.
Food reviews from The World-Herald