I listened to the album over and over. I bought a book of sheet music and learned some simple songs from the rock opera on the piano. I'm pretty sure I drove my parents mad by incessantly (and loudly) playing those songs.
I eventually moved on (to high school) and my obsession waned, but it never totally went away. I was thrilled when I learned that the 50th anniversary tour of "Superstar" was coming to the Orpheum Theater this year. And after I saw it Tuesday — opening night — our romance was rekindled.
Sign up for the Go newsletter
This complete guide of local music, movies, dining and entertainment will have you weekend ready.
Some of it is similar to the original:
The fabulous music by Andrew Lloyd Webber with lyrics by Tim Rice — some hard rock, some achingly beautiful ballads, all impeccably orchestrated and performed by both singers and musicians with some new embellishments.
An industrial-themed set similar to the recent live television production on NBC, basically beams that look like the steel framing of a high-rise building. (The musicians were cleverly ensconced in several of the higher openings.)
A variation of the same modern (not biblical) costumes used in versions since the rock opera premiered in 1970, in this case sweats in various shades of white and gray.
Some of it was different.
The lavish — and curious — use of glitter and glitz throughout the production, for instance.
The hip-hop-tinged dance steps.
Jesus with a man bun.
One difference I loved: The ensemble's movements were raw and evocative; though they were exceedingly modern, they fit perfectly with music written almost five decades ago. Drew McOnie's choreography was wonderful.
One I'm not sure about: In the scene in which Jesus is scourged at the hands of Pontius Pilate, each crack of the "whip" was accompanied by a burst of shiny gold glitter. I'm not sure what, if anything, that meant. Some might think it trivializes a grim scene. (I don't necessarily think that, but I'm still pondering the use of shiny objects in undeniably dark moments.)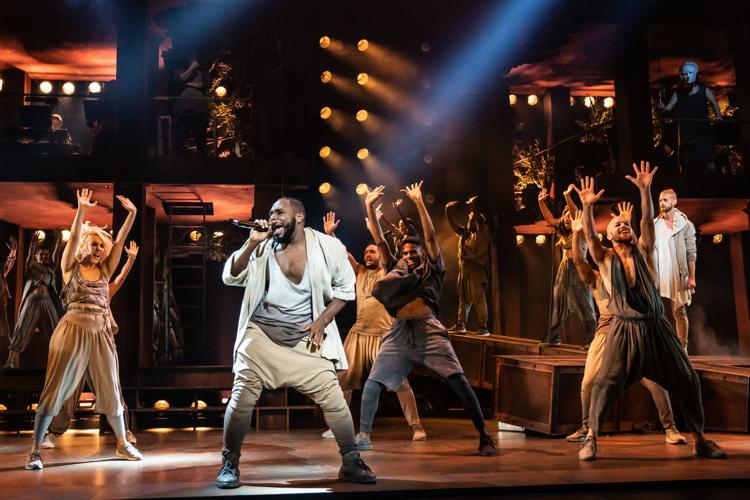 Performances were first-rate. In the show, the story of Christ's final days is told through the eyes of Judas, and he gets the most high-powered, showstopping songs, including the iconic title tune. James Delisco Beeks has the commanding voice and the acting ability to make the most of the role.
Aaron LaVigne is his equal as Jesus. His best moment is "Gethsemane," which starts softly as a ballad and builds to a screaming and agonizing finish. LaVigne gets to use every bit of his considerable talent, including his spot-on falsetto.
Jenna Rubaii's clear, pleasing voice is well-suited to her character, Mary, who sings one of the show's most famous tunes, "I Don't Know How to Love Him," and one of its most underrated numbers, "Everything's Alright."
Wearing white face makeup with black lips, Paul Louis Lessard gives us a fresh look at King Herod, the show's comic relief, who has been portrayed by many people in many ways. (Alice Cooper was Herod in the recent television version.)
Lessard played it way over the top, like he was Caligula's best friend. It didn't hurt that he, too, was extremely shiny: He came out wearing a pleated, glittering and tentlike silver robe. He took it off to reveal a sparkly gold topcoat with tails, with a black and gold bodysuit over black pants. That use of glitter wasn't hard to understand at all.
The musical, brought here by Omaha Performing Arts, is just an hour and a half long, with no intermission. Sometimes at shows I find myself taking mental trips and wondering if we're done yet. This time I was glued to the action and could have stayed another hour.
At 50 years old, "Superstar" is still super.
Theater reviews from Betsie Freeman in 2019
A collection of 2019 theater reviews from The World-Herald's Betsie Freeman.