Musician and actor Benn Sieff rarely plays it straight on Omaha stages.
With his band, Bennie and the Gents, he dresses up glam-rock style for tributes to David Bowie, Alice Cooper and other flamboyant rockers.
He wore a giant bowl of fake fruit on his head to play Carmen Miranda in a campy holiday epic, "Christmas at the Crawfords." (He's at least 6 feet tall, so he had to duck every time he stepped onstage at the SNAP Productions theater.)
Now he's wearing a revealing black teddy with garters and silk stockings — not to mention towering platform shoes and maroon lipstick — at the Omaha Community Playhouse.
Somewhere, it probably was pre-ordained that Sieff would play one of the most goofy and glitzy characters of all: Dr. Frank-N-Furter in "The Rocky Horror Show," the musical that premieres Friday.
"It seemed like a natural transition," he said.
Sign up for the Go newsletter
This complete guide of local music, movies, dining and entertainment will have you weekend ready.
And, perhaps, his favorite role so far.
"I like playing a monster," Sieff said. "He's such a psycho and he's also kind, changing different psychological moments in between lines. He's a big, big character, like a kid in a candy store."
Frank is a cross-dresser mad scientist who lives on a compound with a collection of crazy minions. An engaged couple, Brad and Janet, end up at his house when they get caught in a storm. Frank detains the happy couple, leads them to a laboratory and unveils his creation, an artificial man named Rocky Horror. Rocky is perfect: muscular, blond and tan. The doc also sets out to wreak havoc on his innocent house guests.
"To do a monster right, you have to feel empathy for it," said Sieff, who has that feeling for Frank. "You love him and hate him at the same time. You feel bad when something happens to him, but you don't want him to continue."
"The Rocky Horror Show" was first produced at London's West End in 1973 and made it to Broadway in 1975, the same year that a film version premiered starring Tim Curry. The film became a cult classic and an interactive midnight movie favorite, with fans dressing in costumes, throwing things at the screen, dancing and singing.
Sieff saw snippets of the movie in the 1980s, but didn't watch it in its entirety until the last decade.
"It is such a riot," he said.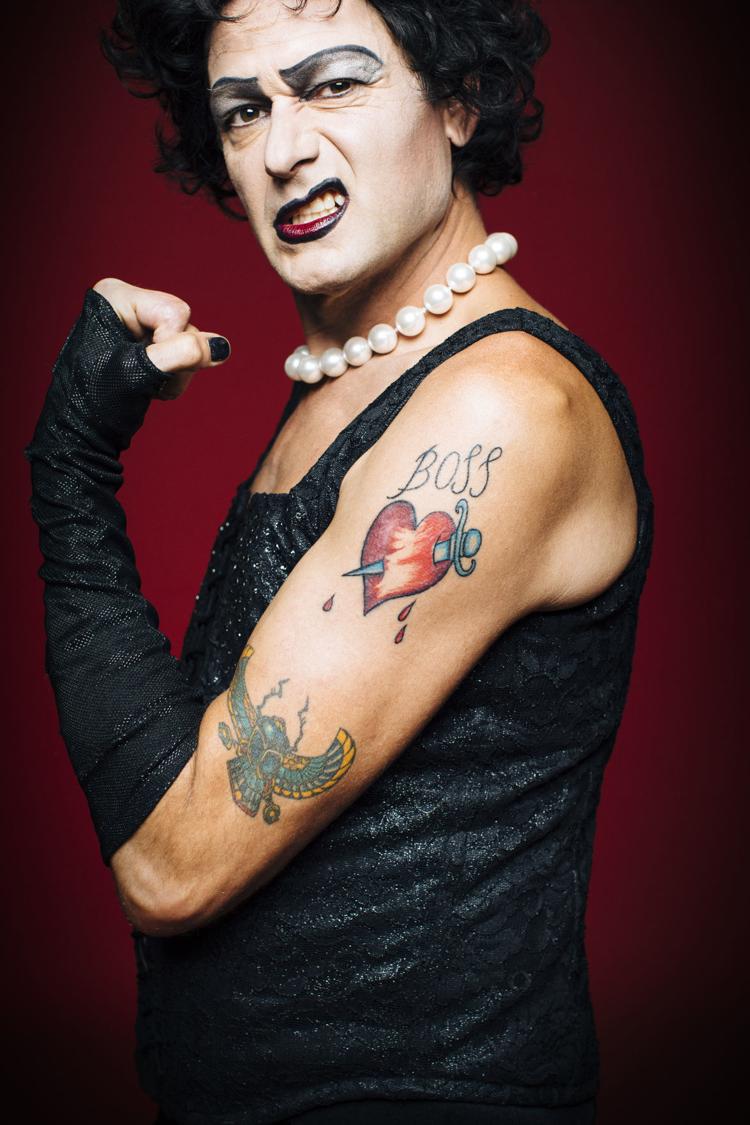 He came late to the party, but he's fully invested in the character, who he also portrayed a few years ago at a small theater. He recently got a tattoo, "Boss" with a heart, just like Frank's. Even for rehearsals, he had his fingernails painted black with silver sparkles. By tech week (the first rehearsals in costume), they were looking a little ragged.
"I'll have to get them redone this week," he said Monday.
He's a server at M's Pub, and says his employer has been super supportive of what he needs to do to play his character. Encounters with customers sometimes are interesting, however. They're a little shocked when they see his nails.
And, he said, "shaving my legs takes a long time."
He's late to the acting thing as well. He got into it when he started dating his now-wife, Erika Hall-Sieff, who had been in shows around town. He saw her as Loralee in "9 to 5" at the Playhouse (the Dolly Parton character in the movie) and was impressed, then saw her play Patsy Cline in a revue, which left him in tears.
That led to an appearance with Erika in "Calendar Girls" at the Shelterbelt, "Crawfords" at SNAP and now another "Rocky Horror" — "the best and biggest thing I've ever done."
Erika also plays a major role — Magenta — in the Playhouse show.
"Rocky Horror," a natural for Halloween, only runs through Nov. 10. But Sieff will always have the tattoo to remember the experience. He thinks he's earned it.
"It's something I can wear with pride at this point," he said.
Theater reviews from Betsie Freeman in 2019
A collection of 2019 theater reviews from The World-Herald's Betsie Freeman.
Update: To ensure the safety of actors, Playhouse officials have removed squirt guns and playing cards from prop bags for "The Rocky Horror Show." They're also not allowing patrons to bring in those items, which made the floors slick and dangerous. The two props were among several things people throw at the stage throughout the production. Signs banning the guns and cards have been posted at the entrance to the Howard Drew Theatre, and the Narrator will announce the ban at the beginning of each performance, said Playhouse public relations director Allyson Wagner.