There is a saying in German (hundreds really, but only one translates well): "Ich bin bis über beide Ohren verliebt," or "I am over my ears in love."
Many people felt that way about the late Caffeine Dreams due to the cozy brick building that housed it, the shady garden that nurtured its eclectic customers and the preternaturally friendly disposition of the staff, many of whom still count among my closest friends ... so geht es. Not to worry. If you're missing the Dreams gang, no doubt you will soon be above your ears in love with the new tenants, Rathskeller Bier Haus.
It's located on that funky section of Farnam Street that's part Old Dundee, a splash of Midtown and a soupçon of Med Center at the end of Nebraska's wildest roller-coaster ride. Sometimes it's a two-way street and sometimes it's a one-way, white-knuckle, rush-hour thrill ride of wonder, as in "I wonder if today a 7,000-pound pickup with Kansas plates will send me to my reward" ... so geht es. Just take Dodge and go south one block on 45th. Your adrenal gland will danke dir (thank you).
Sign up for the Go newsletter
This complete guide of local music, movies, dining and entertainment will have you weekend ready.
Once you arrive safely in Rathskeller's parking just across 45th Street, you will note it's big enough to land one reusable SpaceX rocket or two dozen 7,000-pound pickups. Inside, Rathskeller has managed to make this warm spot even warmer. It's remodeled interior includes an electric fireplace and traditional long wooden tables.
You can enjoy drinking with strangers here, including a few real Germans. Wall art consists of European beer signs, a boar's head and a reproduction of Berlin Wall graffiti. The back garden will still nurture you once warm weather returns.
My virtual trinkkumpel (drinking buddy) on this trip was U.S. Army Col. Mark R. Schonberg, on leave from Schlaben am Großer-Knaben near Stuttgart. His knowledge of European beer is exceeded only by his expertise in cybersecurity. It's because of him I've had Westvleteren 12 and never uncover my webcam. What he recommends, I drink, and Rathskeller got his expert thumb way up there.
The Colonel's recommendations concurred with the freundlich und gesprächig (friendly and talkative) biermädchen Kayla. I was going to start with a flight, but, unasked, Kayla set me up with several free samples — a treat I never request, but accept when offered so as not to violate my ethik (ethics).
There are 29 rotating taps of European and local brews and a slew of bottles and cans. I tried Franziskaner Hefe-Weiss, Warsteiner Premium Dunkel, Boddington's Pub Ale and Spaten Helles Lager. Not a loser in the bunch. Boddington's tripped my trigger, but I had a stein of smooth Hoegaarden Wit for $6. Boots are also available, natürlich.
Rathskeller serves a great food menu, including an A-plus beer cheese soup, sausage boards and my favorite modern German treat, currywurst. This spicy sausage comes with curry ketchup and is popular enough to inspire a fast-casual chain of the same name in Deutschland. Eat in or take out.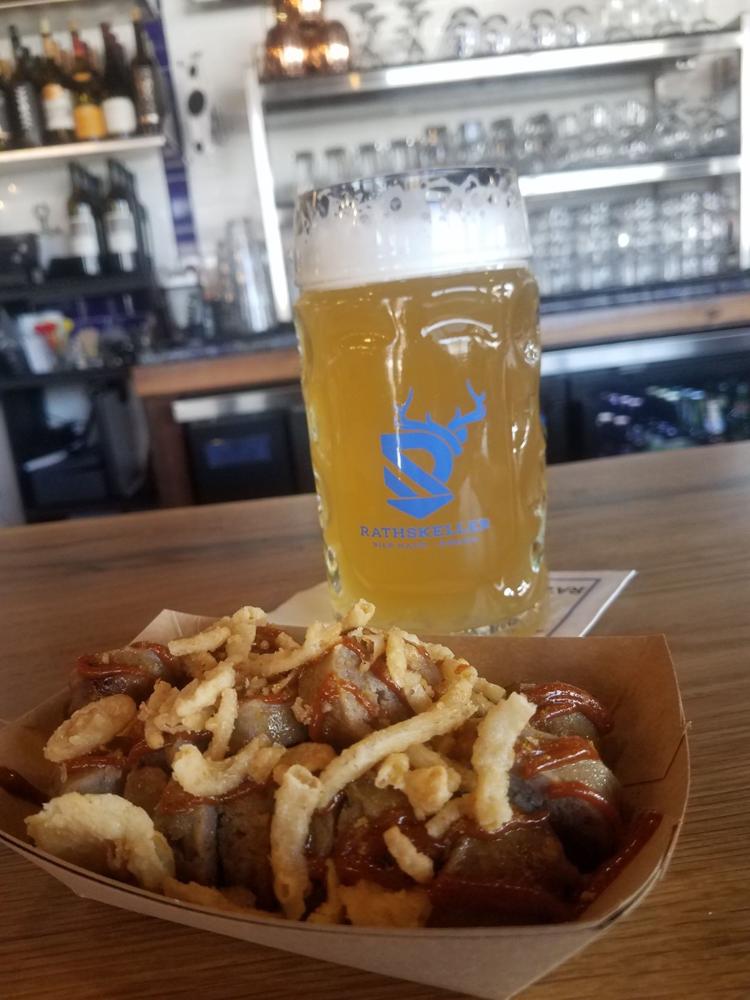 Staffers Kayla, Nate and Daja were so friendly I suspected they saw through my clever disguise, but that's just how they roll.
Happy hours are 3 to 6 p.m. daily, there are five TVs, an ATM, a jukebox and live music. Sign up for their mailing list, track their ever-changing taps or check the Rathskellerfest countdown clock online. Prost!