If you've paid any attention to "Hamilton" (and really, who hasn't?), you know that people of color play most of the roles.
Aaron Burr. Thomas Jefferson. George Washington. And yes, even Alexander Hamilton himself. All men we've been used to seeing as colonial guys whose skin nearly matches their powdered wigs.
Writer, actor and producer Lin-Manuel Miranda's vision for the ensemble in his musical about the first years of our country is probably the most notable current example of colorblind (or nontraditional) casting, which has been a thing in the theater and film community for at least 25 years.
The practice can be controversial, depending on how it's executed or what beloved characters are involved. The recent selection of African American teen Halle Bailey to play the title role in Disney's live-action remake of "The Little Mermaid," for instance, was met with both cheers and jeers on social media and fostered more than a few fights and charges of racism.
To Miranda, it just made sense for "Hamilton." His goal was to write and perform an account of America's founding in the late 1700s through the lens of modern America. He believes his casting elevates the historical storyline.
"You rob (the story) of its inevitability, you rob it of its sort of plaster sainthood, and it's just good storytelling," he said in 2016 when he received an award for excellence in diversity on Broadway, thus creating jobs for actors who often face a scarcity of parts, according to Broadway News.
Omaha actor and director Beth Thompson and Creighton University theater professor Amy Lane said nontraditional casting works when it fits the script and the intent of the playwright.
"If changing the race of the characters is going to change the plot, then don't do it," Thompson said.
Because "Hamilton" is based on real events, it doesn't alter the story when actors of color play Caucasian characters. And, Lane said, Miranda has clearly stated that he wants a nonwhite cast. Hamilton himself was an immigrant from the West Indies, though history books haven't traditionally portrayed him as a person of color.
On the other hand, the writers of "Legally Blonde: The Musical" didn't specify ethnicity for any of the show's roles, opening the door for Lane to cast an African American woman, student Torisa Walker, in the lead role when CU presented the show last year.
"It was important that the actor who played Elle Woods was blonde and female, and that's all," Lane said. "Looking through the script, we couldn't find anything that said Elle had to be white. Torisa fit the role the best, and she earned it."
Walker has earned critical praise for her nontraditional roles in other shows, including turns as Ariel in "The Little Mermaid" and Katherine Plumber in "Newsies," both at the Rose Theater, and Dorothy in "The Wizard of Oz" at the Papillion-La Vista Community Theater. Thompson saw "Legally Blonde" and said the show was wonderful.
Like Miranda, Lane and Thompson think nontraditional casting can help audiences see familiar stories with a new perspective.
"Having an African American play Elle does that," Lane said. "What does it mean for a black girl to be in the position of being from Malibu and in a relationship with a white man and attending Harvard Law? It's letting us see the story in a fresh new way."
Both said they're not fond of staging plays with nontraditional casts just for the sake of change, like doing Tennessee Williams' "Cat on a Hot Tin Roof," about white Southerners, with an all-black cast.
"Why not pick (a show from) a playwright of color, like August Wilson, who writes from his own experience," Thompson said. "I'm more interested in people telling their own stories than an old story with a new cast."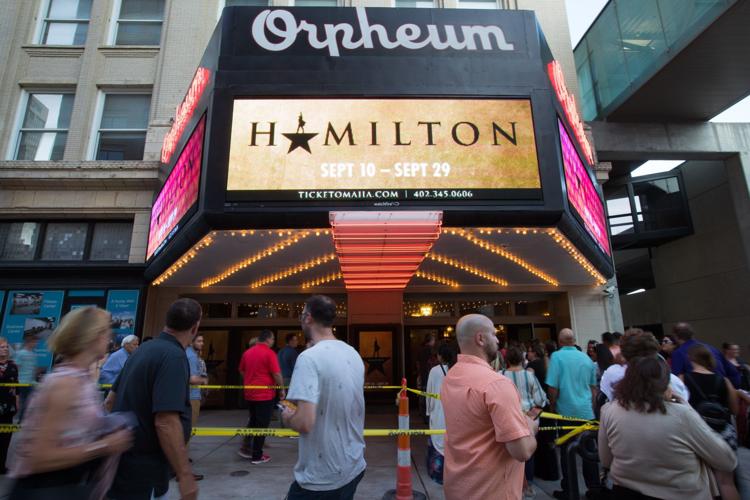 Lane said there must be a reason to make nontraditional casting a part of storytelling, or else it's a gimmick. She cited playwright Jaclyn Backhaus' "Men in Boats," which she directed last year at the Omaha Community Playhouse, as an example of a show for which a writer had a cogent and meaningful reason for alternative casting — in that case, choosing a diverse group of women to portray the white men who led a government river expedition from Wyoming to the Grand Canyon.
The playwright's goal, Lane said, was to make American history, dominated by men, more inclusive.
Like any pursuit, the theater world has as many viewpoints as productions, meaning that nontraditional casting probably will continue to be both criticized and lauded. Nobody's ever going to agree with every casting, directing or staging decision. Art, after all, is subjective.
Even "Hamilton," as celebrated as it is, hasn't been immune to criticism. When the company put out a casting call for nonwhite actors to audition, there was a backlash from the actors' union because the process wasn't inclusive. When the audition notice was retooled to specify what types they did want, as opposed to what they didn't — and the company opened up auditions — the controversy faded.
For Miranda, it all comes down to the intent of the playwright. In interviews, he has talked about author Katori Hall's stipulation that only an African American can portray Martin Luther King Jr. in her play "The Mountaintop." She has that right, he said. Many other playwrights or their representatives have balked at alternative casting. The estate of Pulitzer winner Edward Albee, for instance, refused to grant permission for a Portland, Oregon, theater to cast a black man for the part of Nick in "Who's Afraid of Virginia Woolf."
As much as anything, Miranda says, the music in "Hamilton" played a role in his casting decision.
"I wanted to write a hip-hop, R&B musical about the life of Alexander Hamilton," he said at the award presentation. "If it had been an all-white cast, wouldn't you think I messed up?"
Photos: Orpheum Theater through the years
A gallery of historical and current photos of the Orpheum Theater and performances that have been staged there over the years.