The story of Taco Co., a new Benson spot, begins with a 40-year-old recipe.
Maria Sanchez's signature puffy taco — a slightly thick, fried shell filled with meat, cheese, lettuce and tomato — has been refined over the past five generations of the Sanchez family, and they are a mainstay at Maria's, the family's restaurant in Ralston.
Now, Maria's grandson, Michael, who also runs Mula in the Blackstone district, is introducing that recipe to a new generation of diners.
Taco Co. is decidedly hip, with its bright, comfortable atmosphere and trendy decor. (There are two giant swings in the dining room, some neon and an interesting modular seating layout.)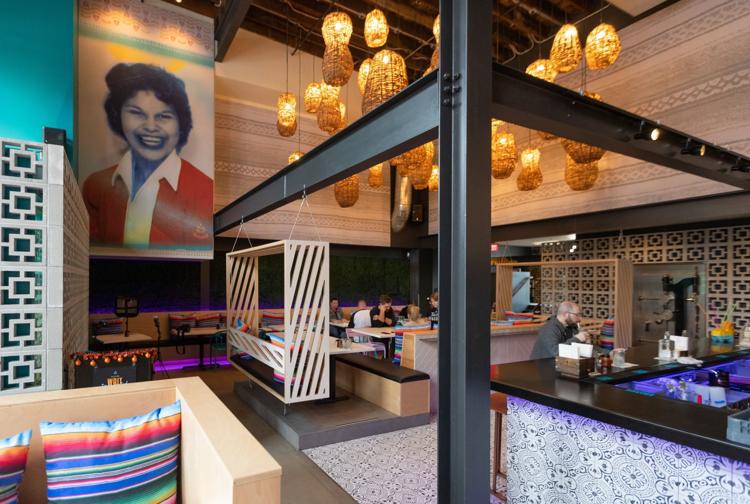 But its menu is focused almost solely on those tacos, which aren't aiming to be a new or fancier version of the ones Sanchez ate as a kid. Instead, they're exactly what he remembers.
Taco Co. presents an interesting mix of the classic Tex-Mex that diners would find at Maria's mixed with the hip, margarita-fueled atmosphere Sanchez created at Mula.
Maria's tacos come with three types of meat filling, including chicken, ground beef or carnitas, and one veggie version, made with sauteed onions and peppers. Despite being fried, the taco shells are light; none of the four we tried had a greasy texture like fried tacos I've had elsewhere.
Instead, the shell is almost bready in texture, with a crispy-chewy finish. I planned to eat just half of mine, but ended up polishing off the whole thing.
Surprisingly, the nicely seasoned, shredded smoky chicken was our favorite of the four fillings. Ground beef is the most American version; carnitas had plenty of meaty flavor. I found the too-soft texture of the veggie taco to be the only one I wished had a more complex filling; heartier vegetables or chunks of tofu or beans would have gone a long way.
I understand Sanchez's simple-is-better approach when it comes to the tacos, though I wouldn't have turned down a more exotic filling or two, like an al pastor or jackfruit, for instance. No matter what filling you get, be sure to add some of the acidic hot sauce from the jars on the tables. It adds a nice zing.
Sanchez said his grandmother developed the taco recipe while traveling with her husband while he was in the Air Force.
"They would do what's now called a pop-up restaurant while they traveled," he said. "It was the first thing they knew they were going to serve when they started their own restaurant."
Which they did, in Ralston, in 1976.
There are eight steps involved in making a single puffy taco, and the dough for the shells is made daily in-house, Sanchez said. Each one is made to order.
Sanchez said Maria's has become important to Ralston residents over the past 40 years. When he was thinking about opening a third restaurant, initially, he thought about opening a second Maria's, but he didn't want to dilute what the family had built. The next best option? Appeal to a new customer.
"In Benson, we could have the same connection to the local community that we have in Ralston," he said. "It was a no-brainer."
Sanchez worked with Secret Penguin, a local design firm that has worked on many restaurants, on the interior. The space is bright and colorful, mostly thanks to striped Mexican pillows that sit on the booths. In the center of the space, the seating is varied: two swings suspended from beams stand in as booths, and there's a mix of high- and low-top seats. A giant mural of Maria Sanchez decorates the west wall; it's a photograph of her from the early 1950s, her grandson said.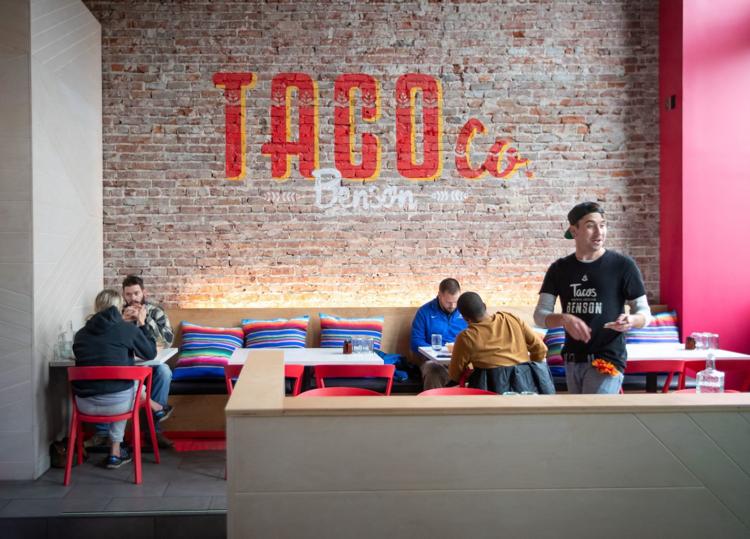 The rest of Taco Co.'s menu is just as straightforward: a smoky red and spicy green salsa and a chunky guacamole — ours could have used a bigger hit of salt — all come served with warm chips. So does a spicy queso good enough that we scraped our bowl nearly clean.
Side dishes include simple rice and smoky beans, the latter better than the former.
There's a long list of cocktails, of which we sampled two: a better-than-serviceable margarita with a heavily salted rim and a more floral paloma made with sparkling rosé wine, grapefruit juice and tequila.
Come spring, I can imagine, without much effort, sipping one of those drinks in the restaurant's "margarita garden" at its rear. Though it wasn't patio weather when we visited, the space still looked appealing, with its bench seating, twinkle lights and space for plants.
It's worth noting that Taco Co. is super affordable. Tacos are $3.95, sides are $2 and dips are in the $6 range. Drinks are between $8 and $10.
Sanchez said he wanted to bring something new to Benson with this spot, a more "feminine touch."
"Benson can be a lot of graffiti and cigars and beer," he said. "To me, it was important to do something softer. To create a place where my grandmother and aunts and the women in my family would hang out."
To that end, Sanchez brought his 78-year-old grandmother to the new space so she could check it out.
"I wanted to have that moment with her, to pay homage to her," he said. "It wouldn't exist without her."
One has to kind of love a restaurant so singularly focused on a family recipe. It doesn't hurt that, for the most part, Maria's tacos are fun to eat, affordable and mostly really good. If you've never had one, well, now is the time.
Food reviews from The World-Herald