I've had a lot of fun spending my week eating all the other great fried chicken sandwiches at locally owned restaurants around Omaha (and one in Council Bluffs). In fact, I ate three in the course of the day yesterday. It's a difficult job, but I'm persevering for you.
It turns out there are some real hidden gems in the fried chicken sandwich category, including two that I suggest you get out and try long before that Popeyes fast-food version gets back into stock.
Without further ado, here are seven great options, including two under $5 and one that's buy one, get one free every Tuesday.
The chicken sandwich at Stirnella, 3814 Farnam St.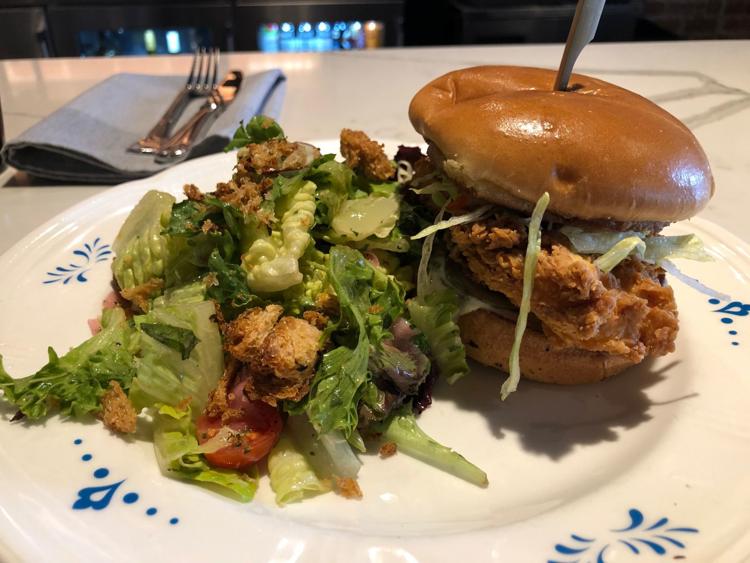 Of all the chicken sandwiches I tried, this is the one I can't stop thinking about. There's one key difference in Stirnella's sandwich: It's made with a locally raised Plum Creek Farms chicken thigh instead of the white meat used in every other sandwich I sampled. The meat is juicier and more flavorful, and it all comes together gloriously: extra-crispy but thinly breaded meat sits with buttermilk crème fraîche, hot sauce, house-made sweet pickles, sweet pepper relish and shaved lettuce, all on a brioche bun. It's pricey at $16, but worth every penny.
The fried chicken sandwich at Lincoln's Pub, 157 West Broadway, Council Bluffs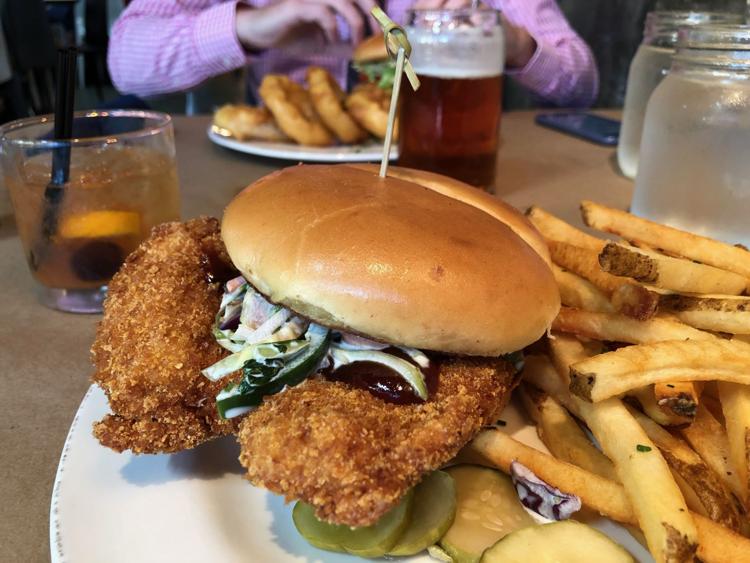 If you've ever had an Iowa pork tenderloin sandwich and secretly wished the pork were chicken, Lincoln's Pub has your back. Its chicken sandwich comes with a chicken breast at least twice the size of the bun, served with house-made sweet barbecue sauce and one of the more delicious slaws I encountered, chock full of, among other ingredients, chopped Brussels sprouts and spicy sliced raw jalapeños.
The Birdhouse Slider at Nite Owl, 3902 Farnam St.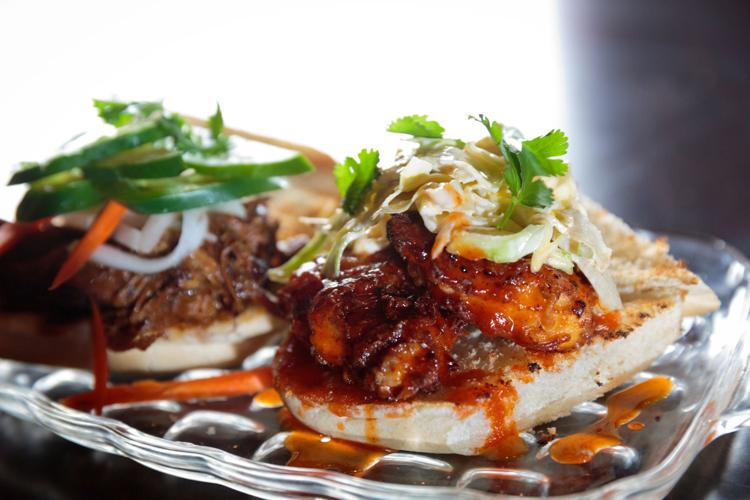 These petite sandwiches come one-per-order for $5, and if you're planning to mow through a plate of totchos, as all people should at Nite Owl, then one slider is the perfect size. They come drenched in a spicy-sweet honey sriracha sauce and are topped with a salty Southern bacon slaw. The chicken itself never fails to be crisp and delicious.
The Block Deluxe with Nashville hot chicken at Block 16, 1611 Farnam St.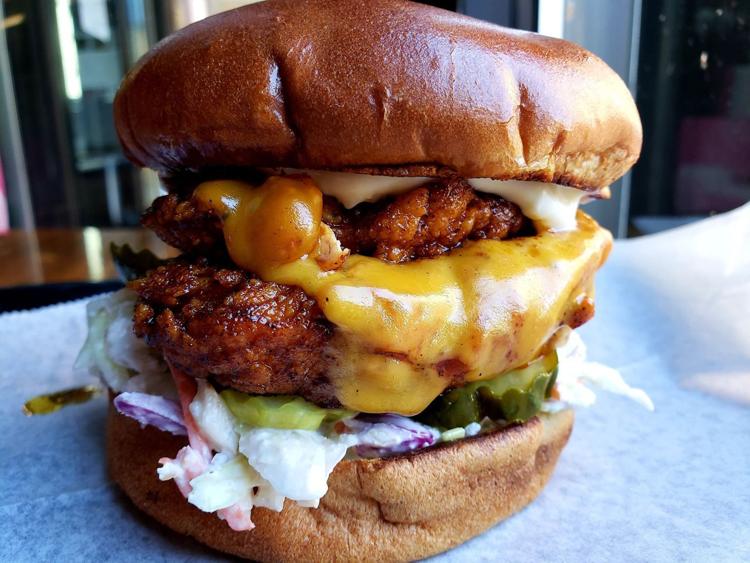 The Nashville Hot Chicken B16 Deluxe runs a little under the radar. The sandwich is generally made with shaved prime rib, and the chicken is a secondary option. All you have to do is look at the photo of this thing to know it's going to be great. The Nashville hot chicken tenders are local, from Plum Creek Farms, and then they're fried to a golden brown and topped with mayo, bacon, cheddar and horseradish slaw, all on a soft brioche bun.
The Dirty Bird at Blatt Beer + Table, various locations
Blatt's Indian-spiced chicken is one of my personal favorite chicken variations in the city, but don't skip its Dixie-fried chicken, either. The Dirty Bird puts that crispy, juicy chicken front and center, and it's topped with Applewood-smoked bacon, lettuce, tomato, red onion, coleslaw and two sauces: sriracha Buffalo and blue cheese. Of course, it's served on a buttery brioche bun.
The Dodge City at Jack & Mary's Restaurant, 655 N. 114th St.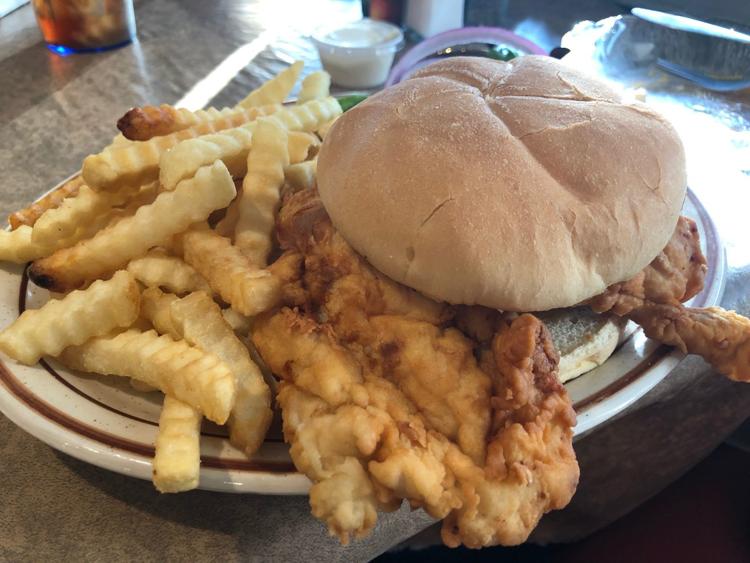 The Dodge City is the most old-school of any of the fried chicken sandwiches we tried. It's an oversized chicken breast battered with Jack & Mary's thicker, very-bready-in-texture coating, then slathered with barbecue sauce, cheddar cheese and a couple strips of crispy bacon. The restaurant also serves a more classic version with just mayo, lettuce and tomato, but we much preferred the bacon-cheesy variety; the cheese and sauce paired nicely with the distinct style of the coating.
The Chicken Sandy at Bob's Doughnuts, 3824 Farnam St.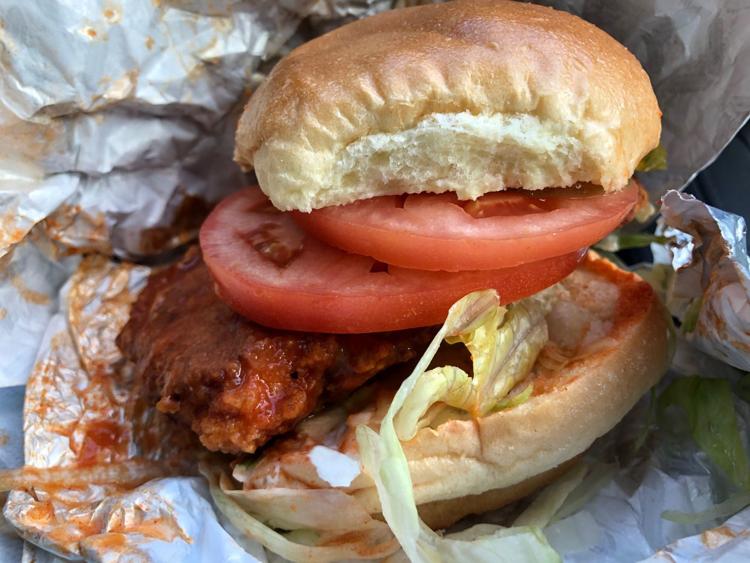 This is your value chicken sandwich if there ever was one: At just $3.80, it's fast-food pricing at a non-fast-food restaurant. On Tuesdays, Chicken Sandies are buy one, get one free, making this even more of a steal. I got mine spicy, though there's also a regular version. Spicy it was, with the whole piece of meat dunked in a Buffalo sauce that packed a punch. It's also messy: The chicken slid around between a hefty slather of mayo, two ripe red tomatoes and a big piece of lettuce. All I'm saying: Don't try and eat this one in your car.
Food reviews from The World-Herald