When one of the hottest chefs in Japan — a man with a constantly sold-out six-seat restaurant making some of the best sushi anywhere in the world — agrees to cook for the first time in the United States at your restaurant, you spare no expense.
"The shipping on half the fish," said Yoshitomo owner and chef Dave Utterback, "was more than my mortgage."
Forty-eight lucky Omahans ate that fish during two nights earlier this month when chef Hiro Sato, who runs Hakkoku in Ginza, Tokyo, came to Omaha to prepare his particular, elegant brand of sushi at Yoshitomo in Benson.
Here's one fact, I think, that backs up what a big deal this was: A fellow diner flew to Omaha to eat Sato's sushi. From Japan.
He couldn't get into Sato's Tokyo restaurant, he said, so he decided to come to Nebraska instead.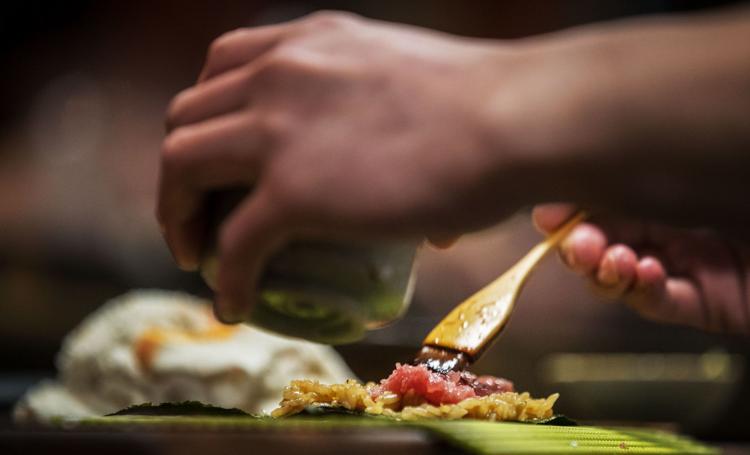 Diners traveled not just from Japan, but also from New York, Denver, Chicago and elsewhere to take advantage of the dinner. But the majority of the diners who attended the dinner were, Utterback said, from Omaha.
I attended the Yoshitomo dinner, and just a few days before, attended chef Austin Johnson's second Omaha dinner at Block 16. He's an Omaha native formerly of Frenchie, in Paris. Both visiting chefs have earned a Michelin star. (Earlier this week, an article on Eater focused on Johnson's next step: opening a restaurant in New York's Tribeca neighborhood in partnership with a sommelier formerly of Eleven Madison Park. That same sommelier selected the wines for Johnson's Omaha dinners.)
Having two expensive, innovative tasting menus in Omaha in the span of three days got me thinking: What does this mean for Omaha's dining scene?
"I can see the clients, and the enthusiasm and the change in the city," Utterback said when we talked earlier this week. "It's exciting to see and be a part of."
I can see it, too. The Block 16 dinner, which was more than $200 a head, sold out in less than a day. Tickets for the Yoshitomo dinner, $350 a diner, never even went online. Utterback said hundreds of diners joined a waiting list to try to score one of the coveted stools at the sushi bar.
It's worth noting that the expense isn't based on the exclusivity of these dinners, though that doesn't hurt. It's based on the quality of food: In one photo that's publishing with this column, Sato is holding a brick of chutoro tuna that runs around $1,000. Johnson's Omaha menus regularly include high-end ingredients like fresh, wild-caught fish flown in from Alaska, and a pricey foie gras course.
So yes, there are plenty of people in Omaha willing to pay a pretty penny for a dining experience. But I'd argue those Omaha food lovers have always been willing to pay for a singular experience. Most often, they haven't paid for one in their town. They've traveled elsewhere to find it, because Omaha wasn't offering what they were after.
What's also changing is the collaborative, community spirit between a new generation of Omaha chefs.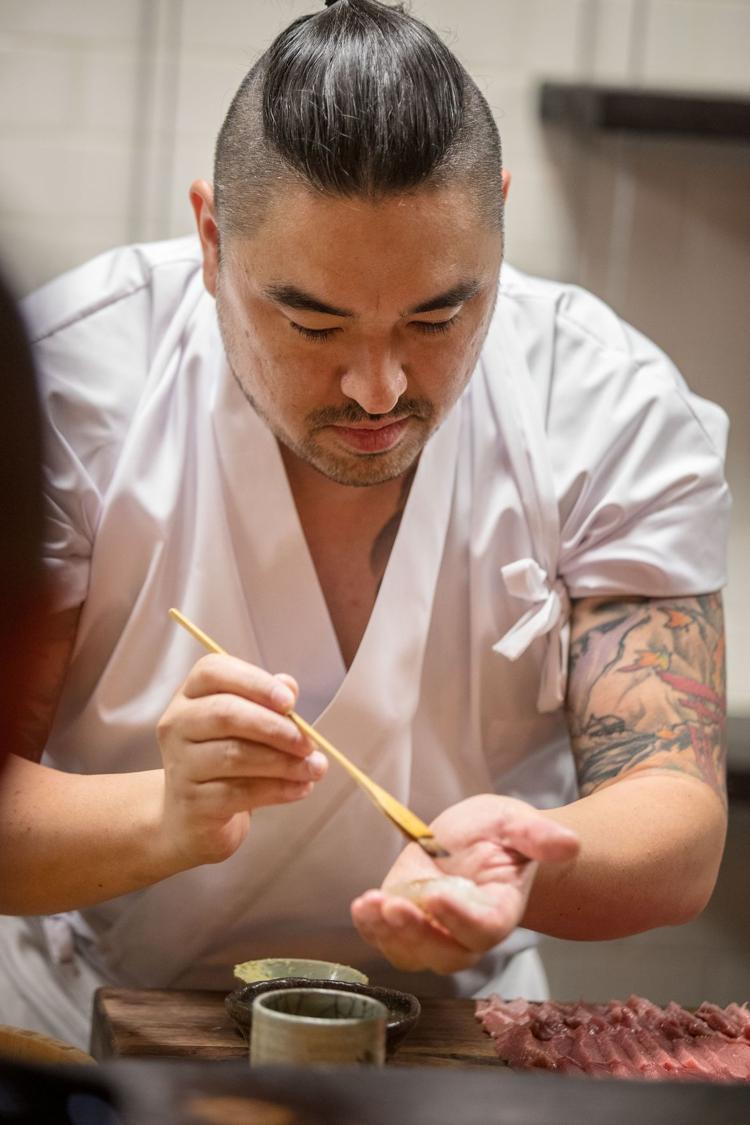 "Before, we were waiting for the city to change or grow up on its own," Utterback said. "Now we're taking an active hand in the food scene here to do that."
Utterback started his one-off sushi chef's tasting menus a few years ago. Now he's playing host to omakase events on a regular basis. Other chefs are offering consistent food experiences, too: Kane Adkisson hosts regular high-end pop-up events at venues all over town at a variety of price points. Ben Maides' $55 five-course chef's tasting menu is a fixture at his restaurant, Au Courant. Ellie Pegler's Farine + Four bonbons were dessert at both high-end dinners this month. She created custom flavors for Johnson and Utterback, with hand-painted exteriors and creatively flavored centers.
Block 16 owners Paul and Jessica Urban regularly open their kitchen to chefs of Johnson's caliber, but also to young local chefs who have a creative idea and want to pursue it. Recent pop-ups have included a meal of creative takes on Nebraska food and a late-night pop-up that recreated classic Block 16 menu items with a French twist.
Utterback said the community of chefs is pushing each other forward along with their diners.
"When events like this happen, other chefs start thinking 'What am I going to do? How do I stay relevant?' It's Omaha 3.0," he said.
The long-term goal isn't necessarily more expensive events like these, though I hope and believe there will be more dinners like the two I just attended. The goal is to continue inviting top-notch chefs to cook here; that's how Utterback got Sato here. He simply asked him to come.
It's about building on the diners' excitement for food experiences and turning the tables so that events like these become the norm instead of the rare.
"I want to be a cheerleader for Omaha," Utterback said.
I do, too. Events like these dinners, and the enthusiasm for partnership in the culinary community, push us forward. Diners have the chance to literally taste creativity.
These experiences don't require a flight or a hotel room; they're in our own dining rooms — if we support them, which we should.