Anyone who grew up in the '80s knows a couple of things: John Hughes movies are oddly timeless, mall-ratting was great exercise, Orange Juliuses were phenomenal (secret ingredient: vanilla pudding mix) and arcades are like "Field of Dreams" for nerds.
Well, another '80s icon, Billy Frogg's, has built it, so get ready to come. This Field of Video Games is in its third month of operation down in the basement. Follow the signs — it's a slightly circuitous route.
The Billy Frogg's arcade has a little something for everyone who doesn't hate fun. There are more than 60 games. It has old stand-alone favorites like "Galaga," "Spyhunter," "Toobin' " and such. It has your old basement rec room favorites like air hockey, darts, pinball and pingpong. There are three pool tables, a punching bag, shuffleboard, charging stations and a comfortable leather lounge area for those too cool or too tired to stand. There is bar service, as well, so you don't have to travel with your drink.
My junior officer and not-yet-convicted co-conspirator on this jaunt was U.S. Army Col. Mark S., who is the only man brave enough to brag about being good at "Burger Time." I've trounced him in "Asteroids" since before Reagan was shot. Thanks for the beers and your service, Colonel!
For the better part of a decade, Mike Hurley has been the loquacious manager of Billy Frogg's. He greets everyone with, "Sit where you like, and what shots can we start you off with?" He's always there and always friendly, so introduce yourself.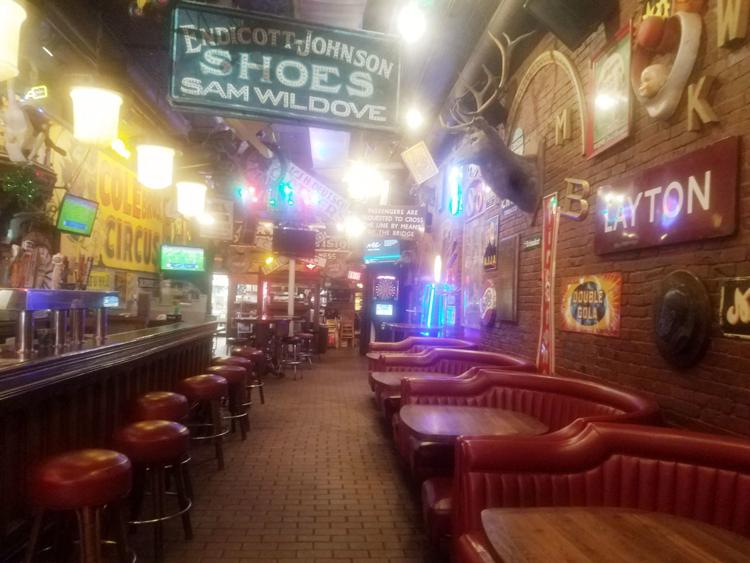 If you are one of the few Omahans who hasn't been to Billy Frogg's, it's a very busily decorated place. It's packed from floor to ceiling with antique signs, and people could easily entertain themselves by treating the spot as a pop culture museum.
If you are missing the old The Diner, stop it. About one year ago, Java Daddy's opened in the adjoining space and started serving breakfast and lunch from 6 a.m. to 2 p.m. as The Diner Guys. Alcohol is available with no judgment. Breakfast is pretty chill. It's not well-advertised, so get there before the bandwagon.
In the evenings, Billy Frogg's has been a college bar staple for years. Especially popular are its signature pitcher drinks: Pond Scum, Groggy Bottom and the Blue Whale. Get a couple of friends, stick your straws into a family-sized cocktail and plan to skip econ tomorrow.
Happy hours are 2 to 6 p.m. daily, with $1 off all liquor, so get your shots early. Specials are Sunday Funday featuring $1 off liquor. Mondays, mules are $5. Tuesday means $3 wells. Whiskey Wednesday features $2 off all whiskey. Thirsty Thursdays have rotating specials. If it's your birthday, take a spin on the Birthday Wheel, land on a shot and you get them for $2 all night.
Sign up for the Go newsletter
This complete guide of local music, movies, dining and entertainment will have you weekend ready.
The arcade is available to rent for gatherings of up to 299. Likewise available is an enormous upstairs reception room that can hold 599. Rates vary by date and event size, but very favorable prices go to charities and public servants.
Taps include Guinness, Infusion Blonde, Stella Artois, Millstream Schild Brau Amber, Zipline Nut Brown, Newcastle, Deschutes Fresh Squeezed IPA, Boulevard, Blue Moon, Squatters Hop Rising, Angry Orchard Cider Maker Series, Pabst Blue Ribbon, Miller Lite, Coors Light, Budweiser and Bud Light.
Recent World-Herald nightlife reviews
Trying to find a new go-to bar? Check out some of the latest World-Herald nightlife reviews to find the place that's right for you.