So what exactly is the deal with that worm at the bottom of a bottle of tequila anyway?
It's a traditionally macho treat if you drain the bottle first. As artifacts in liquor bottles go, it's pretty cool — at least if you're not the worm. It's way cooler than gold flakes.
But why that worm is there — and what it does — has more origin stories than the Joker. For one thing, you find this worm in bottles of mezcal, but not tequila. The worm is actually the larval form of either a red worm or a maguey worm from Oaxaca (pronounced wah-HA-kuh) that eventually turns into the caterpillar of the Comadia redtenbacheri moth, according to Wikipedia. It could also be a larval agave snout weevil.
One eats it to prove how bad they are, or to have a trippy experience akin to taking peyote. This is largely apocryphal, but it stands to make a great deal of sense that, if one drinks their way to the bottom of a bottle of mezcal, they are likely to have (if not suffer) a profound experience.
And now you know the namesake of Eat the Worm in the Old Market, my running crew's choice of several options the last time we went out.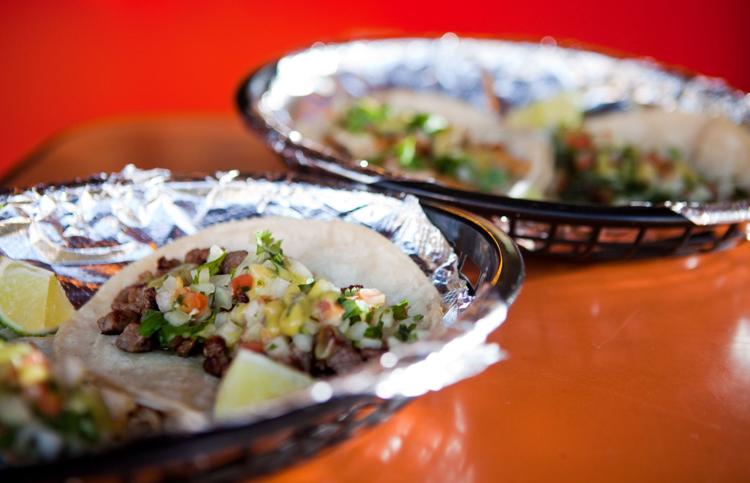 They came back recently from a four-year stint living in Europe, where the only Mexican food available was described as "godawful" unless you like Knockwurst flavoring your refried beans, my pals said. So Eat the Worm was a special treat for many reasons. We hopped right into chicken empanadas and nachos al pastor, which we washed down with a Pacifico, a jalapeño margarita, an EOS Hefeweizen, a Dos Equis and another Pacifico draw.
Eat the Worm has more varieties of tequila than you can shake an agave bud at. On any given day, there are 130 varieties of tequila and mezcal lining the shelves. If you've ever dreamed of spending $35 or more on a shot of seven-year-old tequila, then este es el lugar para ti!
The prices at Eat the Worm surprised me a bit, coming in lower than your average Old Market spot. Draws and bottles averaged around $4 apiece, and even the margaritas were about $5. If bold and spicy jalapeño isn't your jam, try a sweet and sassy Princess Peach. You can also get your margarita "Red Bulled." A Freestyle is Eat the Worm's Mexicanized version of a Moscow Mule for $7.
Beer taps are all $3.50 or $4, and include Corona Light, Bud Light, Pacifico and Modelo Especial. Eat the Worm appropriately stocks 15 Mexican beers, with familiar names such as Tecate, Sol and Bohemia in cans and bottles as well. The bar also has 26 beers listed under "domestic/import/craft," which are all also about $4 or less.
Sign up for the Go newsletter
This complete guide of local music, movies, dining and entertainment will have you weekend ready.
We found the service at Eat the Worm fast and friendly, too.
All happy hours include $3 draws, $4 well drinks and a rotating list of daily specials. Happy hours are all day Monday, 3 to 6 p.m. Tuesday through Saturday, and 5 to 7 p.m. Sunday. Monday's special is $8 scratch margaritas, Tuesday is $1 off all tequilas, Wednesday is $4 wells and $5 tequila shots, Thursday is $3 Bud Light and Pacifico draws, Friday's and Saturday's specials rotate, and Sunday features $4 tequila sunrises and $6 Bloody Marias. Espero verte allí!
Recent World-Herald nightlife reviews
Trying to find a new go-to bar? Check out some of the latest World-Herald nightlife reviews to find the place that's right for you.