Objectivity went out the door when I saw the hundreds of craft beers from Broken Bow to Baden-Baden for sale at The Casual Pint.
It was a straight blowout when I saw the Iowa State Alumni Association Game Watch Bar sign offering $1 off all Iowa beers during ISU games.
In addition to ISU fanfare, The Casual Pint has everything a proud beer snob could possibly want in a pub. For starters, The Casual Pint is located in Omaha's hippest strip mall, Countryside Village. One could spend breakfast to bedtime here. Bagels, coffee, bistros, bars, clothing ... pet grooming. Countryside Village really is like a small town in the city. The parking lot is also a spacious wonderland.
Inside The Casual Pint, there are leather chairs with drink holders by the window, tables for groups and stools at the bar, where the education takes place. From there, you can see all 28 taps, including the "Mystery Beer." Read all their details on a giant chalkboard. Brewery, state, variety, alcohol content and price per size.
I highly recommend exploring this board with special attention to ABV, as these beers kick like a Georgia mule. Many bars have electronic boards, but homey blackboards put one in mind of English pubs where even the barman's pacemaker is analog. Sure, it's a pain for someone to change, but as Americans, it's easy to ignore the suffering of others when it enriches the experience, according to Siri.
A sign that a bar has nothing to hide is when the kitchen door stays open. Upon making that wry observation, friendly and knowledgeable bartender Karin bragged about their last health inspection score. Try the spicy Southwest egg rolls or Karin's homemade beer cheese soup. Her secret is thorough blending with her grandmother's unstoppable juggernaut of a 40-year-old immersion blender. If that thing could talk ...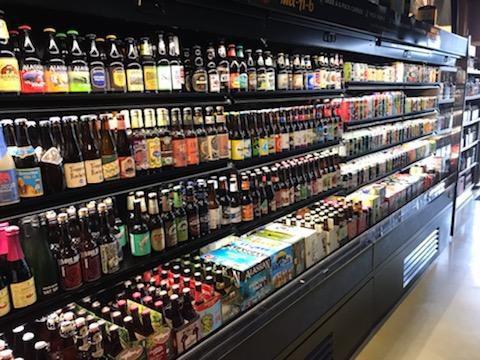 I met up with regular and "Drink Talk" podcaster Britt Roeder, incidentally not intentionally. Hopefully our next meetup will be intentional and without incident. Roeder knows beer. Check out his YouTube channel for a taste of what I heard him, Karin and Casual Pint owner David Vannier discuss. Roeder will be doing a live show from The Inkwell on Valentine's Day. Check it out online or in person.
With all of the rotating kegs plus the endless bottles and cans covering two walls, you'd need a survey team to get the lay of the land. Create your own six-pack, drink a can at the bar or take home a keg. In any event, it was a great, long happy hour. Deciding to pace myself so as not to become insensate, this correspondent had a series of five-ounce servings.
Spoiler: There are no losers here. Beers recommended to me by Karin and Britt included Toppling Goliath's Pseudo Sue Pale Ale, Kros Strain's Helles Creek Lager, Kinkaider's Chimney Rock ESB, two small samples of Crane's Tea Weiss Sour and Kinkaider's Snozzberry Sour ("it tastes like snozzberries").
Come by Thursday night for Dice Night with cicerones Spencer and Zach Johnson. D&D players especially love to roll their 30-sided die for a random pint. Join the Brewmaster's Club for specials.
Drive safe, and we'll see you there.