The new Jean Valjean in the touring production of "Les Misérables" is a Husker fan.
Patrick Dunn, who is originally from Port Jervis, New York, will be in Omaha with the touring Broadway production starting Tuesday. He's excited to be here playing the lead role in the Broadway musical because he has family in Lincoln.
"It's always fun to go through Omaha and get to see them and old friends," Dunn said.
Those folks introduced him to Nebraska football, and he now follows the team.
"I was slowly sucked in to fandom," he said.
He joined the tour at the beginning of the year, but has been here with other productions.
Producers of the show knew of his work because he was an understudy on the tour of "The Phantom of the Opera," which opened the door for him to win the Jean Valjean role. Both "Phantom" and "Les Mis" were produced by Cameron Mackintosh, and they have the same director and creative team.
He said he was lucky to be offered a job that's a bucket-list item for many if not most males in musical theater.
"Valjean is one of the most epic roles in the male musical theater tent, and to be given a crack at it, it's an understatement to say it's a wonderful opportunity," Dunn said.
Sign up for the Go newsletter
This complete guide of local music, movies, dining and entertainment will have you weekend ready.
The musical, based on the beloved novel by Victor Hugo, is about a Frenchman who spends 19 years in prison and struggles for redemption after he's free, all the while being pursued by a dogged police inspector.
It's a super-demanding part, Dunn said, easily one of the most difficult he's tackled thus far in his career. It takes the character from young adulthood through old age and requires stringent vocal work to perform iconic songs such as "Bring Him Home" and "Who Am I."
"Onstage and off, it's a real 24/7 undertaking to be able to maintain the caliber that's expected by the creative team and audiences," he said.
He must eat well, drink lots of fluids and get lots of rest. When the cast plans parties, he's the one who has to go home and sleep.
And, he said, "napping is part of my job."
"I happily accept that role."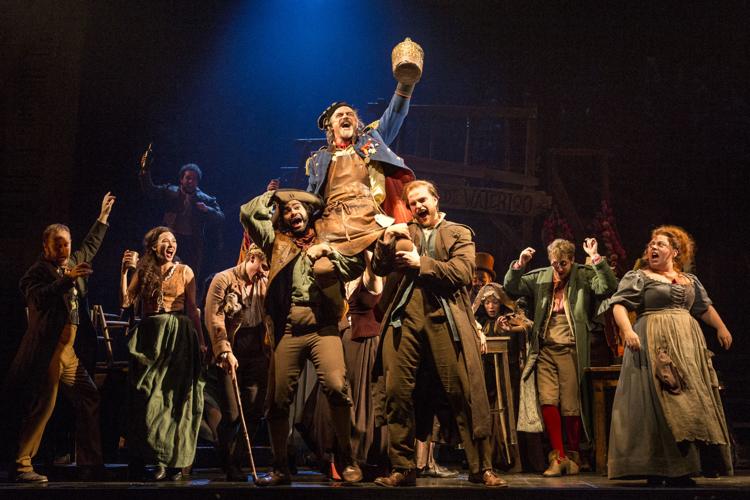 He said the production coming to Omaha has been redesigned from the 35-year-old original, notably in its special effects and scenery. It features renderings of actual paintings by Hugo himself.
The story remains the same, but Dunn said he thinks the new look could reinvigorate and reinspire audiences.
When he's not on the road, Dunn is at home with his wife and baby daughter. He has a degree from the Hartt School of Music at the University of Hartford in Connecticut.
Interestingly enough, he auditioned for "Les Mis" long before he ever went to college or even became an adult.
He sought the generic role of "young boy." He didn't get it.
So, he says, his new role as Jean Valjean gives him a redemption story of his own.
Photos: Orpheum Theater through the years
A gallery of historical and current photos of the Orpheum Theater and performances that have been staged there over the years.