If you listen closely, you can hear it.
Fuzzy notes coming into focus. Sharp tones being evened out. Flats becoming tighter.
The world's guitar gods are tuning up in anticipation of coming here to play for you.
The first slate of jukebox heroes will be here this weekend: Gary Clark Jr., Slash and Joe Bonamassa.
Some are on Rolling Stone's list of the best guitarists ever. Some aren't, but they're damn good guitarists anyway. And they're all on their way to shred, style, solo, pick and riff their way through countless face-melting melodies.
These are the best guitarists coming to town.
Gary Clark Jr.
He's a soulful singer, but you should hear the guy play. Clark's live performances are more guitar-focused than his records, and the guy loves to shred. One of the best things about Clark's playing is that he's not just playing blues. He works in a lot of funk and soul to create a unique sound.
Jim Root/Mick Thomson
Thursday at Pinnacle Bank Arena
These guitarists have different styles, but each adds something big to the many layers that is Slipknot. Dial up "Psychosocial," one of the hard-rock band's signature songs, and listen to them trade leads.
"If I do a run, I pick out every note aggressively, while Jim does more legato stuff," Thomson told Guitar Player. "I have more of a precise classical approach, and Jim has more of a rock feel. I'm sure if we sat down and actually thought about it, there would be a million differences."
Slash
Just as iconic as his long hair and top hat are Slash's riffs, the signature sounds of "Sweet Child O' Mine," "Welcome to the Jungle," "Paradise City" and countless other songs. And this year, you get two cracks at the legendary axeman: A solo show that'll see him play songs from Snakepit and his collaborations with (fine guitarist in his own right) Myles Kennedy at Stir, and a follow-up with Guns N' Roses at Pinnacle Bank Arena on Oct. 15. Not bad.
Joe Bonamassa
You like guitar solos? Bonamassa's got guitar solos. The bluesman sure loves to noodle around that fretboard, delivering flashy drives again and again in his epic concerts. A 15-song set will last hours while Bonamassa pads out each song with aggressive runs. His version of Leon Russell's "Hummingbird" is known to last longer than 10 minutes.
Ben Harper
Harper's an eclectic guy, playing a mix of folk, blues, rock, soul and even reggae. But don't count him out as a guitarist. He's seriously underrated, especially as a lap slide guitarist. When he sits down with a Weissenborn, get ready for something special.
Courtney Barnett
The Australian indie rocker can craft a song, her specialty being honest, angry, funny and penetrating observation. And she also can play. Finely crafted lyrics lay atop serious guitar work. Barnett's lines feature "a bed of dense feedback, oddball oscillations, and good-old-fashioned-fuzzed-out-hook-driven riffage," according to a passage in Premier Guitar.
Johnny Stevens
Aug. 22 at Sokol Auditorium
The first thing you'll notice from Highly Suspect is its punchy guitar lines, and that's all thanks to Johnny Stevens, who can jam angular melodies, slam out striking riffs or brush out textural acoustic parts.
Steve Lukather
Playing here with Ringo Starr, the singer and guitarist of Toto is more than just the notes of "Africa." One of the best and most prolific session musicians of all time, Lukather played on numerous recordings by Aretha Franklin, Lionel Richie, Warren Zevon and many more. Notably, Lukather is the rhythm guitarist on Michael Jackson's "Beat It."
Buddy Guy/Kenny Wayne Shepherd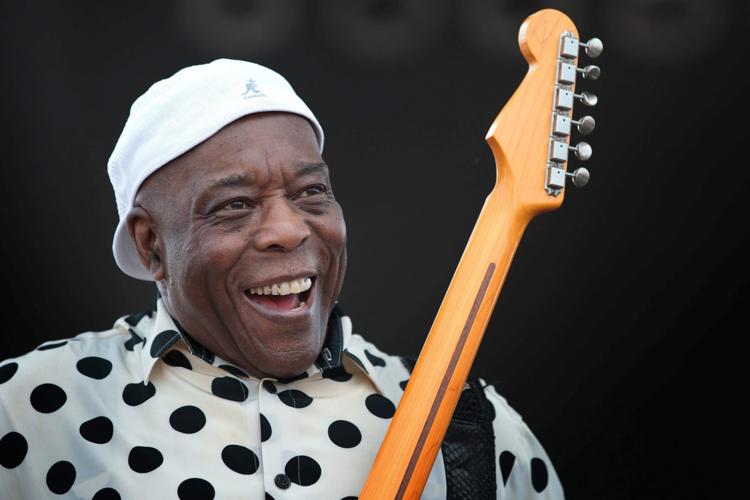 Buddy Guy isn't just one of the best guitarists alive. He's one of the best of all time. And Kenny Wayne Shepherd is no slouch, either, having been performing live since he was a teenager. Together, it'll be a mass of blues jams and guitar tricks. You'll be dusting off that old guitar in the basement when you get home.
Mac DeMarco
DeMarco is not a musical master. But his easygoing approach to guitar gives everything a laid-back, sunny, lo-fi vibe. Go listen to "Salad Days" or "Freaking Out in the Neighborhood" and find out for yourself. Nobody plays like that.
"It's just the easiest way for me to get what I'm thinking out. It's just what I do, you know? It works," DeMarco told Fender.com.
Kerry King
Nov. 18 at CHI Health Center
All the heart-pumping, gas-pedal-slamming speed riffage from Slayer? That's thrash pioneer Kerry King. And he has the ax-shaped B.C. Rich guitars to match. You ever hear "Repentless"? It'll get the blood flowing. King's also known for playing epic riffs on other people's songs, including the Beastie Boys, Pantera and others.
Nels Cline
Nov. 20 at Orpheum Theater
When singer-songwriter Jeff Tweedy left Uncle Tupelo, he created another alt-country band with Wilco. When avant guitar master Nels Cline joined Wilco, he completely altered the band's sound, expanding it and refining it and making it into something bigger and better. It's his melodies on Wilco's "Impossible Germany" and his improvised playing on "I'm the Man Who Loves You." It's beautiful, mind-expanding stuff. (And Cline's a sought-after guitarist, appearing on hundreds of releases by other artists.)
Jason Hook
Dec. 14 at CHI Health Center
All those stone-heavy, chugging riffs from Five Finger Death Punch? It's all Jason Hook, the Canadian guitarist who has been in the band since 2009. (He's also been a session and tour player for numerous big-name artists.) His skills are even apparent in the band's covers, where Hook has taken riffs by Bad Company and Kenny Wayne Shepherd and made them his own.