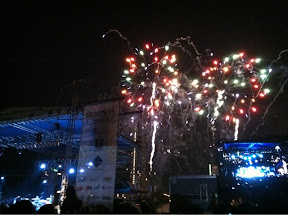 Bright Eyes performed at South by Southwest this year for the first time in a decade.
And it was perhaps the biggest show they've ever done.
The band played Saturday night at the Auditorium Shores stage, a large stage in a park that fits 20,000 people.
And it was very full, if not at capacity.
The band's touring in support of it's latest album, "The People's Key," an album I said shows the band maturing and finally combining the various sounds and genres – not just electronic or folk but a fully-realized Bright Eyes record.
It was in that vein that the band performed on Saturday. They played songs from their last several records and reached way back in the song catalog.
The show started with two tracks from "The People's Key" — "Firewall" and "Jejune Stars" — before the band delved into older tunes such as "Take It Easy (Love Nothing)" and "Four Winds."
Fans in attendance loved watching the seven-piece group and sang along to songs like "We Are Nowhere And It's Now" and fan favorite "Lua."
"Thank you so much, Austin," Conor Oberst said. "It's goddamn good to see you."
It was one of the best Bright Eyes sets that I've seen, and I've seen them a lot.
The new songs, especially, were fun to hear live. Nate Walcott's keyboard and synth skills made the songs come alive and Laura Burhenn's backing vocals gave a pretty edge to Oberst's sometimes-warbly voice.
The finale consisted of an encore that included new and old songs – and a huge fireworks show.
The band started the finale with older tunes "Gold Mine Gutted" and "Lover I Don't Have to Love" and finished out with the noisy "Road to Joy" and then "One For You, One For Me" while the fireworks blasted off in the night sky behind them.
It was a nice, pretty way to close out a whole huge week of music.
I'm not done yet, though. Still a few more bands to see!