School's been out. The temperature has been creeping up. Pools are open. Memorial Day was awhile back.
But it doesn't quite feel like summer in Omaha until the Memorial Park concert.
As is tradition, music, fireworks and thousands of people — more than 60,000, officials said — blanketed Memorial Park to ring in summer on Friday night.
The annual City of Omaha Celebrates America concert took over the park. On the slate was music from Omaha band The Firm, classic rock-styled Chris Isaak, Rock & Roll Hall of Famer Little Steven and, of course, a massive fireworks display.
Early on, the areas of the lawn open to the sun stood largely empty. It was just too dang hot.
Meanwhile, the shady, tree-lined portions of the expansive park were full of kids tossing footballs, people throwing Frisbees, folks eating picnic dinners and a large amount of attendees taking a break from the sun.
As the sun descended behind the park's western pines, the park flooded with people.
Brooke Spenceri came just as the sun was going down. The event has become a family tradition for Spenceri and her 11-year-old daughter, Presley Powers.
"We come no matter what," Spenceri said. "I like the music."
Presley and her friend, Josie Gentle, had a different reason: "The fireworks!"
Looking like the most comfortable people in the park, Zach Davis and Katherine Schaub sat nearby in large inflatable loungers next to Steph Anderson.
They were relatively new to the Memorial Park tradition, but they'd been sitting in the sun since early in the evening. Early on, they sat under a large umbrella to stay away from the sun. Once the sun receded, they were ready to be entertained.
"The bands were really great," Davis said.
"There's the fireworks, the drinks, the company," Schaub said.
"And the people watching," Anderson added. They laughed.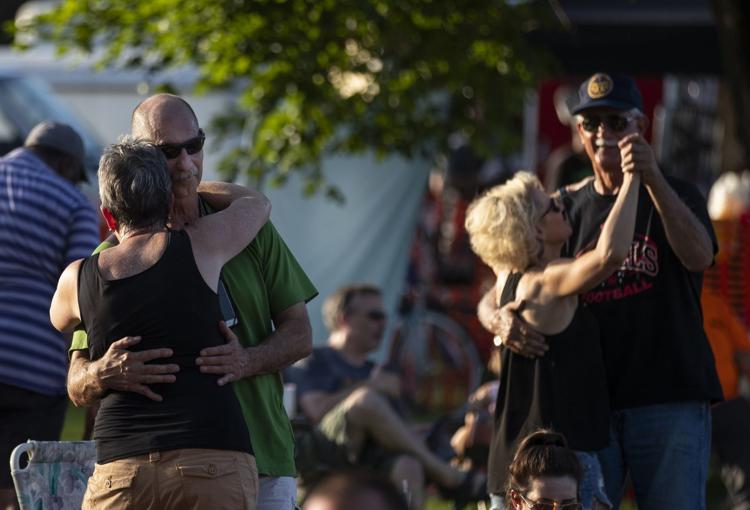 Around them, people meandered through the park, drank from red plastic cups and wiped the sweat from their brows.
The festivities started for some when they laid their blankets down, marking spots in the park as early as 5 a.m. But the party really began when the music kicked off.
"Good evening Omaha!" Little Steven said from the stage. "We have to come to celebrate summer here in this wonderful Memorial Park. Such a great tradition. We are honored that you asked us to come this year. Thank you so much!"
Little Steven is Steven Van Zandt, the guitarist for Bruce Springsteen and the E Street Band, and his 13-member band, the Disciples of Soul, is packed with famed songwriters, killer session musicians and former E Street Band members. Dressed in bright patterns and dark vests, they looked like a roving band of rock 'n' roll wizards ready to ensnare you with their funk and soul. Van Zandt's trio of backing singers were particularly engaging as they danced in lockstep and sang like soulful angels.
Largely playing his new album, "Summer of Sorcery," Van Zandt had people up off their lawn chairs to dance to "Party Mambo" and groove to "I Visit the Blues."
It was a full-on rock 'n' soul revival, and easily one of the most exciting acts to play the annual event.
It was also fueled by Chris Isaak, who played earlier in the evening.
Wearing a rhinestone- and-sequin-encrusted nudie suit, Isaak took the stage while the heat was still bearing down.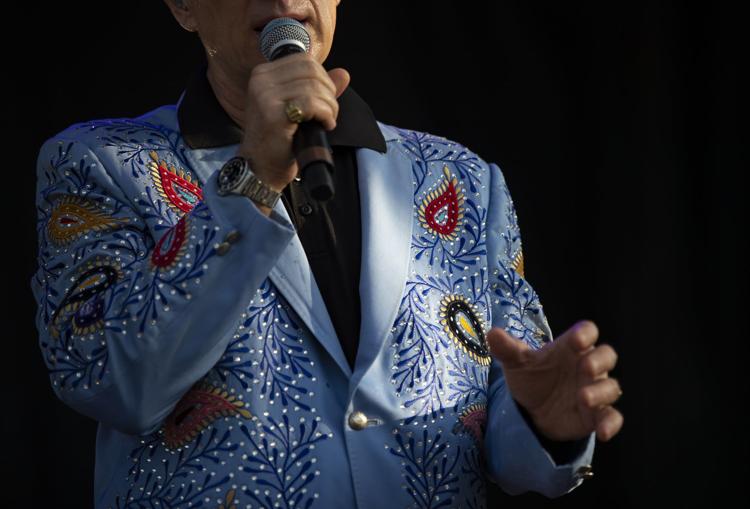 But he still hit the high notes of "Wicked Game" and ran into the audience in his heavy wool suit.
Isaak plays a style of old-school rock that's something of a combo of Roy Orbison and Elvis Presley, but Isaak's funnier and somehow even more charming.
Isaak played his own hits, "Blue Hotel" among them, but he also worked in covers of "Ring of Fire," "Pretty Woman" and "Can't Help Falling In Love."
Isaak's final number was "Baby Did a Bad, Bad Thing," and he brought several women, among them Omaha Mayor Jean Stothert, onstage to dance with him.
Both bands made for a real rock 'n' roll show, and the people in the massive crowd rolled right along with them.
That is, until the music went dark, and they prepared themselves for maybe most anticipated part of this summer tradition: the fireworks.
And so, thousands turned their heads skyward to welcome summer with the crackle of colored explosions overhead.
Sign up for the Go newsletter
This complete guide of local music, movies, dining and entertainment will have you weekend ready.
Photos: Memorial Park concert with Little Steven and Chris Isaak
Chris Isaak and Little Steven and the Disciples of Soul perform at Memorial Park on Friday.