Or was a Beatle. (They did break up, you know.)
And that simple fact, his membership in the biggest (and, yes) the best rock 'n' roll band of all them, was certainly the major draw to see him Friday at Stir Cove.
For the record, the show was at capacity with about 4,000 people packed in there.
And certainly many of them were there to get a glimpse of a member of the Fab Four even if they don't know all of his songs.
What they were treated to was a night of hit songs delivered by the best cover band touring. Ringo and His All Starr Band featured members of Toto, Santana, Men at Work and the Average White Band. And, y'know, the Beatles.
For two hours, the band worked through its many hits. That included, of course, Beatles songs such as "Don't Pass Me By" and "I Wanna Be Your Man," but also "Black Magic Woman," "Rosanna," "Pick Up the Pieces," "Evil Ways," "Who Can It Be Now?," "Africa" and "Oye Como Va."
Fans reacted even more strongly to Ringo's bandmates than they did to him except during the most famous Beatles tunes. The audience singalong to Toto's "Africa" rivaled that of "Yellow Submarine."
And those songs were done by their creators — Steve Lukather, Hamish Stuart, Gregg Rolie, Colin Hay, each also incredibly talented musicians.
If you've seen the Ringo show before, it was, well, not much at all different except for maybe the song selection, which is based on his rotating cast of musicians.
But it was still quite something.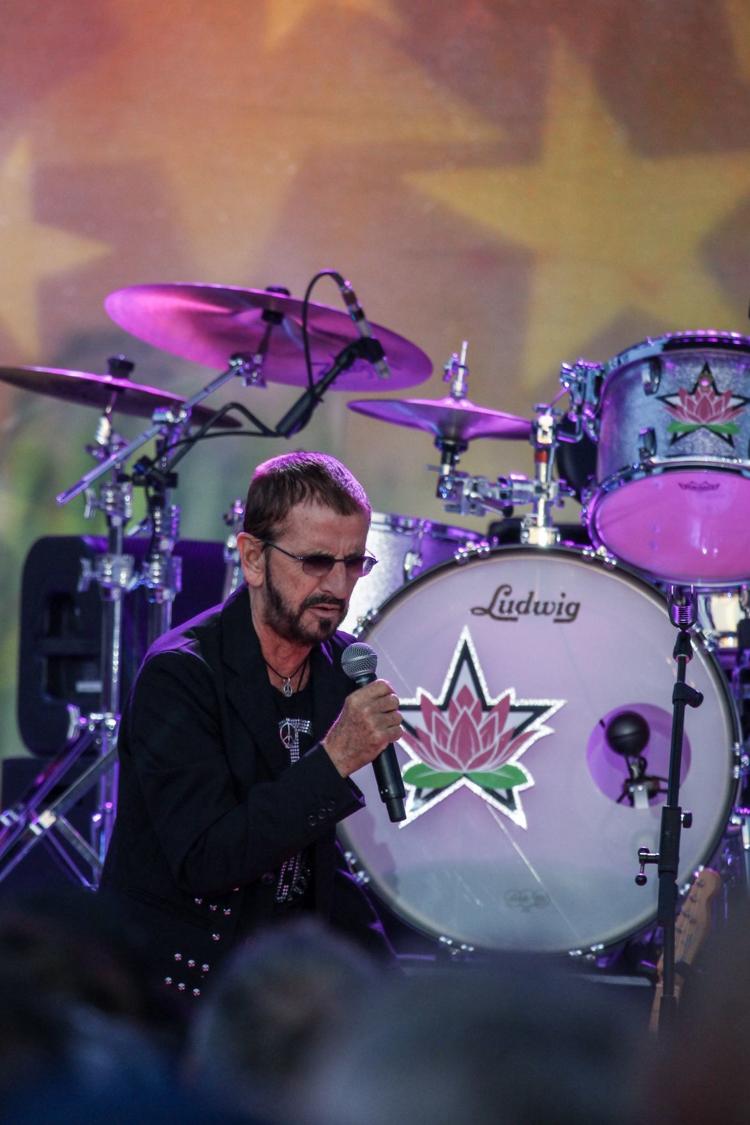 "Every one of you in the audience will know at least one song," Ringo said.
If you didn't know the material, you must have slept through a large slice of popular culture or you're younger than 25 and your parents didn't allow you to listen to the radio.
Despite being the big draw, Ringo stepped away from center stage often to let the light shine on his bandmates.
After taking the stage to sing "Matchbox," "It Don't Come Easy" and "What Goes On," which Ringo said was the only song credited to Lennon-McCartney-Starkey (a credit he felt should be reversed), Ringo stepped behind the drum kit and pounded out the beat for his colleagues' songs.
In fact, the only time he didn't play drums was when he was singing lead, and he definitely spent more time with the sticks than he did with a microphone in his hand.
But when he did, the audience absolutely came alive.
When Mr. Starkey did his versions of "You're Sixteen" and "Act Naturally," they were excited.
When he did his hit song "Photograph," they sang every word.
But when he came back to the front of the stage to sing The Beatles' "With a Little Help From My Friends"?
It was the moment they waited for all night, and it was a spectacular thing to behold: A cool night, a few thousand people, a beloved icon and everyone there united by the song.
"Thank you, thank you!" Ringo said, as he did many times that night. "Peace and love!"
Our best concert photos of 2019
Relive your favorite local shows with some of our best photos.