In three years of producing "Rock Twist," a musical revue at the Omaha Community Playhouse, he hasn't offered the same show twice. Each year, he has refined and revamped — adding and subtracting from his playlist of classic rock and standards, altering the stage setup and bringing in new musicians.
I saw "Rock Twist" for the first time in 2017, then figured I wouldn't go again for a few years, much like I approach other long-running but essentially unchanged shows. I changed my mind in 2018 after he said it would be substantially different, and again this year when I found out it would once more be almost brand new.
He's no dummy. If "bigger and better" promises have swayed me, you can bet they've swayed others as well.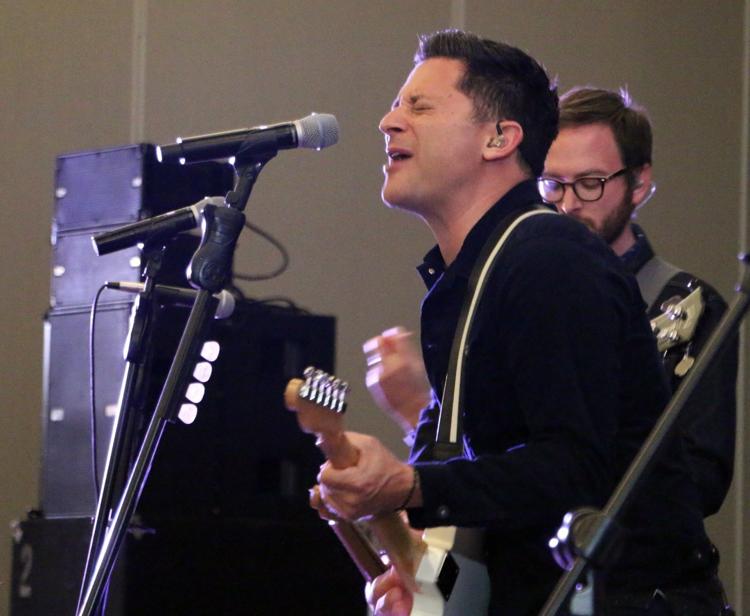 It wasn't just hyperbole. As far as content and performances go, this year's show was the best yet, with more instruments and new musicians; an additional female singer; a sleeker, cleaner stage with colorful lights and projections; and covers of artists who haven't been featured before, as well as new material from previously featured musicians.
Too bad it was a disappointment sound-wise. The mix seemed off all night. Vocals were hard to hear at some points, while instruments — notably strings and bass guitar — were hard to hear at others. I thought it might be just me, but several friends in the audience mentioned it as well.
Here's the deal, however. McGuigan is so likable, such a good storyteller and such a great showman that despite the sound deficits, we left the theater grinning and raving about the show. He's real, with a self-deprecating humor and no pretensions. He doesn't take himself too seriously.
To be fair, part of the problem may have been the large auditorium itself. It might have sounded entirely different in the back by the audio booth, or we may have been sitting in a "dead" spot — or both. It did seem to get a little better as the show progressed.
To say McGuigan doesn't stand still is not just figurative. Onstage, he literally is moving — and moving fast — about 95% of the time. He slows down for slow songs, and that's it.
Sign up for the Go newsletter
This complete guide of local music, movies, dining and entertainment will have you weekend ready.
A great (and surprising) solo on "Tequila" by bass guitarist and music director Steve Gomez. The audience roared. This song also gave the Pop Rock Orchestra a chance to really strut its stuff. These musicians are experienced pros, and it shows.
McGuigan's sincere and touching version of "True Love Ways," written and performed by his idol, Buddy Holly. Playing Holly in a Playhouse musical started it all for McGuigan, and this performance was a worthy tribute.
A sublime version of Billy Joel's a cappella masterpiece, "The Longest Time." McGuigan was joined by Tara Vaughan (he refers to his talented bandmate, who just finished a show of her own at the Playhouse, as "my co-star"), brothers Ryan and Matthew McGuigan and Natalie Thomas, a newcomer to the McGuigan universe, who, hopefully, will stick around. The harmony was spot-on.
Thomas' version of "Proud Mary" (Tina Turner's take). It was gritty and fabulous — a good holdover from Vaughan's show, "She Rocks."
"The Skateland Medley." I don't know how McGuigan came up with the truly evocative name for this long trip to the '60s, '70s and beyond, but it's brilliant. Omahans who haunted Skateland will know what I mean. And it had two pieces I totally did not expect: "Tenth Avenue Freeze-out" by Bruce Springsteen and "My Old School" by Steely Dan (perhaps the greatest song ever).
This show works because it's not slick and not overly scripted. It has its rough points, but it would be too sterile without them.
It's just a bunch of performers who enjoy each other and really, really love what they do. They want you to love it too, and you will, especially if (hopefully when) they make some sound modifications.
I hope Billy gives me a reason to go next year.
Our best concert photos of 2019
Relive your favorite local shows with some of our best photos.