There is nothing subtle about a KISS concert.
Not the fireworks. Not the guitar solos. Not the skyward stage platforms. Not the leather. Not the lyrics to "Love Gun." Not the studs. Not Gene Simmons' tongue. Certainly not the makeup. Definitely not the towers of flame bigger than your house. Absolutely not the 6-inch platform boots.
If there's an arena rock trick — pyro, lights, lasers, fog, video, costumes, spitting flame, general insanity — chances are that KISS invented it. If not, they saw it, they adopted it and then they cranked it up a notch.
KISS is raw, pure, unrefined spectacle, enough to secure them — rightfully — a place in the Rock and Roll Hall of Fame.
Thursday's show in Omaha was pure KISS. And even if you've seen a KISS show before, you've never seen a show quite like this one.
This stop at the CHI Health Center was among the band's farewell tour dates, and the iconic rock band turned up the dial until it couldn't turn any more, and then forced it to go a just little higher.
Even the stage and numerous video screens were framed in metal and wreathed in pointy spikes.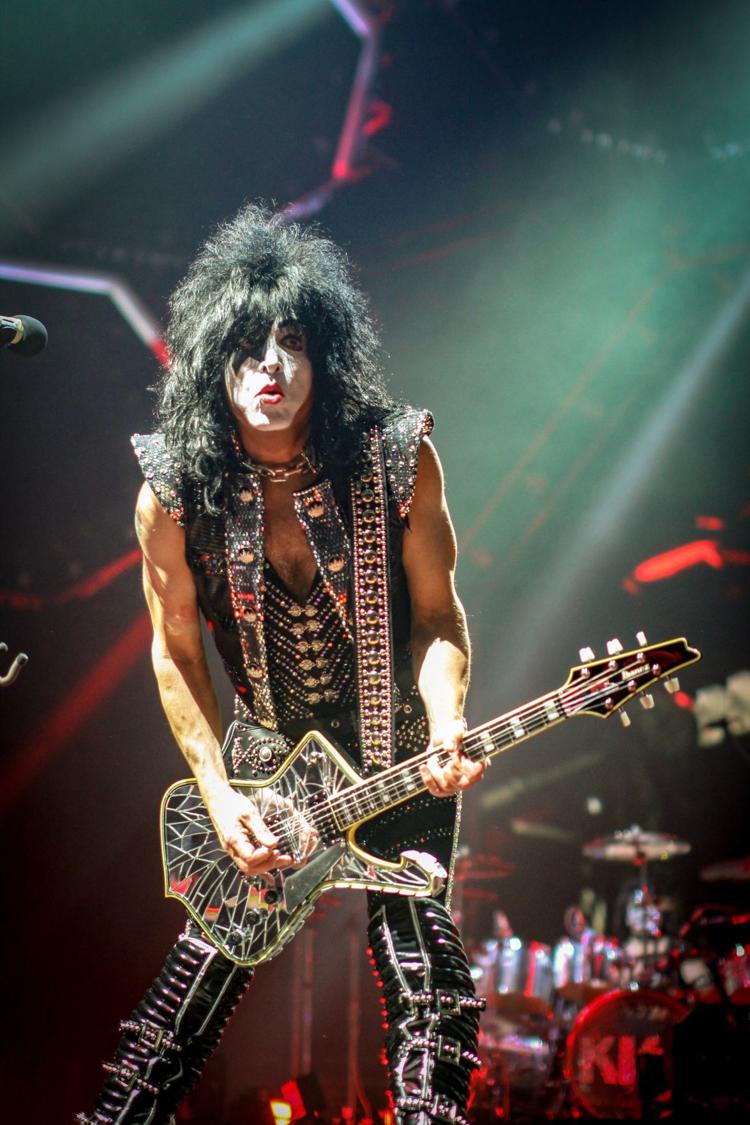 "It's gonna get really crazy in here," frontman Paul Stanley warned the crowd after mentioning that things are a little different since KISS first played Omaha. (For the record, that was 1977 at the Civic Auditorium.)
Stanley and Simmons, along with guitarist Tommy Thayer and drummer Eric Singer, delighted a sold-out Omaha crowd of more than 13,000 for two hours, mixing up a set of hits such as "Rock and Roll All Nite" and "I Was Made For Loving You" with the general madness that you've come to expect from KISS.
The Starchild, The Demon, The Spaceman and The Catman are the embodiment of rock 'n' roll excess, shouting it loud, acting as the gods of rock and, well, rocking and rolling all night.
Stanley played up the fact that it's the band's final tour.
"Last time here. Been coming here 41 years. Unbelievable," Stanley said. "Ya know, it feels awesome up here."
And yeah, maybe it's cheesy. Maybe it's the same show they do every night. Maybe they're not the greatest rock songs to grace our ears. Maybe all that stuff is excessive.
But KISS does that excess so well, investing heavily in the pure spectacle of it all.
Some rocked old KISS T-shirts. Some — even entire families — rocked KISS makeup. But everyone rocked out, shouting the words to "Black Diamond," "Shout It Out Loud" and "Calling Dr. Love."
You can't help but smile when Simmons flies over your head, flinging picks, sticking his tongue out past his chin and growling the words to "Rock and Roll All Nite."
You have to be impressed by enough fireworks blasts to make the arena reek like the Fourth of July.
Even the most sedate among us sang the words to "I Was Made For Loving You" by the end.
"What a cool night. What cool people," Stanley said when it was all over. "Omaha, we love you! Yes, we do!"